Concordia University Texas has a rich history. Here are 10 facts you may not have known about the university.
1. Lutheran Foundation
Concordia was established by the Lutheran Church-Missouri Synod (LCMS) to prepare high school boys for ministry within the church. Our curriculum is rooted in Lutheran theology.
2. First Class
Concordia's first-ever class was held on October 26, 1926, with 26 students.
3. Concordia Older than I-35
Concordia existed before I-35. Originally called East Avenue, the major highway didn't open in Austin until 1962. Though the campus is gone, Concordia Avenue, a road perpendicular to I-35 in downtown Austin, remains between E 32nd St and E 38th St.
4. Downtown to Northwest Austin
Prior to 2008, Concordia was in downtown Austin. Nearby St. Paul's Lutheran Church (LCMS) was regularly used for events, including the induction of Rev. Henry Studtmann as the first president and professor of Concordia.
5. High School to University
Over a period of 69 years, Concordia transitioned from a high school preparing young boys for ministry in the LCMS to a full university.
In 1951, Concordia expanded to become a junior college. After disbanding the high school curriculum in the 1960s, the institution officially became a four-year college in 1980 and a university in 1995.
6. Name Changes
CTX has had four different names:
1926 - 1965 Lutheran Concordia College of Texas
1965 - 1995 Concordia Lutheran College
1995 - 2007 Concordia University at Austin
The University's name was officially changed to Concordia University Texas in 2007.
7. Nine Presidents
A total of nine presidents have led Concordia over our 93-year history. Our current president, Dr. Don Christian, assumed the role in 2014.
8. Original Campus Treasures
Concordia incorporated many parts of the old campus into the new campus. For example, the guard station at the entrance was built to resemble Birkmann Chapel that stood on the original campus.
9. Cruciform Designed by Former President
Rev. Dr. Ray Martens designed the Cruciform during his time as president. The Cruciform, which sits between the Science & Technology Building (Building D) and the Dining Hall (Building E), sat at the top of a two-story tower on the original campus.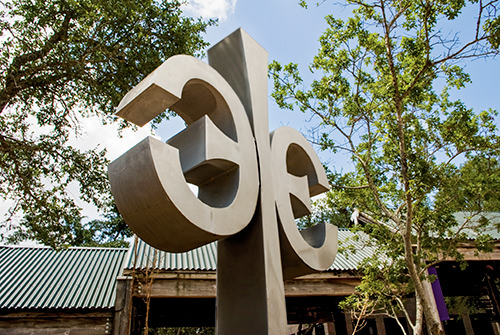 10. Collection of Mascots
VorTex the Tornado is our fourth mascot. Concordia was home to the Outlaws, the Cardinals, and then the Stags and Lady Stags.
Recent Posts
Whether you're brand new to Texas or a seasoned native who just loves reading about the Lone Star State, here's what y'all need to know.
Join us for one of our upcoming CAN-DO mission trips. You may even find that the person most impacted by the trip is you.
HOPZERO co-founder and CTO, Bill Alderson, offers seven simple tips for protecting your data online.