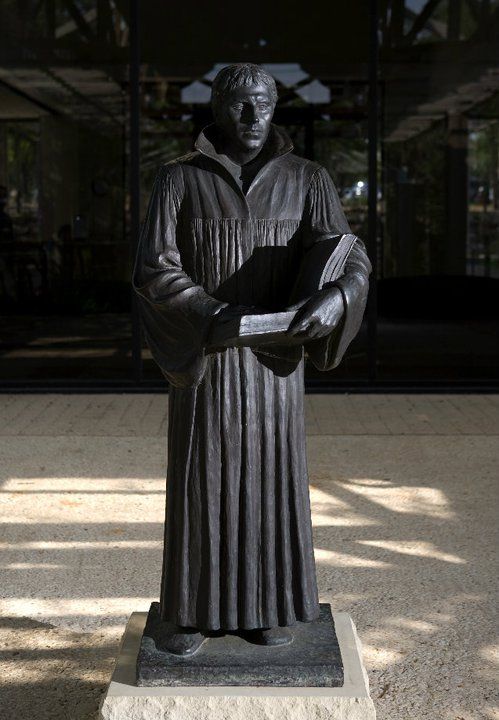 This October, Concordia will be celebrating the 500th anniversary of the Reformation. To coincide with that, the theme for the 2017-2018 academic year will be "By Grace, Through Faith," taken from Ephesians 2:8-10.
This particular theme reminds us of one of the central tenets of the Lutheran faith. Martin Luther insisted that salvation was given by grace through faith, not by works.
"This theme will shape next year's worship and other areas of campus life as we consider multiple aspects of the Lutheran reformation and how those concepts continue today," Dr. Donald Christian, Concordia University Texas President and Chief Executive Officer, said. "I would encourage all of us to think about how we can incorporate this theme into our daily interactions with each other, our syllabuses that shape how our students learn, our devotions and conversations across the institution, our co-curricular activities with students and other projects and initiatives the university undertakes."
As Lutherans, we believe that our salvation is dependent completely on grace and not works, but our salvation is going to produce good works. This makes for a very appropriate theme for this year's Reformation Celebration.
"For it is by grace you have been saved, through faith—and this is not from yourselves, it is the gift of God— not by works, so that no one can boast. For we are God's handiwork, created in Christ Jesus to do good works, which God prepared in advance for us to do." Ephesians 2: 8-10
Recent Posts
Discover how CTX alumna Madilynn Pogue's faith in God and commitment to exemplary education led her down an unexpected career path.
What do peacocks, video calls, a flock of ducks and CTX have in common? Working from home. Discover more!
Concordia has made the decision to temporarily become test-optional, waiving the requirement for ACT and SAT scores. Here's what you need to know.