Concordia Professor Jeremy Miller Has a Passion for Ink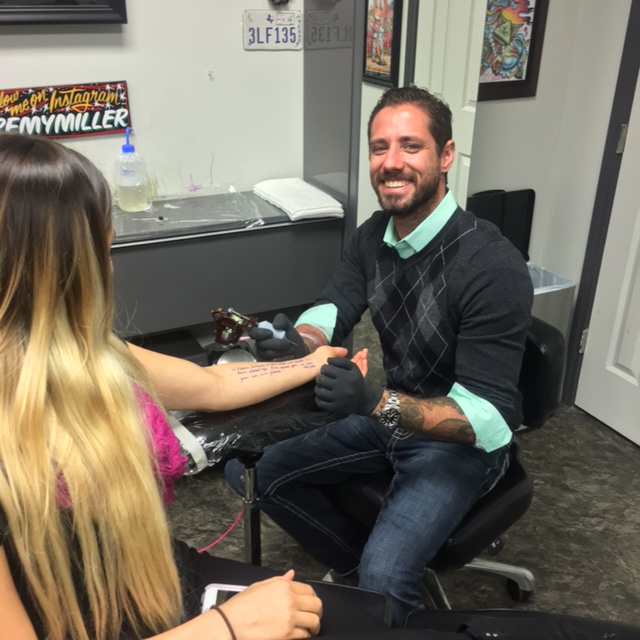 When you close your eyes and imagine a Concordia professor who do you see? A clean-cut and prestigious looking individual wearing a dignified suit, glasses and perhaps a pocket protector?
You probably don't visualize a young guy covered with ink. Jeremy Miller, a CTX business professor, knows that he doesn't fit the typical faculty mold and he embraces it.
Miller, once featured on Spike TV's "Ink Master," has been a tattoo artist for the past 15 years, and has been the owner of a local tattoo shop for eight years.
You might be familiar with his studio, Pigment Tattoo & Laser Removal, located on FM 620. Miller was personally inspired to open his small business due to the words of one of his professors.
"A grad school professor pushed me like no one ever had," Miller said. "He said it made no sense to work for someone else's shop when I could start my own business."
Just over a month after getting this advice, Miller was opening Pigment, which has been extremely successful, and this professor's impact is part of the reason why he decided to teach.
"I offer real-world experience to my students," Miller said. "I don't teach from the book. They learn from real-world scenarios like my own business endeavors."
His students say that the real-world analogies help them learn more effectively.
"It makes it relatable," he said. "They are picturing themselves in the situations themselves. The university wants to hire not just faculty whose studies revolve around learning, but faculty with real-world experience."
When he was starting out opening Pigment, Miller's landlord gave him some advice to live by.
"He said 'don't hit home runs, just hit singles,'" Miller explained. "That's what I'm doing."
He advises that anyone wanting to start a business should "plan, plan, plan."
"Aside from planning, accept the sacrifice before it has to be made," he said. "Most people don't have an instant success, it's more of a trickle."
Miller served in the United States Air Force for six years. He graduated from Southwestern College with a Bachelor of Business Administration in 2008. He received his Master of Business Administration in 2012 from St. Edward's University. Currently, he is working toward his Doctor of Philosophy at Grand Canyon University.
"Opportunities present themselves all the time," Miller preaches to his students. "If you aren't ready, you'll miss them."