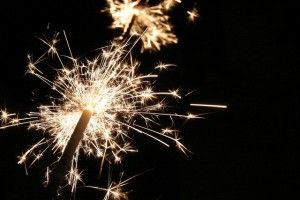 Heading to Austin's 41st Annual July 4th Concert and Fireworks? Having a celebration at home?
Whatever you do, do it safely! Here are some pointers to make sure everyone has a good time while watching the fireworks.
Public Display Safety
Hide your dogs, hide your cats: Leave your pets at home. Their ears are too sensitive to handle the explosions and most of them don't have down the concept of covering their ears yet.
And hide your babies too? Noises above 80 dB can affect the development of hearing in babies and fireworks can register at 140 dB. Leave your babies at home unless they are wearing earmuffs that will reduce the noise.
Leave it to the pros: Don't bring sparklers or other items that produce fire with you to the show. It isn't safe to use them in the presence of a large crowd.
Don't stand so close: Respect the boundaries of the ushers. It's dangerous to pass the barriers set up for spectator safety. Plus, the best view of fireworks is from about a quarter of a mile away.
Be a good citizen: If you see an unexploded firework, make sure to contact the local fire department immediately. Do not touch it and make sure that children don't either.
Sparkler Safety
Supervise: Any child under the age of twelve participating in handling sparklers should be closely supervised.
Keep your distance: Stand six feet away from others when you are holding a lit sparkler.
Protect the Pass: Only hand off unlit sparklers.
Don't be reckless: Running around with sparklers and waving them around is a hazard for you and anyone around you.
Recent Posts
An important benefit to consider when searching for a job is the opportunity to develop personally and professionally in your career. Here are 13 companies in Texas that offer excellent professional development and training benefits.
Learn more about the Brookdale Read-to-a-Resident program, which was recently launched by CTX English major Victoria Leffers.
Concordia University Texas has a select opportunity for Austin tech companies to partner with the Computer Science program and provide Computer Science students with real-world experience while gaining valuable solutions for their organizations.