Concordia's Live on Spotify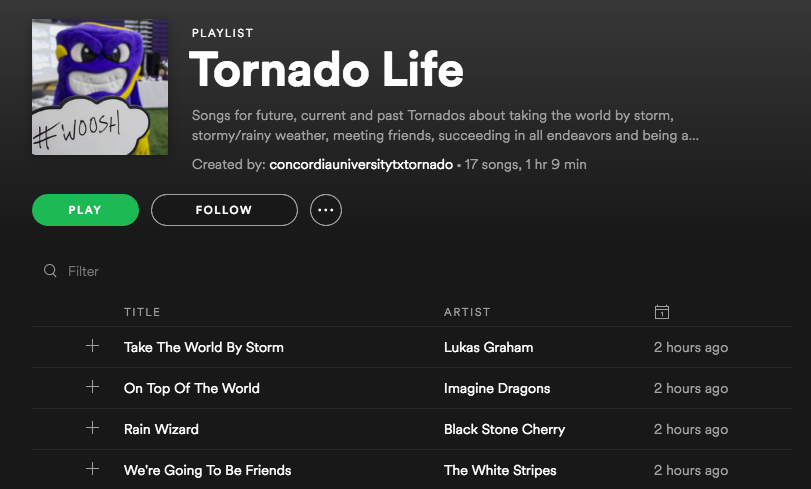 Concordia now has a Spotify account! Search for us by entering spotify:user:concordiauniversitytxtornado in the Spotify search bar. Our first playlist, called Tornado Life, is ready for your ears! Follow us as we will periodically add playlists for new seasons, events and occasions.
Woosh!
"Take the world by storm" Lukas Graham
Our students take the world by storm every day.
"On top of the world" Imagine Dragons
This popular alternative/indie track's feel-good vibe is perfect for a walk (or drive) to campus.
"Rain Wizard" Black Stone Cherry
Rock out to "Rain Wizard" because a Tornado isn't complete without some storm clouds.
"We're going to be friends" The White Stripes
In the mood to meet some new people? This carefree song can tell that we're going to be friends.
"Thunderstruck" AC/DC
Thunder, Thunder… with a shout-out to Texas.
"This is your life" Switchfoot
Asking the all-important question, are you who you want to be?
"Dust in the Wind" Kansas
Because who knows about twisters better than Kansas?
"Praise you in this storm" Casting Crowns
After all, developing Christian leaders is our mission.
"Umbrella" Rihanna, Jay Z
"We fly higher than the weather."
"Hey there Delilah" Plain White T's
For our out-of-state/out-of-city LDR crowd.
"My Best Friend" Weezer
Who doesn't meet a new best friend here?
"Come Sail Away" Styx
Metaphorically, of course. Not in the eye of a tornado.
"Count on Me" Bruno Mars
We "find out what we're made of when we are called to help our friends in need."
"Lightning Crashes" Live
Tornados are much like a "rolling thunder chasing the wind."
"Why can't we be friends?" Smashmouth
Enough said.
"Adventure of a lifetime" Coldplay
You are living it.
"100 Years" Five for Fighting
Life goes by fast. Enjoy every moment.