Workout Tracks Playlist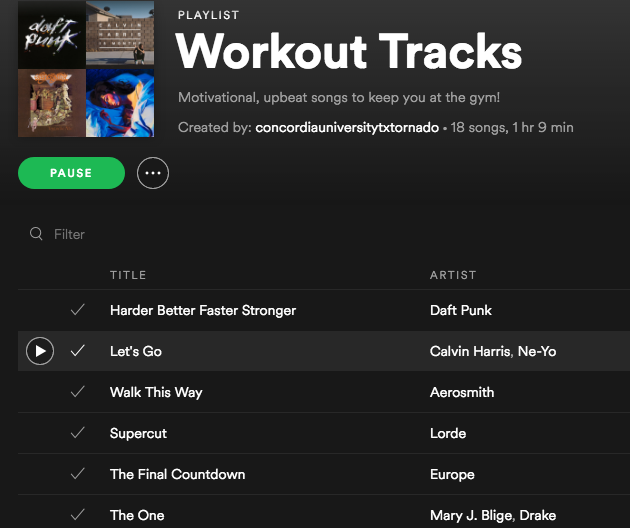 Check out our newest Spotify playlist, Workout Tracks, full of motivational, upbeat songs to keep you at the gym. If you get through the entire list, you must have logged in more than an hour! Yay!
1) "Harder, Better, Faster, Stronger" Daft Punk
A given for any great gym playlist.
2) "Let's Go" Calvin Harris, Ne-Yo
"It's not about what you've done, it's about what you doing." Especially at the gym.
3) "Walk This Way" Aerosmith
The oldest song featured, this 1975 hit is sure to keep you walking on the treadmill or around campus.
4) "Supercut" Lorde
The beat on this 2017 electropop song keeps the vibe for jogging alive.
5) "The Final Countdown" Europe
Another lap to go? Let this 1986 Swedish rock hit remind you that the countdown is on.
6) "The One" Mary J. Blige, Drake
A confidence boost for those mid-workout.
7) "Numb" Linkin Park
Because sometimes a more edgy, angry song is what pumps you up.
8) "Get Back Up" TobyMac
TobyMac reminds you to get back up, whether that be on the elliptical, off of the couch or maybe off of the ground itself (hey, it happens).
9) "Just Like Fire" P!nk
After all, those weights can make your arms burn.
10) "Dirty Deeds Done Dirt Cheap" AC/DC
A truly classic workout tune.
11) "Move Your Body" Sia
Move your body, move your body!
12) "Devour" Shinedown
"It's your final hour." Maybe more, maybe less. You never know.
13) "Shut Up and Dance" Walk the Moon
Working out doesn't have to be at the gym! Dance!
14) "Welcome to the Jungle" Guns N' Roses
It works for football players across the country, it will work for you.
15) "Bullet With Butterfly Wings" The Smashing Pumpkins
A little 90's alternative rock for the win.
16) "Pump up the Jam" Technotronic, Felly
"Pump it up a little more"
17) "Eye of the Tiger" Survivor
Warning: This song could turn you into Rocky.
18) "Phone Home" Lil Wayne
For everyone else who is "rare like Mr. Clean with hair."