Concordia Releases Summer-Themed Playlist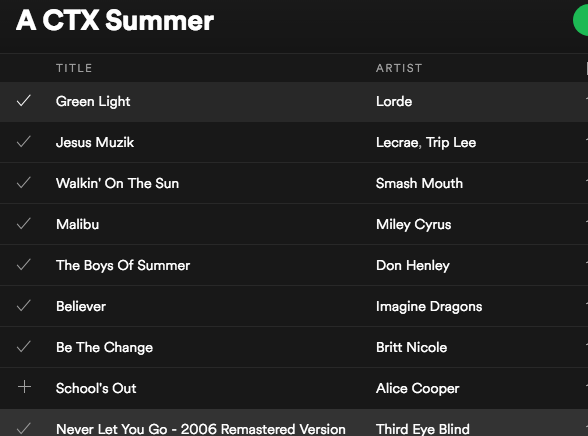 It's the first day of summer! Check out our new playlist, A CTX Summer, featuring summer jams for your road trips, pool parties, mission trips or lazy days in the Texas sun.
1) "Green Light" Lorde
Your summer breakup anthem.
2) "Jesus Muzik" Lecrae, Featuring Trip Lee
AC on, top down, listening to this Jesus Muzik.
3) "Walkin' on the Sun" Smash Mouth
Welcome to Texas.
4) "Malibu" Miley Cryus
The "crusing to the beach" song.
5) "The Boys of Summer" Don Henley
A classic for every summer playlist.
6) "Believer" Imagine Dragons
This No. 1 hit is perfect for an upbeat summer day.
7) "Be the Change" Britt Nicole
Sure to hold its place among the Top 40 Christian hits of the summer.
8) "School's Out For Summer" Alice Cooper
School's out, rock out.
9) "Never Let You Go" Third Eye Blind
Nostalgia, Nostalgia, Nostalgia.
10) "Cough Syrup" Young the Giant
"These fishes in the sea, they're staring at me."
11) "Summer Girls" LFO
"Hip Hop, marmalade spic and span, met you one summer and it all began."
12) "Fly" Sugar Ray
A 90's hit oozing with summer vibes.
13) "I Gotta Feeling" The Black Eyed Peas
Can't leave this feel-good tune off your pool party playlist.
14) "Go Robot" Red Hot Chili Peppers
Futuristic and catchy.
15) "Unstoppable" TobyMac, Featuring Blanca
Our Tornados are unstoppable.
16) "Steal my Sunshine" Len
By now you might be wanting someone to steal your sunshine.
17) "Gold on the Ceiling" The Black Keys
Can anyone listen to this without smiling?
18) "Best of You" Foo Fighters
You will continue hearing this Alternative chart-topper all summer long.
19) "No Rain" Blind Melon
Doesn't the title perfectly capture the typical Austin summer?
20) "Feels like Summer" Weezer
Weezer's new hit song dives into summer love.