Concordia University Texas Now AASHE Member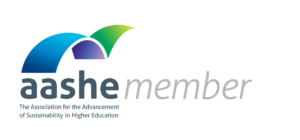 The Association for the Advancement of Sustainability in Higher Education (AASHE) empowers higher education faculty, administrators, staff and students to be effective change agents and drivers of sustainability innovation.
Concordia University Texas is now a member of AASHE and encourages all members of CTX to take advantage of the membership benefits. Here are some resources available to everyone on campus.
Networking & Recognition
AASHE Conference & Expo – Connect with more than 2,000 of your colleagues to share experiences, knowledge, passion and commitment to advancing campus sustainability at the largest higher education sustainability conference in North America. Individuals from member institutions receive a substantial discount on registration.
Member Directory Listing – Be among the list of who's who in the campus sustainability community.
AASHE Sustainability Awards – Get recognized for your outstanding achievements and progress toward sustainability. AASHE bestows its prestigious sustainability awards each year on the institutions and individuals that are leading higher education to a sustainable future.
Member Logo – Place the member logo on your website, brochures and other materials to emphasize your institution's commitment to campus sustainability.
Member Spotlight – This blog feature celebrates our members who work tirelessly to advance sustainability at their campuses and in their surrounding communities. If you have a compelling story to tell, let us know!
Benchmarking & Research
STARS (Sustainability Tracking, Assessment and Rating System) – Utilize this tool to help your institution establish a baseline for sustainability performance and track and promote progress. Members receive a significant discount on the Full Access subscription.
Sustainable Campus Index – This annual publication recognizes top-performing colleges and universities in 17 distinct aspects of sustainability, as measured by STARS, and highlights over 70 innovative and high-impact initiatives from institutions around the world.
Higher Education Sustainability Staffing Survey – Published every two years, this member only report examines the nature of sustainability positions at colleges and universities in the U.S. and Canada, providing insights into salaries, funding, supervision, job satisfaction, challenges and more. This report aims to increase our understanding of the continuously growing career field of sustainability professionals in higher education.
Professional Development
Workshops – Our workshops are designed for members to gain knowledge, share best practices, and build supportive relationships with other professionals in the field. Members can save on registration for events such as the Sustainability Officers Retreat and the Sustainability Across the Curriculum Leadership Workshop.
Webinars – Monthly webinars are intended to address the needs of our diverse membership, increase member engagement, create community and provide solutions in the form of resources, tools and support in all areas of sustainability in higher education.
Leadership – Share your experience and expertise by serving on the Board of Directors, Advisory Council or STARS Steering Committee.
Job Leads – Get the lead on campus sustainability job openings or post an opening in our weekly electronic newsletter Bulletin. Job submissions are free to post, but they must be directly related to campus sustainability.
News & Resources
Campus Sustainability Hub – Access over 6,500 resources in our online resource library! The Hub is a one-stop shop for members to access toolkits and resource collections about all aspects of sustainability in higher education, from academics to operations to governance.
AASHE Bulletin – Stay up-to-date with the only aggregated weekly news source for the higher education sustainability community.
International Resources – Use resources from our international partners, the Environmental Association for Universities and Colleges (EAUC) in the U.K.. and Australasian Campuses Towards Sustainability (ACTS) in Australia and New Zealand.
Institutions have been aligning with AASHE since 2005 to ensure that the world's future leaders are motivated and equipped to solve sustainability challenges. AASHE strives to empower higher education to be a foundation for a thriving, equitable and ecologically healthy world.
The organization defines sustainability in an inclusive way, encompassing human and ecological health, social justice, secure livelihoods and a better world for all generations.