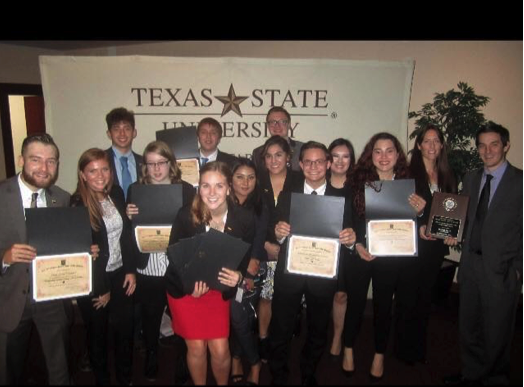 Concordia University Texas fared well in this year's Summit of the Americas competition, a Eugene Scassa Model Organization of American States (ESMOAS) annual competition in diplomacy and statecraft.
Our students represented the Nation of Venezuela and according to Political Science Professor Brent Burgess, they made their mark as a "very vocal and effective delegation."
In fact, our Tornados left the Inter-American Human Rights Moot Court Competition with a first place victory. In this particular competition, teams submit written memorial briefs to judges and withstand grueling oral arguments before the panel.
Last year, Concordia swept all the awards for this competition including first and second place honors. This year, Concordia beat out a feisty Texas State University team and secured all of the written memorial case briefs awards.
Kelsey Rodriguez, one of the participating Tornados, said it was a challenging and fun learning experience.
"It definitely helps us to develop communication skills and work on our public speaking," she said.
Congratulations Tornados!
Recent Posts
An important benefit to consider when searching for a job is the opportunity to develop personally and professionally in your career. Here are 13 companies in Texas that offer excellent professional development and training benefits.
Learn more about the Brookdale Read-to-a-Resident program, which was recently launched by CTX English major Victoria Leffers.
Concordia University Texas has a select opportunity for Austin tech companies to partner with the Computer Science program and provide Computer Science students with real-world experience while gaining valuable solutions for their organizations.