Five Ways to Give Back This Holiday Season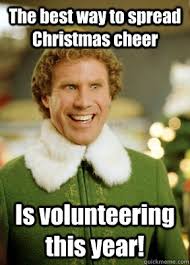 Hey Tornados! It's not too late to get on Santa's nice list. Here are five ways you can help better the lives of others before the year is over.
Toys For Tots
Imagine being a young child and having the magic of Christmas somewhat dimmed because Santa Claus forgot about you.
By supporting Toys for Tots in Austin, you will help make sure kids on the free or reduced lunch lists in school are able to receive presents this holiday season. The deadline for donations is Dec. 20 and you can also make a monetary donation online.
Central Texas Food Bank
No one should have to go hungry, especially this time of the year. Donate or volunteer at the Central Texas Food Bank and make sure that local families get fed.
Holiday Gifts will be matched through Dec. 31. Ever 10 dollar donation provides 80 meals. You can also choose to serve in the warehouse or the food bank's community kitchen.
SAFE Holidays
Do you have a knack for wrapping? SAFE needs your help! Volunteers are needed daily until Dec. 20 at the Austin Children's Center campus.
They need wrappers and sorters, sponsors to help with holiday wish lists and shoppers to purchase donations from the shelter's Amazon wishlist. Donations from this site ship directly to SAFE's warehouse.
Trinity Street Homeless Shelter
This holiday season, appreciate how lucky you are to have a warm place to sleep. Trinity Street Homeless Shelter needs volunteers daily, especially during cold days, to serve and donate food to the homeless population in Austin. You can register to volunteer online or give a monetary donation.
Home for the Holidays
Remember all of the lonely, furry friends during the holiday season. Help out with Home for the Holidays, a foster drive that saves the lives of the lost and abandoned pets of Williamson County and raises awareness about the importance of pet adoption during the holiday season.
Williamson County Regional Animal Shelter is responsible for the foster's medical and training needs. The foster family loves and cares for the foster as if he or she were their very own. All foster families must fill out a foster application and present a valid photo ID. Fill out your foster application.