How to Show Your Tornado Spirit This School Year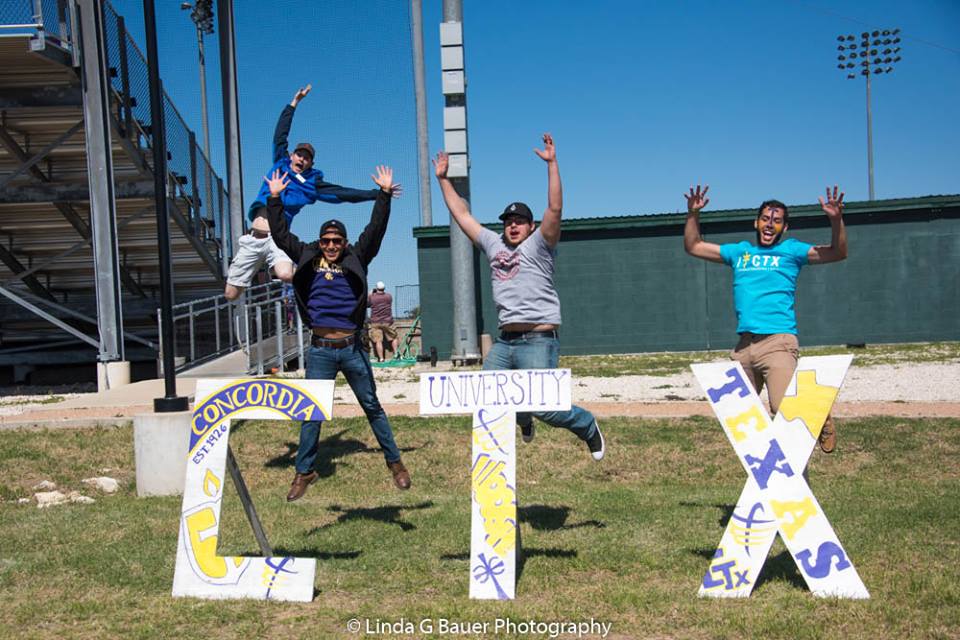 Show just how much you love CTX by representing us inside and outside the university. Here are some tips!
Wear the apparel
Wear that purple and yellow all over campus. Get the hats, the T-Shirts, the jackets and the hoodies. Don't just wear them on campus!
Show everyone in the Austin community how proud you are to be a Tornado. Gift Concordia apparel to your family, your friends and potential students. Alum! Don't forget to do your part in spreading your love of CTX around the world.
Take a selfie with Luther
Incorporate Luther into as many pictures as you can. Bonus points if you get him dressed before taking the photo. He's been known to sport quite a few interesting looks in past times.
Post these pics on social media and get prepared to answer the question: "Who is that?" multiple times. It's a great opportunity to inform those who don't know about the history of the Lutheran Faith.
Use the hashtag, #woosh
Are you attending a play put on by Concordia students?
Did you just tour the Preserve with your family for the first time? Did we win a basketball game? Check in on Facebook and post your thoughts, photos and videos to your social media accounts with the hashtag, #CTXwoosh
Go to the games
Support the talented men and women that play sports for the university by attending their games.
Did you know that 50 percent of CTX's incoming class will have been recruited to play sports? Nothing looks better than packed bleachers full of fans decked in purple and yellow!
Listen to our Spotify channel, loud and proud

Blast our music out your car windows. Listen to our playlists at your social gatherings. Play it on the way to class. Share it with your friends. Most important of all, follow us on Spotify.
Noon Ball
Hit the Fieldhouse and play pickup basketball games on Mondays, Wednesdays and Fridays. The games, of course, start at noon. All skills levels are encouraged to come out and shoot some hoops.
Coffehouse
Every semester, CTX hosts Coffeehouse, a platform for students and staff to show off their talent and skills on stage. Even if you aren't participating, the bigger the audience, the better the experience.
Talk about our theme
This October, Concordia will be celebrating the 500th anniversary of the Reformation. To coincide with that, the theme for the 2017-2018 academic year will be "By Grace, Through Faith," taken from Ephesians 2:8-10. This particular theme reminds us of one of the central tenets of the Lutheran faith. Martin Luther insisted that salvation was given by grace through faith, not by works. Talk about the theme as much as possible with fellow classmates, professors and members of the Austin community.
Discuss the Common Reader
This 2017-18 Common Reading selection is "The Circle," a dystopian novel by David Egger that chronicles the life of an American tech worker who joins a eerily-powerful internet company. This shared literary experience will ignite discussion, creates activities and provide everyone on campus an immediate connection among the campus community. Incorporate "The Circle" into your campus conversations.
Tornado Tuesday
Do you like free food? Yeah, so do we. Hit the student center the first Tuesday of every month from 1 p.m. to 3 p.m. Make new friends, wear your CTX colors and enjoy a break from studying.
Imitate a Tornado
Do the Twist(er). Act out the opening scene from Wizard of Oz. Put on that Tornado costume and start spinning. Here are some facts about twisters to help you better emulate one. Or, you know, you could just do what all the greatest Tornados do and #taketheworldbystorm.