Make Sure Your Resume Isn't Tossed with These Tips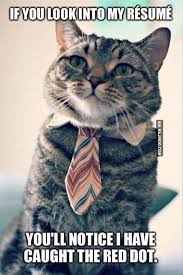 Check out your resume "above the fold"
The rule of thirds doesn't just apply in the photography industry!
Take a look at what your resume looks like in the top third section, or the part of your resume that will show up on the computer screen when the hiring manager opens your PDF.
Remember to put the most important information about your skills and experience in this top section! Speaking of PDF...
Save your resume as a PDF
You should always send your resume out as a PDF to make sure the formatting stays in tack.
Don't name your resume "resume"
Change your file name to [first name] [last name] resume. It makes it easier for your resume to be accessed again if potential employers want to give it another look!
Never make a mistake
Typos and errors are interpreted as laziness. When you are trying to sell yourself, make sure you aren't showing them any flaws. Have at least one other person look over your CV before sending it off. Even one grammatical error can be the difference between you or your arch-nemesis scoring that coveted interview.
Tailor your content to the industry
You should never send your resume the same way twice. In other words, keep the industry's requirements and needs front and center. Research these components for a sense of how you should focus and brand yourself in both your resume and your cover letter.
Stray from the template
It's okay to use a template for guidelines, but failing to adjust and refine your resume will have it mirroring many other candidates. Make your resume visually differentiated from the herd. Even a pop of color here and there can be a good way to stand out. Just don't overdo it or make it difficult to read.
Write a cover letter
Some HR reps won't even look at the resume from a candidate who hasn't submitted a cover letter. The only time you shouldn't include a cover letter is if the job posting specifically asks you not to.
Utilize CTX resources
At Concordia, we want to make sure our students have access to as many career services as possible. Submit your resume and we will give you feedback!
Find out how you can be using social media to land a job!