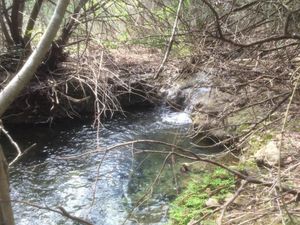 Concordia University Texas hosted its first annual Nature Fest this past March, a day set aside for learning about and celebrating the natural resources uniquely available and accessible to Concordia Texas.
As a new tradition, Nature Fest will be held annually and include tours of the university's federally protected preserve, as well as tours of the campus itself. Preserve tours themed for specific interests, an outdoor speaker series, guided bird watching, a Concordia Sustainability Club gardening demonstration and a hands-on drone demonstration are all part of Nature Fest.
This past year, several professors held their classes outdoors and invited the public to sit in. Dr. Sam Whitehead, assistant professor and director of Concordia's Environmental Science and Conservation Program, said people used their time to hammock among and take photos in the abundant wildflowers on campus. Picnics are encouraged during this day.
Zach Stark, Concordia's director of environmental stewardship, organized the first Nature Fest. Stark serves as land manager and liaison with Travis County, working to protect the more than 250-acre preserve, which is part of the larger Balcones Canyonland Preserve. Stark pushes initiatives to highlight environmental education, stewardship and sustainability. He leads and coordinates projects with key faculty and staff in facilities management and environmental science.
This tradition is the perfect opportunity for students to share the beauty of CTX with parent and friends. It's also a great way for curious locals to explore the grounds.
Tune in to next Thursday's blog to read about another Tornado tradition.
Woosh!
Recent Posts
Join us for the November 2020 Speaker Series, where Gay Gaddis, founder and author, will provide tips on how to succeed in business and life.
Concordia hosted a successful Homecoming and Family Weekend. Get a recap of the festivities.
Join CTX alumna Kassi Kincaid and her Book Days team as they tour the Concordia Preserve.