Concordia University Texas Cave Featured on Science Channel Series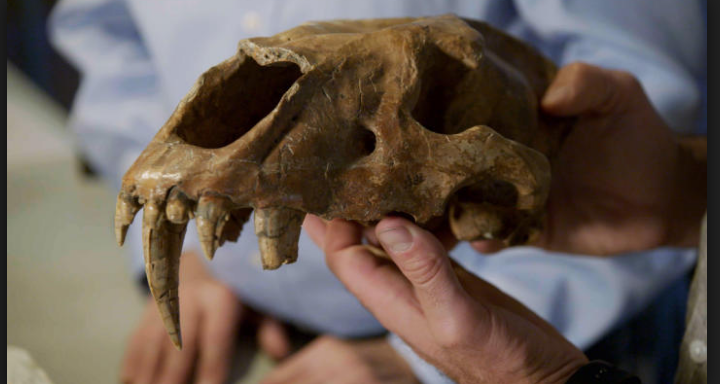 Austin, TX—The Science Channels hit TV show, "Secrets of the Underground," highlighted Concordia University's own Friesenhahn Cave in a March episode. "I probably could have counted 600 to 700 individual fragments of bones in there," Rob Nelson, Biologist and TV host, said during the episode.
Considered one of the university's most valued properties, the famous San Antonio cave has been identified as one of the most important paleontological sites in the United States. The Friesenhahn Cave has yielded more than 4,000 isolated teeth, and bones of more than 30 genera of ice age mammals, mammals, reptiles and birds.
Especially noteworthy from the Friesenhahn Cave is the holotype specimen of Geochelone wilsoni, a recently discovered species of turtle which is represented by only a very few specimens worldwide (Milstead, 1956). Also noteworthy are well-preserved specimens of a sabertooth cat, Homotherium serus, and a long nose peccary, Mylohyus nasutus, that were excavated from this site in the 1950's.
Dr. Laurence Meissner, Concordia Professor of Biology, has served as the cave's steward since it was donated to the university in 1997. "I had heard this cave had a lot of fossils in it and I wasn't really sure what to expect," Nelson said during the episode.
"Right away, right on the side of this wall, it was just covered in fossils, just little bone fragments." Concordia University Texas officials say the cave is a relatively small sinkhole, which once was used as a den where sabertooth cats dragged prey such as baby mammoths.
The Concordia Stewardship Plan, an initiative to foster environmental stewardship on campus, is including developing a management plan for Friesenhahn Cave as one of the plan's objectives. They are working to establish a non-profit organization charged with promoting conservation, education and research of this site.
The related "Secrets of the Underground" episode aired on March 14, 2017 as the fifth episode of the season.
About Concordia University Texas
Concordia University Texas is an award-winning institution of higher education, offering undergraduate, graduate and adult degree programs. The main campus is located in northwest Austin with remote university sites throughout Texas. Online classes are also offered for some programs.
A privately held, accredited, liberal arts university, Concordia is under the auspices of The Lutheran Church-Missouri Synod. It is a member of the highly respected Concordia University System in which more than 36,000 students are enrolled nationwide.
For more information, please visit concordia.edu.