CTX Studies Up Playlist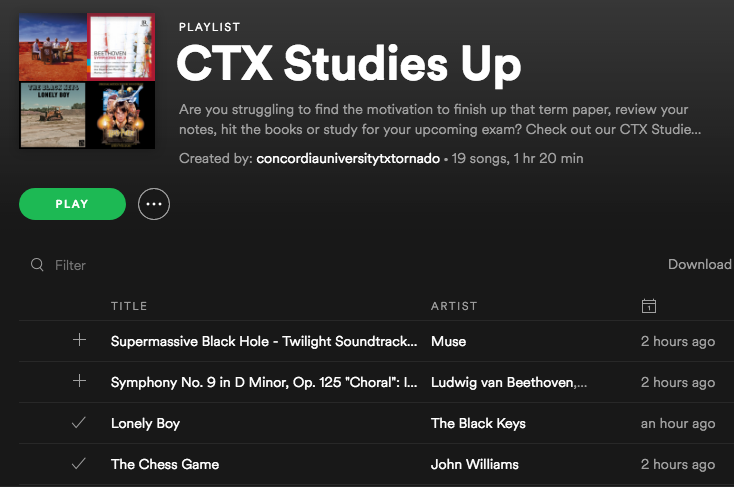 Are you struggling to find the motivation to finish up that term paper, review your notes, hit the books or study for your upcoming exam?
Check out our CTX Studies Up playlist and get in a serious study mood with these 19 tracks.
"Supermassive Black Hole" Muse
This fast-paced alternative/indie track is sure to get you pumped up to start your studies.
"Symphony No. 9" Ludwig van Beethoven
Classical music benefits the brain, sleep patterns, the immune system and stress levels. Doesn't that seem perfect for a student cramming for semester exams?
"Lonely Boy" The Black Keys
This easy listening tune is great for some familiar background noise as you read through your notes.
"The Chess Game" John Williams
Ready to really buckle down? This Harry Potter instrumental will keep you on pace.
"Beat It" Michael Jackson
Time for a stretch break? Need something to get your blood pumping? That quiz, that paper, that assignment, just beat it!
"Fur Elise" Ludwig Van Beethoven
One of the most famous Beethoven pieces of all time, you can feel your wheels turning as the piano expertly speeds along.
"One Headlight" The Wallflowers
This 1996 hit is sure to keep you relaxed and focused as you finish up that project.
"Visit to the Zoo and Letters from Hogwarts" John Williams
Visit Harry Potter's world again as the song carries you to the next segment of your studies.
"Viva La Vida" Coldplay
Feeling powerful? This British rock band can help you get there if you aren't!
"The Four Seasons" Antonio Vivaldi
If you are getting off track at the halfway point, this violin concerti might guide you back to focus.
"Superstar" Lupe Fiasco feat. Matthew Santos
Study like the superstar you are.
"Guilty of Being Innocent of Being Jack Sparrow" Hans Zimmer
Captain Jack Sparrow will help get you out of that slump.
"Mr. Jones" Counting Crows
Easy to listen to, "Mr. Jones" will help you be someone who believes.
"Slow Motion (instrumental)" Third Eye Blind
This beautiful instrumental's various pacing reflects that of an intense study session.
"Pumped Up Kicks" Foster the People
This indie pop track keeps an upbeat vibe, despite its darker lyrics.
"Coastal Ocean Nature Sounds: Beach Waves" White Noise Relaxation
Sometimes you just need the noises of nature to get in the right study mindset.
"Counting Stars" OneRepublic
Count stars, not sheep, stay awake, don't fall asleep!
"End Credits" Hans Zimmer
The end is near! Here is the final push you need to get to the finish line. Thank you Pirates of the Caribbean.
"I Got You (I Feel Good)" James Brown and The Famous Flames
Yay! You're done. Go celebrate!