Student Central: A One-Stop Student Success Shop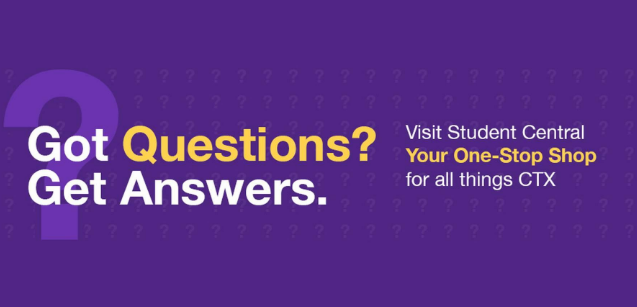 At Concordia University Texas, Student Central is central to student success. Made up of offices that manage and maintain various aspects of student success, Student Central strives to be the one-stop-shop where students are able to get the assistance they need, or be directed to someone who can give it to them.
Let's break down which offices are which:
Success Center
This team oversees student disability services, academic support/tutoring and counseling. Students can learn tips for taking online courses, utilize best study practices and take advantage of The Writing Center by visiting the Success Center.
Student Financial Planning
Student Financial Planners serve as financial aid advisors, as well as accounts receivables representatives. They ensure students take care of financial aid requirements (including VA assistance) and pay their bills. They also work to increase student financial literacy and student awareness regarding the investment of higher education. They serve all on-ground populations in both undergraduate and graduate programs.
Student Academic Planning
Student Academic Planners partner with faculty members to help students move along in degree progression. They help facilitate several academic processes such as petitions, Study Abroad, internships and building degree plans. Each Student Academic Planner is assigned specific majors to work with and serve all on-ground populations in both undergraduate and graduate programs
Center for Vocation and Professional Development
This staff provides a pathway to meaningful work by connecting students, alumni and employers in ways that facilitate personal and professional growth. Students get assistance exploring vocation while staff helps them expand the meaning of a purposeful life beyond a career.
Office of Student Registration and Records
This team takes care of all the behind- the-scenes steps required to offer courses and maintain official academic records. Ensuring adherence to academic policies, preserving academic integrity, safeguarding academic records and overseeing the registration process all fall under the Office of Student Registration and Records' umbrella.
Student Central is located on the second floor of Building C in room C-256.