Seven Benefits of Transferring to Concordia University Texas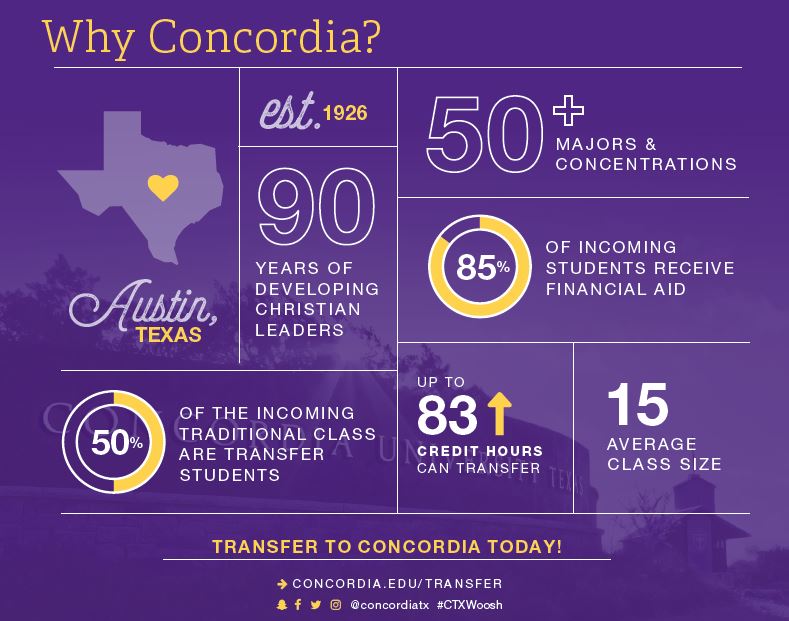 Here are 7 benefits of transferring to Concordia University Texas!
Another shot at a 4.0
When you transfer your GPA from your original institution, it is not carried over here at Concordia. Courses that you have completed generally transfer if you have a C or higher in the course, and as long as they're consistent with courses offered here. The credits for that course transfer, but not the grade. You have the opportunity to start over with a new GPA without having to retake every class!
Standardized tests scores won't count as much
The SAT and ACT are typically less important for transfers than they are for high school students. If you didn't go to your dream school because you are a less than stellar test taker, that won't matter as much at this point in your life.
Where you graduate from counts more than where you started
Completing your education at CTX gives you a reputable degree from an accredited liberal arts private university. Only the institution you graduated from will be named on your diploma. Trust us, our name will look great with yours!
You will get individualized help in the process
Lost on the application? Have financial aid questions? Confused about the registration processes?
Your admissions counselor will guide you through it all. We offer quick transfer credit evaluations, on-the-spot admission decisions and a one-stop-shop admissions model. Find out more about that here.
A better academic fit
We offer multiple delivery options (daytime, evening and online) and more than 50 majors and concentrations. With an average class size of 15, you will get the attention, assistance and hands-on experience you need to take the world by storm.
You won't be alone
50 percent of our incoming traditional class is made up of transfer students. You don't have to worry about being singled out as that "transfer student" because you are probably going to be passing by dozens of others at any given time. Plus, you'll automatically have something in common with many of our students.
An active campus life
Think smaller universities don't have as much of a social aspect? Think again. At CTX, our students are involved in sports, clubs, ministry, government, volunteering, traditions, outdoor recreation and various other extracurriculars. Read about our student life here.