2018 Ethics in Business Awards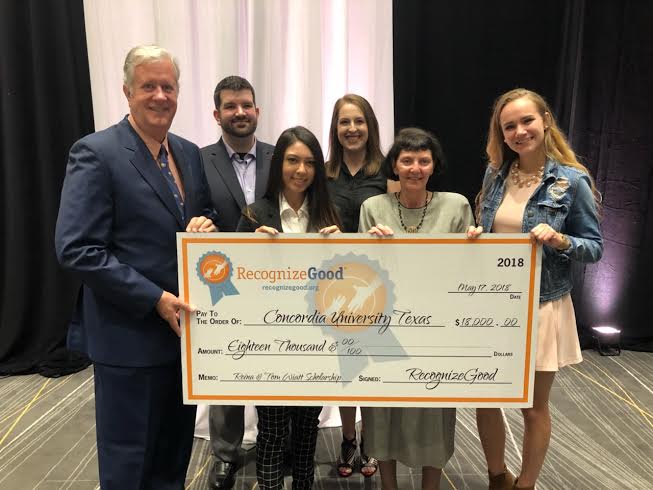 Our business students are doing great things in the community.
Concordia University Texas and the College of Business and Communication are partners of RecognizeGood in the Ethics in Business Awards. The Ethics in Business Awards recognizes Central Texas business, nonprofits and individuals who use ethical practices and celebrate the idea that "doing good is good business in Central Texas."
"There has to be a drum beat out in the community talking about doing good and doing the right thing," RecognizeGood Chairman Bobby Jenkins said.
This year's award banquet took place May 17. More than 700 attended the banquet in the AT&T Executive Education and Conference Center.
Community members nominate their choices at RecognizeGood.org. Students from the College of Business and Communication at Concordia scrutinize each candidate before narrowing them to the top three finalists in each category (large business, mid-size business, small business, non-profit, and individual).
"From things like recycling, to equality for women in the workplace, we seen that doing the right thing isn't always cost effective or easy, but it is done [in these businesses,]" Kaitlyn Ellis, Concordia Accounting major, said.
Afterward, the finalists are presented to a selection committee of business and community leaders led by Dr. Lynette Gillis, AVP of Graduate and Professional Studies at CTX. Nominees are judged on five distinct categories: Being Respectful, Being Fair, Being Honest, Striving for Justice and Embracing Sustainability. Lifetime achievement awards are also given.
"Doing the right thing is doing good business," RecognizeGood Board Member Earl Maxwell said.
Nominations were collected from May of 2017 through December of 2017. Nominees are then researched and vetted by our business students during their study of ethical principles.
Once the students have reviewed the nominees and conducted phone interviews, they score each nominee and narrow the field to three finalists per category. Each finalist is then interviewed in person, and students present their findings to an independent selection committee made up of hand-selected Leadership Austin alumni.
"As a university, we are committed to acting in a way that promotes ethical standards," Dr. Lynette Gillis, Associate Provost, said. "You have demonstrated the types of characteristics our students will look for in future employers."
2018 Recipients
Concordia was presented $18,000 from the Reina & Tom Wiatt Scholarship. This helps fund the Thrivent Scholars Fund, which allows students to attend a leadership field trip.