Austin-Area Reps Visit CTX to Talk Immigration and Public School Funding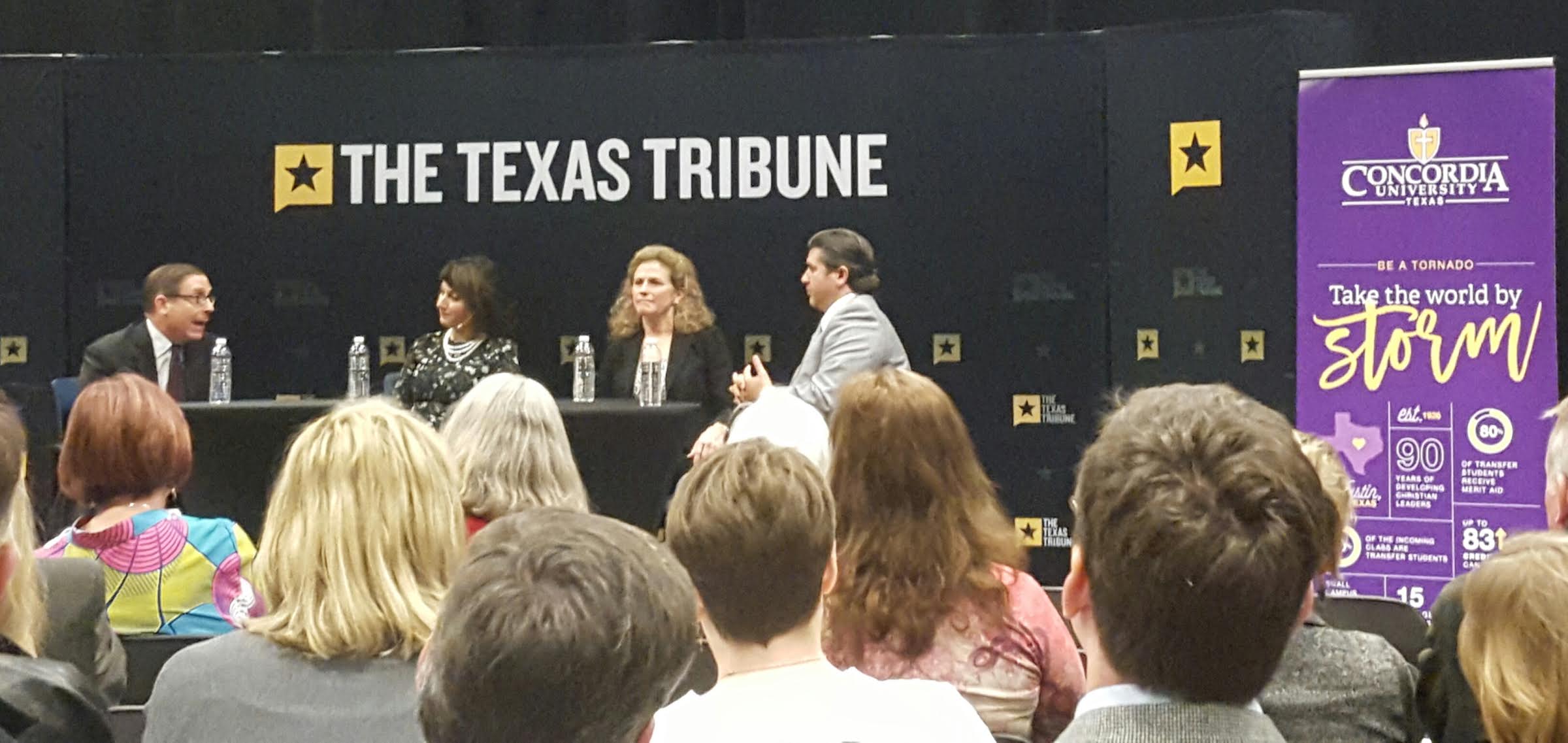 On Monday, the Texas Tribune presented the first installment of a series focusing on the major policy debates of the 85th Texas Legislature — and what they mean for one of the state's largest cities and its surrounding communities — at Concordia's Blackbox Theater.
Tribune co-founder and CEO Evan Smith, moderator of the conversation, opened the event with a shout-out to Concordia University Texas.
"Concordia is often not included in the conversation as it should be," Smith said. "Maybe because it is tucked away here on [FM] 620, but the reality is, the City of Austin is migrating toward you."
State Reps. Gina Hinojosa, Donna Howard and Eddie Rodriguez, three Democrats in the Texas House representing the Austin area, discussed their perspective on topics such as immigration laws, special education and public school funding.
Immigration laws came up first, particularly in regards to Senate Bill 4, which passed during last year's legislative session. This bill allows local law enforcement officers to question the immigration status of people they arrest or even detain. Rodriguez explained his concerns on SB 4 being bad for public safety.
"If people are afraid to go to law enforcement it's bad for the entire community," Rodriguez said. "This turns local law enforcement into federal agents."
He said that if Texans are afraid to go to law enforcement for fear of deportation when they are a victim of a crime or even a witness of one one, it could have a detrimental impact to the safety of all.
"There is no way to enforce this law without some kind of racial profiling." Rodriguez said.
The issue of special education also came up, as a federal report recently found that Texas capped the statewide percentage of students who could receive special education services and actually incentivized school districts to deny services to student who qualify for them.
Howard expressed that she believes school districts should have played a bigger part in getting heard on this problem, but in the end they must comply with the Texas Education Agency (TEA). Hinojosa encouraged pursuing a strategy with more funding for special education students.
On the topic of public education funding, Hinojosa said the Texas House and Senate were at odds over the state's role in public education funding last year. House Bill 21, which did pass the House, would have given public schools $1.8 billion.
"That would have been a step in the right direction," Hinojosa said.
However, when the bill went to Senate, they stripped out $1.5 billion of new funding from the bill.
"It so cruelly impacts Austin ISD," Hinojosa said.
Rodriguez echoed her sentiments.
"Austin is the one district that really hurts the most," Rodriguez said. "Most AISD public school kids are brown or black. They're putting less money when 65 percent of the district qualifies for free or reduced lunch."
Watch the event yourself here.