CTX Softball Player Overcomes Concussion to Get Back on Field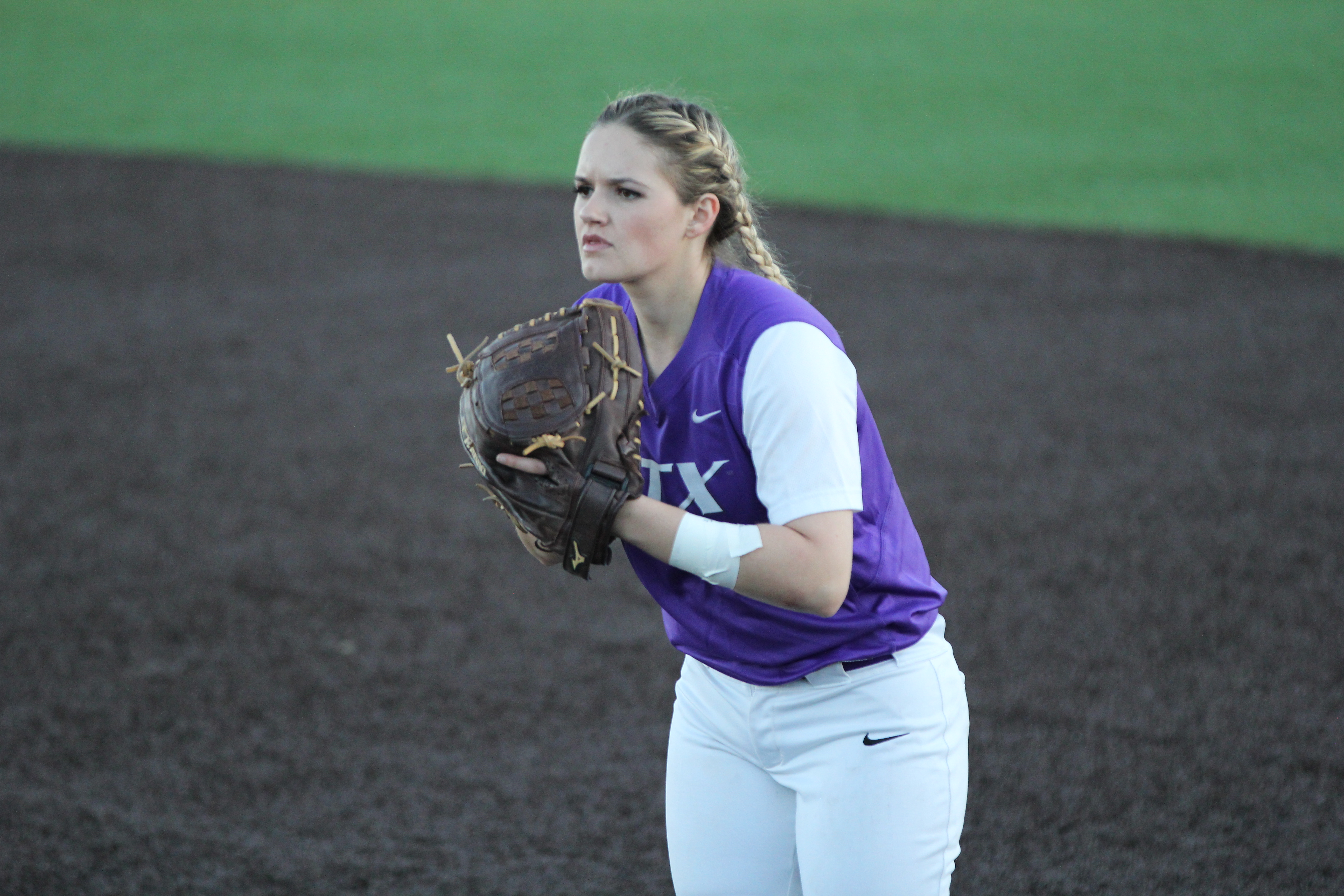 What do you do when the thing you love most hurts you? If you're anything like Concordia University Texas softball player Katie Daniel, you don't give up.
Daniel was injured last season after a pitch to the face resulted in a severe concussion.
Concussions result from mechanical impact to the brain that produces transient changes in awareness or consciousness, and a range of other symptoms.
Because the short-term and long-term effects of subconcussive impacts are so misunderstood and difficult to study, there isn't tons of information out there for concussion victims.
After almost a lifetime of being a softball player, Daniel was going to let this traumatic experience scare her off the sport.
Daniel's Start with Softball
"My dad said that I had expensive hobbies," Daniel said. "Dance, tumbling, soccer and basketball were some things I did."
Her father, decidedly not a dance dad, gave her an ultimatum.
"He said 'We're going to try out for softball,'" Daniel said. "When I made it, he said 'you're good at dance, but you can either do dance or softball.'"
At just four years old, she chose softball.
"I liked the idea of running around, getting dirty, not frilly," she explained.
She continued playing softball from then on. At age 11, she joined a club softball league. As a high school student, she was one of two freshmen to make varsity where she played first base. Daniel got her first offer to play softball from Williams Baptist College in Arkansas and she accepted.
"Don't Go to a School Just for Sports"
"As an only child, I liked the thought of being on my own, away from mom and dad."
However, she committed what she described as the "cardinal sin."
"Don't go to a school just for sports," Daniel said. "I hated it there. In the summer there were biting gnats, in the winter it was cold."
Then her coach announced her resignation. At that point, Daniel called her parents and asked if she could come home. She transferred to Temple Junior College and played softball there.
"I learned discipline here," she said. "Six a.m. weights, then breakfast and then three or four hours of practice. We had 6 a.m.-to-7 p.m. days, six days a week."
After a successful season and freshman spring semester, she returned to Temple Junior College for her sophomore year.
"This year was different," she said. "My team was talented individually, but we didn't mesh well together."
Transferring to Concordia University Texas
Daniel knew she was going to transfer the next year, and a good family-friend connection at Lubbock Christian University was willing to pull some strings to make sure she could attend school there. However, Daniel's Temple Junior College coach asked if she would mind if she made a call to another university where she could continue playing softball.
"I came up here [Concordia University Texas] for a visit, just to check it out," she said. "Once I took a tour and saw the field I was like 'crap, I like it here.'"
The 2016-2017 season was Daniel's first year here. Daniel was playing exceptionally, and batting over 400.
"I don't know if I ever had a season where I felt more comfortable playing," Daniel said. "As a teammate, I really felt like I was doing the best I could for my team."
The Day When Tragedy Struck
It was April 1, 2017, when tragedy struck. The Tornados were playing against UT Tyler.
"It was the last game of the series," she said. "They beat us the first two games. It was the bottom of the seventh, one out and no one had a hit."
A hit came, but not in the way the Tornados hoped.
"We didn't get a hit, we got hit," Daniel said.
She doesn't remember much about the incident.
"I was up to bat, and I remember seeing it coming at my face."
The next memory she has was Assistant Coach Jeff Stanton telling her to stay down while pools of blood were running off her face. Athletic Trainer Raiza Aguilar came into view.
"I remember saying 'Raiza, please help me,'" she said.
Daniel doesn't recall anything else until the hospital. She woke up to her mother and grandmother standing over her. It turns out they had seen the whole thing via livestream.
"I have never felt so helpless and miserable at the same time," she said. "I couldn't walk myself to the bathroom. I couldn't sit up."
She also couldn't remember conversations. Her concussion caused her to repeat the same things over and over. She was nauseated, dizzy and forgetful.
Daniel's Softball Recovery Process
"You don't do rehab for a concussion the way you do it for a broken bone," Daniel said. "There is no set plan. I missed the end of the last semester of classes and had to take incompletes."
Class was the least of her problems, though. Sometimes, her goal for the day was something as simple as successfully getting a glass of orange juice from the kitchen. With help from her roommate, her boyfriend and especially from Aguilar, she started to make progress.
"I think Raiza is my angel here on earth," Daniel said. "She came up with drills for me, did research on concussions and worked with me daily. She even drove me to my doctor's appointments."
Daniel's concussion made it incredibly hard to focus on tasks. She described her concentration as living in a "Benadryl fog."
When Daniel visited her hometown, she got lost driving to the same church that she had attended her entire life.
"I called my mom and had to tell her I didn't know how to get to church."
Five months passed by like this, and Daniel was worried she would never get better.
"I still wondered if softball would ever be on the table again," Daniel said. "I was just going to be a student, not a student athlete. I was going to lose my fun fact about myself."
Continuing Physical Therapy
Daniel continued therapy. Every time she went to another appointment, they found more things wrong with her.
"I went to fall practice, deciding that I was just going to be happy being around softball," she said. "But I kept praying, and so did my family and my church."
The more she prayed, the better things got. She worked through physical therapy, cardio and even softball drills.
In January of 2018, Daniel was miraculously cleared to play again.
"I had a will, a want and a drive to be well and to perform."
She ran to the training room after she got cleared to tell Aguilar the good news.
"She cried and cried," Daniel said. "I felt like not a shell of a person, but whole again."
Once you fall off the horse, you get back on. Daniel is already back on the softball field again.
"The rest of the way I have to go is all me," she said. "It's a terrifying feeling."
Although she is good to go physically, psychologically she will have to overcome some fears. She is very hesitant about getting in the batter's box, and even has had a breakdown, but she's working through it.
"I accepted the fact that I needed help from people and from God," she said. "I think it is His plan for me to share this story. The will to be well is so powerful."
For now, Daniel is excited that she gets to do the thing she enjoys most, the thing she was never supposed to be able to do again.
"Every time I get to tie my cleats, I don't take it for granted."
Concussion Protocol
Any student athlete that sustains a concussion at Concordia University must pass a series of tests to determine if they are well enough to play again.

Symptoms such as headaches, nausea and light sensitivity must be managed first.

A neurological test called the ImPACT Test (memory recall, concentration, reaction time) must be taken, and the new score is compared to the baseline score that every athlete has from their baseline evaluation as a freshman.

Next, the student follows Return to Play (RTP) protocol, a test that gradually increases the physical stress the athlete will undergo when they return to practice and completion.

If all tests are passed, the athlete can return to play.

Off the field, athletes are also taken care of in the classroom. Concussion victims resume a "Return to Learn" schedule, a

s academic accommodations often must be made which limit exposure to light, computer screens, concentration and memory.