CTX Presents: Valentine's Day Playlist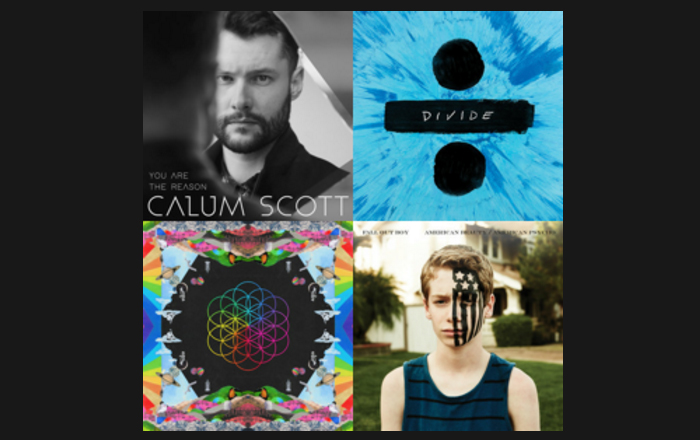 Not sure what to listen to this Valentine's Day? Check out our Spotify Valentine's Day playlist! We have included one song per year, counting down present time back to 1990. You might like it so much that you feel like listening all year!
2018 "You Are the Reason" Calum Scott This year is kicking off strong with a brand new love song already in the Billboard Hot 100.
2017 "How Would You Feel" Ed Sheeran We anticipate Sheeran will continue to rack up Grammy awards. We love to love this romantic track!
2016 "Everglow" Coldplay "So if you love someone, you should let them know,
oh, the light that you left me will everglow." Enough said.
2015 "Jet Pack Blues" Fall Out Boy Not typically the most romantic of bands, but this song does pull some heart strings.
2014 "Stay With Me" Sam Smith How many times did we hear this love song blasting out of speakers everywhere in 2014?
2013 "XO" Beyoncé This one was nominated for the World Music Award for World's Best Song and the World Music Award for World's Best Video. Of course, because it is Beyoncé, after all.
2012 "I Won't Give Up" Jason Mraz Mraz's love song debuted at number 8 on the Billboard Hot 100 in 2012.
2011 "A Thousand Years" Christina Perri "Twilight" anyone?
2010 "Life After You" Daughtry Just because it's romantic, doesn't mean it can't rock!
2009 "Hey, Soul Sister" Train A feel-good tune that you can aimlessly bop your head to.
2008 "In Love With A Girl" Gavin DeGraw A little blue-eyed soul for you.
2007 "Be Without You" Mary J. Blige Can you believe it's been more than 10 years since this received a Grammy Award for Song of the Year? Blige's powerful voice, along with moving lyrics, earned her this spot.
2006 "Cool" Gwen Stefani Sometimes, you can still be friends after breaking up. This song is for everyone that held onto that friendship kind of love, even though romance didn't work out.
2005 "We Belong Together" Mariah Carey Carey's love song details the ups and downs of a romantic relationship.
2004 "Pieces of Me" Ashlee Simpson New love. *Sighs*
2003 "Where is the Love?" The Black Eyed Peas" Because the love in this world is just as important as the love you have in relationships! Jam out to this, whether or not you have a Valentine this year.
2002 "Here Without You" 3 Doors Down For those who have loved and lost, and hope to reunite.
2001 "U Got it Bad" Usher Although this one has an obsessive angle, it really is catchy!
2000 "Hanging by a Moment" Lifehouse The early stages of falling in love.
1999 "Someday" Sugar Ray For that very chill couple.
1998 "I Don't Want to Miss a Thing" Aerosmith Arguably, one of the most powerful love ballads of all time.
1997 "I'll Be" Edwin McCain Brides and grooms have been dancing away to this tune for more than 20 years.
1996 "Anyone Who Knows What Love Is" Irma Thomas This song has recently regained popularity after is has made several appearances on the hit series "Black Mirror."
1995 "On Bended Knee" Boyz II Men When you want to put a ring on it, but first you got to get her back.
1994 "Kiss from a Rose" Seal Although it debuted in 1994, this intense love song won awards for Record of the Year, Song of the Year and Best Male Pop Vocal Performance at the 1996 Grammy Awards.
1993 "Linger" The Cranberries For anyone broken-hearted this Valentine's Day.
1992 "I Will Always Love You" Whitney Houston Is any love song more of a love song than this one?
1991 "When a Man Loves a Woman" Michael Bolton A beautiful voice for a beautiful song.
1990 "Thieves in the Temple" Prince Sometimes love doesn't last! Blame it on the thieves. R.I.P. Prince.