Five Items to Sneak into Your New College Student's Dorm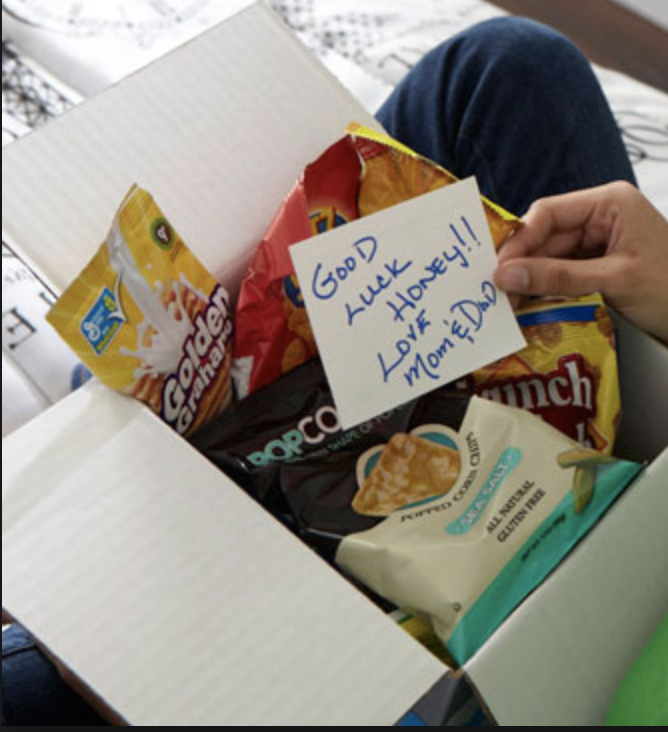 Parents! The first day of school is just around the corner.
You might have made those to-do and packing lists, and even checked them twice, but we have some extra items that you should consider secretly leaving with your new Tornado.
1. A recipe from home
If there was something that you know that your kid really enjoys eating that you cook for them at home (and something easy to make!) write out the recipe on an index card (maybe laminated, because, you know, college) and use a magnet to stick the recipe on their mini fridge.
It's better if the recipe doesn't involve an oven or a stove, but there is a shared kitchenette available in the dorm lounge. Go ahead and purchase the ingredients required to prepare the dish and your student will surely think of you while they enjoy it.
2. Health information/supplies
If you have been accompanying your son or daughter on their doctor, dentist and eye doctor appointments for their entire lives, it's quite possible your student has never even called to schedule their own appointments.
Leave them with their insurance card, inform them on co-pays, write down their doctor's contact information (if they're moving outside of a reasonable driving range, help them find new new doctors in their network) and make sure that information is organized in some kind of folder or binder.
Also, fill a plastic tote with items such as cough drops, Tums, Asprin, Ibuprofen, vitamins, Cortizone, bandages, Neosporin, sunscreen, Alo Vera, eye drops and a thermometer. They'll thank you later.
3. Words of encouragement
Hide a handwritten letter somewhere in your student's dorm.
If they never find it and they call you sharing details of a bad day, direct them to where you stashed your note. If they find it on their own, they will still be excited to read your encouraging words, regardless of their mood.
Sometimes, little words of encouragement can go a long way!
4. Snacks
You really can't leave too many.
In the toaster category there are items such as poptarts, toaster strudel, waffles and bagels to consider. Microwaveable necessities? Popcorn, mac and cheese, soup, Ramen, oatmeal, hot chocolate and various microwave dinners.
5. Giftcards
Whether they be for fast food, coffee shops, H-E-B, the movie theater or their favorite clothing store, who doesn't like giftcards?
Hide giftcards in a few different locations (be sure to stick them in an envelope with their name on it) and wait for the "thank you!" phone calls.