What's Cooking, CTX Faculty and Staff?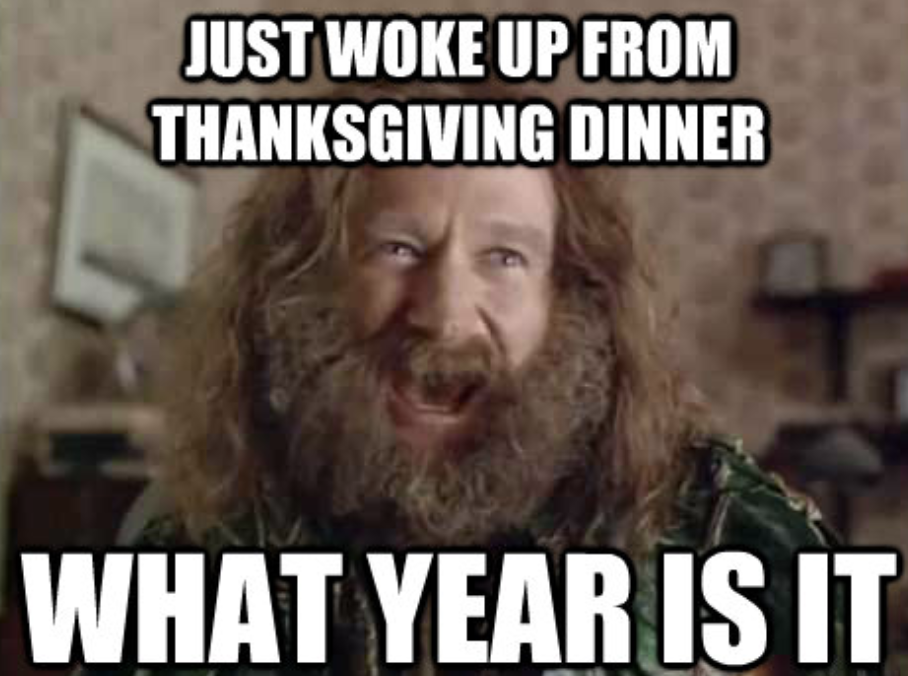 Thanksgiving is coming. Are you already hungry just thinking about it? So are we!
You might be wondering what kinds of atypical side dishes your fellow faculty and staff are filling their plates with for Thanksgiving dinner.
Students, we're sure you're also curious what that favorite professor is putting on their tables--maybe you'll even get an invite! (Shh, you didn't hear it from me!) Alas, the wait is over. Get some ides, or feed your curious minds, here!
The items on the menu
"We always have sauerkraut with our turkey…a Baltimore tradition that my wife, Deb brought with her." Dr. Donald Christian, President and CEO
"Oyster dressing is a staple at our Thanksgiving table : made with bread, celery, onion and lots of butter, and of course, oysters. My grandmother always made it, and now I am the one that does it. I will soon teach my niece." Beth Atherton, Chief Operations Officer/ Vice President for Administration
"One of my favorite memories was about 15 years ago when Colin and I were first married and we hosted our first Thanksgiving with my family. My family is from Panama, therefore they are very open to going outside the traditional food choices, so my husband cooked gumbo for Thanksgiving that year! Every year until my grandmother passed away, she always bragged about that Thanksgiving dinner and how it was the best because Colin shared his Louisiana culture with her on that day." Jennielle Strother, Associate Vice President of Enrollment, Chief Enrollment Officer
"We wrap the turkey in bacon and then pour champagne over it, inside and out. It's the juiciest turkey ever!" Dr. Jacob Youmans, DCE Program Director
"We typically include Mole Sauce (on the side) for those who want to spice-up their turkey." Dr. Clarissa Rosas, Special Education Chair, Professor of Education
"We have turkey as well as roast beef. My great aunt was allergic to poultry and thus began the tradition many years ago. Her son, as a result of her allergy, never learned to eat poultry and the tradition continues." Dr. Matt Bloom, Professor of History
"Shrimp cocktail!" Dr. Lynette Gillis, Associate Provost.
"Tamales instead of turkey." Dana Kornfuehrer, Executive Assistant to the President
"Since my sister got married, we now combine our dinner with her in-laws. We've had salmon! That's unusual for us." Lauren Moore, CTX Events Coordinator
"My day of Thanksgiving is pretty traditional, but the Cajun side of my family always makes leftover turkey jambalaya on Friday/Saturday instead of sandwiches." Michael Burch, Graduate and Adult Admissions Counselor
"No food, but a quirky tradition. We have one of the old Kool-Aid plastic pitchers. We'll use that as the gravy dispenser, and it has become known in the family as the heirloom gravy boat. Both my girls have that as the number one item on their wish list when they get to divide up the house." Alan Christopher, DAC Marketing
"Jalapeño spinach. This is the most uniquely Texas thing on our traditional table and it represents a perfectly reasonable way to get people to eat their veggies. Like many vegetables, jalapeño spinach excels at making bitter greens taste like something else; it this case, queso dip. The concoction involves spinach, cheese, garlic, salt and finely-diced pickled jalapeños. Give me two big spoons full on my first pass through the family buffet line—I know it'll be gone when I come back!" Dr. Jack Allen, College of Business Professor
"Not sure how it began, but for years I have been in charge of making the homemade dressing every year with my children and nephews and nieces. The recipe is my great grandmothers and it's very vague, but we don my mother's aprons, gather around the table, tear bread, chop vegetables, crack eggs, etc on Thanksgiving morning. They are all mostly teenagers now and when I suggested last year that we didn't need to do it, they revolted and insisted it wouldn't be Thanksgiving without it." Jeffrey Utzinger, Professor of English
"Favorite Thanksgiving food: Brisket! Thank God, we're in Texas! Favorite, out-of-box Thanksgiving food memory: Three-day tamale-making neighborhood party, where my mother-in-law and wife guided a group of 12 neighbors through the culinary experience. Favorite Thanksgiving tradition: During the weeks leading up to Thanksgiving day, we write expressions of gratitude on colorful leaves (paper-cut), and then post them on our refrigerator." Shane Sokoll, VP of Planning & Quality, Chief Strategy Officer
"We eat many traditional Greek and Italian foods at Easter and Christmas. At Thanksgiving, we stick to the traditional turkey, etc. We always have rutabaga - something from my family and cornbread dressing - from my husband's side. I grew up with a dressing made of ground beef, chestnuts, green olives- I miss it just talking about it!" Dr. Joanne Antrim, College of Education Professor
"My family is Italian, and Cajun French, so we always eat Lasagna and stuffed artichokes along with Crab Meat soup and boiled crab, if we're lucky!" Laura Short, Professor of Humanities.
"My family and I serve enchiladas with our turkey and dressing. I absolutely love eating beef enchiladas with cranberry sauce, it's the perfect combination of salty and sweet. My grandma also prepares her famous pork, chicken and dessert tamales. Her dessert tamales have brown sugar, cinnamon, raisins, pecans and even banana in them. They're so delicious, especially with coffee! For leftovers, I love eating turkey, dressing and cranberry sauce in a warm flour tortilla – absolutely delicious!" Star Longoria, Director of Residential Life
"Traditionally, my family has a bowl of celery and a bowl of black olives on the Thanksgiving table. Predictably, as children, we used the olives as little hats for our fingers and pretended that they were guarding Buckingham Palace." Dr. Kelly Carolyn Gordon, Director of Theatre
"I don't have any crazy atypical foods that we serve now, just all the regular yummy ones. That being said, when we were first married we had pizza on Thanksgiving when we weren't able to get together with family. Pizza is always delicious." Tina Hamilton, Director of Donor Relations
"With a married name of Mendl, you can bet we have some non-traditional American foods on Turkey Day. The Czechs I married into eat roasted duck, sauerkraut and Dumpling. I have become a believer in this delicious combo and forgo the bland turkey any time for this meal!" Crystal Mendl, Nursing Professor
These faculty and staff were kind enough to share their recipes!
"We've started including dolmas at our Thanksgiving and Christmas tables. We order the same ones that Whole Foods sells in the deli. So good!" Jo McIntosh, English Professor.
"This is an absolute family favorite recipe served during both Thanksgiving and Christmas dinner called "Double Musky Pie." The special treat hails from the Double Musky Inn restaurant, a beautiful mountain ski resort town of Girdwood, Alaska, about 40 miles south of Anchorage. A family favorite restaurant too! Enjoy!" Dr. Elise Brazier, Director of MBA Programs
"My German mother, whose father was a professional chef in Cuxhaven and Hamburg Germany in the 20s and 30s learned this recipe for stuffing from her father. It is a meal unto itself. Because it was originally so heavy with bacon and sausage fat (shriek), my brother and sister and I have adjusted the recipe a bit. Enjoy." Dr. Claudia Teinert, English Professor
The Best Stuffing for Any Chicken, Turkey or Pork Meal
(This stuffing does not get put inside a cooking turkey)
You will need:
1 stick of butter
1 small yellow onion
4 TBLsp of sage
salt to taste
pepper to taste
1 lb. of bacon
1 lb of sausage
1 medium head of celery
2 medium size bags of dried bread crumbs (we use the Pepperidge Farms brand with cranberry bits)
1 cup white wine
2 cups chicken broth
1/2 cup drippings from the turkey
Dice the onion and celery into very small pieces.
In an 8 qrt. soup pot, melt the butter and stir in onions on a medium heat until golden brown.
Add the celery and stir for two minutes.
Add salt, pepper and 1 TBLsp of the sage. Stir well. Turn off heat and set aside.
You may have to add additional salt and pepper to taste as you continue through the process.
Cook the bacon until crispy, then break into bite size pieces.
If cooking in a frying pan, allow the bacon fat to remain on the bacon when you remove the strips, but discard the rest of the fat.
If cooking in a microwave, place 3-4 slices of bacon on a double sheets of paper towels, then cover with two more sheets of paper towels. Set the microwave for 1 1/2/ minutes, then flip the bacon and cook for another 1 1/2 minutes. May have to reduce or increase the time depending on how thick the bacon is.
Pan fry the sausage, breaking it up into small pieces as it cooks.
When well done, let sausage sit on a plate briefly, leaving the fat on the sausage pieces. Discard the sausage fat in the pan.
Return butter to a medium low heat and stir in one bag of the bread crumbs.
Work toward getting the bread crumbs full of moisture and expanded from their original size.
Sprinkle the rest of the sage into the mixture and mix well.
Add 1 cup of the chicken broth to help this along.
Stir in the bacon pieces and sausage pieces.
Add 3/4 of the next bag of bread crumbs, again working towards getting all the bread crumbs full of moisture and expanded from their original size.
Add the second cup of chicken broth to help this along.
Add the cup (or as much of the turkey drippings you can get up to one cup) of turkey drippings to the mixture.
Stir, stir, stir until everything is well blended.
The the bread crumbs should be very moist, but not soggy. Add more chicken broth if too dry. Add more bread crumbs too moist.
Let this mixture simmer on a very low heat for an hour, if possible.
Just before transferring to a serving bowl if you have one, drizzle the white wine over the mixture and mix well.
Taste the mixture all along the way and adjust salt, pepper and sage seasons to your taste.
Kathryn Helm, Mathematics and Education Professor, shared two of her favorite recipes.
Grilled Apricots Stuffed with Marinated Cheddar Wrapped in Bacon
Ingredients:
24 dried Apricots
1 clove garlic, finely chopped
½ teaspoon coarsely ground pepper
2 Tablespoons Chopped Fresh Thyme, divided
1 cup cubed 3 year old aged cheddar cheese
24 think slices bacon
24 small sage fresh sage leaves
Olive oil for brushing
Instructions:
Place dried apricots in a medium heatproof bowl. Pour on enough boiling water to cover. Allow to soften for 10 minutes. Drain and pat dry with paper towels. Allow to cool.
In small bowl, combine garlic, pepper, 1 tablespoon thyme and cubed cheddar. Toss to mix. Stuff each apricot with a cube of cheddar and wrap apricot around cheese to close.
Cut bacon slices in half width wise. Working with 1 apricot at a time, lay 1 sage leaf on top of apricot. Fold 1 piece of bacon in half along the length and wrap around safe and apricot. Place seam side down and repeat for all 24.
Preheat grill to medium. Generously brush apricots with olive oil, sprinkle with remaining thyme. Place on grill, seam side down to start. Cook for 10 minutes per side, until cheese is melted. Serve hot. (I have also heated in oven)
Cinnamon CranApple Sauce
1 bag of Fresh cranberries (or use 16oz can whole Cranberries)
1 large can (15oz) of pear halves, drained and chopped
1 teaspoon ground cinnamon
2 cans of mandarin oranges
2 granny smith apples, peeled and chopped
1 cup sugar (I do not add)
Cook Cranberries as directed.
Combine all ingredients in a large saucepan; cook uncovered over medium heat 45 minutes or until thickened, stirring often.
Remove sauce from heat; cover and chill.