Published Novelist and Former Tornado, Brittany Harris, Shares What's Coming Next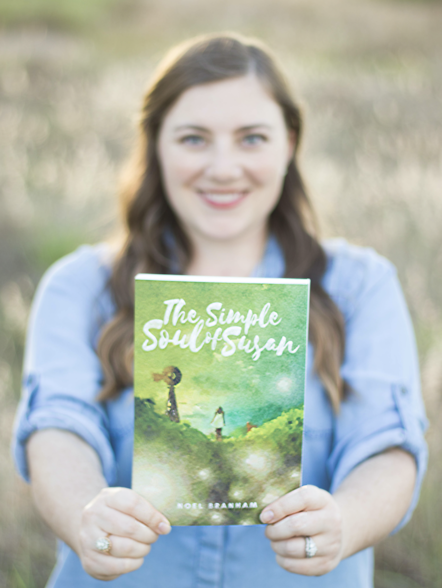 Brittany Harris, a 2012 Concordia graduate, has been busy since turning her tassel. Her passion for graphic design, digital marketing and writing have her working toward several projects.
Her latest venture came to fruition in the form of a published romance novel called "The Simple Soul of Susan." Her inspiration came from a combination of her passion of watercolors and her battle with homesickness.
"I'm a watercolor enthusiast, so I naturally had designed the cover almost a year before I finished writing the book," Harris said.
"The cover served as a catalyst for the storytelling. That image, to me, was worth more than a thousand words, and I wanted the world to encounter that story as well."
She began the writing process on Sept. 25, 2015, the date of an unseasonably premature first snowfall in St. Louis, Missouri.
"I was homesick and repulsed by the foreign sensation of a cold winter," Harris explained. "Needing a haven from the weather and an escape from my unfamiliar surroundings, I sought out to capture the essence of what made my beloved home state of Texas such a wonderful place in which to reside. From its charming colloquialisms, to its deep-rooted culture, there is so much that makes Texas what it is."
Her goal was to capture the intangible spirit of Texas, holding onto strong themes of home and family.
"All of this developed into a sincere effort to somehow keep Texas with me, and even to share a little piece of it with other people when they encountered this story," she said. "If I could accomplish that goal, well then 'home' would be wherever my story happened to travel, even if I myself never made it back to the Lone Star Promised Land."
The book seemed to resonate with readers, as the readership continues to grow.
"Hundreds of people have downloaded or ordered the book since its debut six months ago, and those numbers grow each day."
As an English Language and Literature major, Harris said her time at Concordia helped her achieve success during the writing process. She explained that she confidently trusted that God wanted her to attend Concordia during the college application process.
"When I graduated in the spring of 2012, with profound thankfulness, I had accrued no more than $3,500 in student loan debt," Harris said.
"Within a week after graduating, I was able to pay off the full sum of that debt with the money I had earned from running a small business I created on the side during those years as a college student. At Concordia, I certainly received a personalized and essential education. And perhaps just as importantly, the student work program helped introduce me to a career in digital marketing."
Harris said her professors, bosses and mentors at Concordia helped cultivate that meaningful passion within her.
"This real-life experience was huge for my professional development and positioned me well for the next steps in my career," she said. "Within days of graduation I was debt-free and had my dream 'first job' lined-up thanks in large part to my experiences at Concordia."
That dream job was working in digital communications with the Lutheran Church Extension Fund for four years. However, after having a baby she decided to stay at home to take care of her son. Her and her husband Mark Harris, also a Concordia graduate, are expecting a second child this summer.
"Though I stepped away from a more traditional job, I've continued to expand my professional portfolio by getting involved in projects of communications, consulting, rebranding, photography and graphic design," Harris said. "And, of course, there are plenty of various writing projects still in the works as well."
Presently, Harris is working to expand a newer project with one of her business partners.
"Our focus is on fostering educational partnerships through certain means of improved teacher-to-parent communication," she explained.
"It's been a great way to merge my passions for writing, graphic design and digital marketing into a unified effort; one that can make a positive impact in the lives of educators and families. Over the next 18 months we will be making progress toward serving even larger markets."
She urges that all inspiring writers discover what lights their fire.
"Every writer must confront his or her own ultimate motivation for writing. Why do you write? To be important? If greatness is your aim, words will have the power to become both your making and downfall," Harris started.
"For money? If you seek only wealth, an empty affluence may be all you will ever acquire. For truth? Truth is perhaps one of the greatest motivations for writing. When truth is woven into the chapters and pages of a story that only you are in a position to create, that truth you tell exists and will never cease to be. Truth endures beyond even the truth-teller."
Harris continues to enjoy her life as a freelance marketing consultant, a writer, a wife and a mother. "I'm so blessed, thankful and honored to have benefited from an educational foundation that continues to develop me into a Christian leader."
Read what others are saying about her novel here.
*Note: Although Harris published this novel under the pen name "Noel Branham," the work is all her own.