Never A "Par." Freshmen Golf Twins Double Trouble on the Course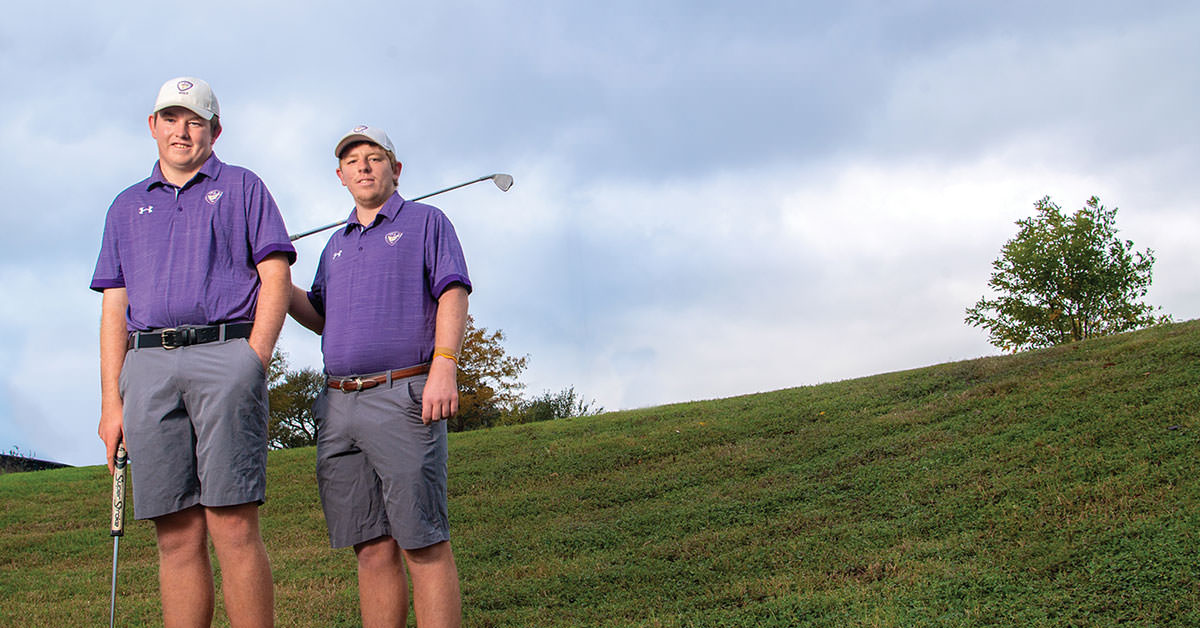 Justin and Travis Skorheim are fierce competitors, even with each other. The freshmen twin brothers came to Concordia University Texas together from Houston, and play together on the men's golf team.
"Concordia is semi-close to home, the class sizes are small, you get to know your teachers pretty well and they have a great golf team," Justin said.
The brothers visited campus their junior year of high school after being referred by their coach, and knew it was the place for them. Although they hadn't discussed going off to college together, it worked out that way. They even share a dorm room together.
"We argue every day, he gets mad at me a lot," Justin said of Travis.
"I wouldn't say every day, but sometimes," Travis contradicted. "We lived together our whole lives, so it isn't that different living together in the dorm."
Having a father who was a former professional golfer meant Justin and Travis had a club in their hands as soon as they could hold one.
"We played baseball and hockey, too, but at age 11 we were getting serious about gold," Travis said.
Travis said they always were pretty competitive with one another, even playing for their high school golf team.
"It means we're constantly competing and having someone to measure up to," he explained.
Although they are fraternal twins, sometimes people do get them confused.
"A lot of people call me Travis," Justin said. "Some people say we look alike, some people say we look nothing at all like each other."
They aren't just playing on the same golf team, but they are sharing a major: Business. The two have a class together this semester, and are bound to be enrolled in several other courses together in years to come. Although they aren't quite sure what they want to do after college, they know what they want as far as golf goes.
"I hope to play in as many tournaments as possible, and to play in the NCAA Division III Championships at the end of the year," Justin said.
Travis agreed, and stated his desire to win at least one tournament individually, although he wouldn't mind seeing his brother win one.
"I would be happy, it would drive me to do better," Travis said.
But when asked which one was the better golfer, Justin and Travis said "me" in unison.
The brothers look to their father as their inspiration, and shared that they still are improving their skills from his teachings.
"My dad taught me everything," Travis said. "He's still teaching me. He's my swing coach, and I haven't finished learning from him."
They are also happy with the coaching they are receiving from Coach Aaron Ford.
"He's very hands-on in tournaments," Travis said.
Concordia has been a good fit for the Skorheims and they are glad they are here.
"Most kids might pick going to a bigger school, but a lot would probably find that they fit in better at a small school," Justin said. "You get more playing time and don't have to watch upperclassmen play for two years."
Travis agrees.
"Don't shy away from Division III," he said. "Going to school where you can actually play is what matters."