Gabriella's Window: Enjoying Fall Adventures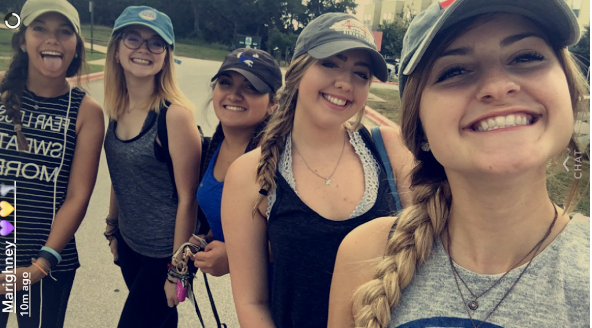 It's finally fall! You know what that means? It's the best time of year (as least, second best to Christmas season).
The chilly air, drinking warm apple cider while stepping on crunchy leaves, has students across the nation enjoying fun fall activities. I'm going to suggest some fun/great ways to enjoy the fall while staying focused on the important things!
Quality time with friends, is so important while you are in, and out of school. Now I know spending time with friends can be hard while trying to maintain work and school (or even just school).
So, in order to make time with friends, try going on (small) adventures with your friends to refresh your mind, and even give you some thinking time.
See the beautiful View From the 360 Bridge
360 Bridge, is a great short trip down 2222.
Side note: Freshman year, my roomies and my neighbors all took about an hour to hang out at the overlook. This is one of my favorite memories with them because there was no pressure to take a lot of time to do an activity, nor was it loud.
It was a quiet place where we just got to enjoy each other's presence! Here's the address if you want to check it out: 5300 N Capital of Texas Hwy., Austin, TX 78730.
Enjoy the Fall Season at Sweet Berry Farm
There are tons of other options if you want to get outside and enjoy the fall air!
Sweet Berry Farm is another really cool place to hang out and enjoy the weather. They have fun things live pumpkin picking, hay rides, scarecrow building and even face painting!
This family-friendly location provides a fun place to enjoy the season (without all the scary things). I personally get scared easily, but love the "spooky season." Sweet berry Farm is a fun, happy medium for people who love the fall, but dislike the jump scares.
If you don't have time to go to a specific location...
Grabbing a quick cup of coffee or tea from across the street and hanging out on The Pier is another great way to embrace the season! I personally love hot tea in the fall.
One of my favorite hot drinks would be a hot chai with cream (or a vanilla chai). It's warm, sweet and has a nice cinnamon flavor. I'm even drinking one right now as I write this!
You can even...
Check out events on campus to see how Concordia is celebrating fall! During this season there are lots of fun events where you can enjoy fall treats, movies and happening, such as the annual Haunted Hall hosted by Student Activities.
Keep your eyes open for all the fun things happening on and off campus!