"My fair name is Rooster"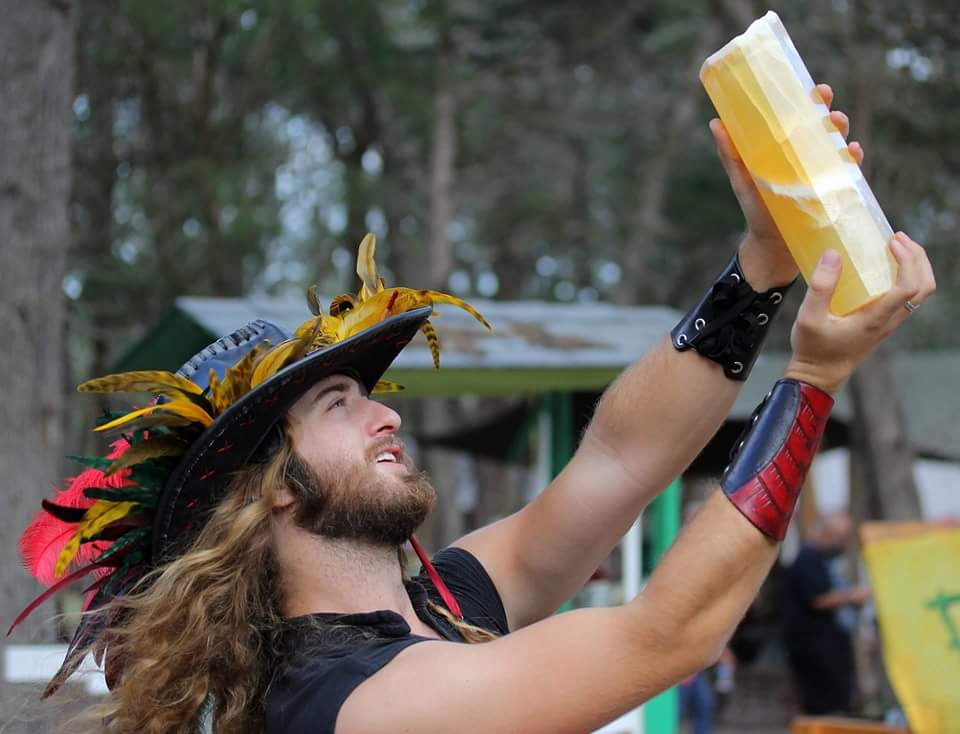 Students at Concordia aren't just hard at work in the classroom, they're busying themselves with every kind of extracurricular under the sun. Take Micah Hodges, a Tornado that spends every ounce of time outside his studies in Renaissance and Shakespeare festivals.
"My fair name is Rooster," Hodges said.
More on that later.
"I overbook myself," Hodges started. "My schedule is crazy."
Hodges spends his weekends in Renaissance Festivals across Texas. Austin, Houston and Dallas all offer Renaissance festivals that keep Hodges running all over the place. Most people don't know that these festivals take place approximately half of a calendar year. He said that on any given weekend during Renaissance season, at least two of the three cities have festivals going on.
Renaissance fairs aim to recreate a historical setting for the amusement of guests. They include costumed entertainers, musical and theatrical acts, art and handicrafts for sale, and festival food. They are often themed with categories such as Oktoberfest, Pirates, the Romans, Heroes and Villains and All Hallows Eve.
"Renaissance festivals can be very creepy," he said. "The Austin one [Sherwood Forest Faire] is particularly low-tech, to accurately portray the era."
He noted that the Austin one is also, his favorite.
"Austin has one of the best I've ever been to," he said. "It's unique in that they offer tons of music and games, while the others are more along the lines of 50 acres of shops."
Fifty acres of shops is an accurate description. In fact, a town called Todd Mission was created because of the Houston-based, Texas Renaissance Festival.
"They have their own police and taxes and laws," Hodges said. "The owner is even called King George."
Hodges became interested in the Renaissance fairs when he was 18 years old after visiting a sword shop at a festival. He became fixated on a sword in the store, but it was $3000, and way out of his budget.
And so he did. Shortly after, Hodges' family became involved with the festivals and opened their own shop called Heart of the Mountain Rocks.
"The shop sells Honeycomb Calcite, or Honeystone," Hodges said. "It comes from a single mountain in Utah, the only source for this type of calcite in existence."
Heart of the Mountain sells cylinders, slabs, wine rocks and other items all handmade from the Honeystone. The translucent stone makes items such as candles, sconces and chandeliers, as well as several other creative lighting devices.
Besides helping with his family's shop, Hodges does re-enactments for the festivals.
"I want to be an actor," he said.
He's worked in Affluent Films, based in Round Rock, for almost four years, and has starred in several of their features. He also performed in local theaters growing up. His goal is to get involved with Rooster Teeth, a production company based predominantly in Austin.
"I've been in one of their movies," Hodges said. "I hope to become permanently involved with them."
As for his work in the festivals, he doesn't plan on stopping just yet. After all, his fellow fair mates have just recently started calling him Rooster.
"At Renaissance festivals, you usually have your fair name given to you after you've been working there for a while," Hodges said. "My grandpa actually gave me mine."
In Hodges' family, his grandfather nicknamed everyone is his family. His dad was known as Peanut, and his sister was called Ladybug. Hodges received his name because as a baby, he woke up at the crack of dawn "screaming his head off."
"He was the world's greatest grandpa, not just a saying on a mug," Hodges said. "After he passed away I didn't want to stop being known as Rooster so I had everyone at the fair call me that."
Hodges is studying environmental science and communications at Concordia, a fitting dual major for someone with such a wide variety of interests.