5 New Inductees to CTX Athletics Hall of Fame 2019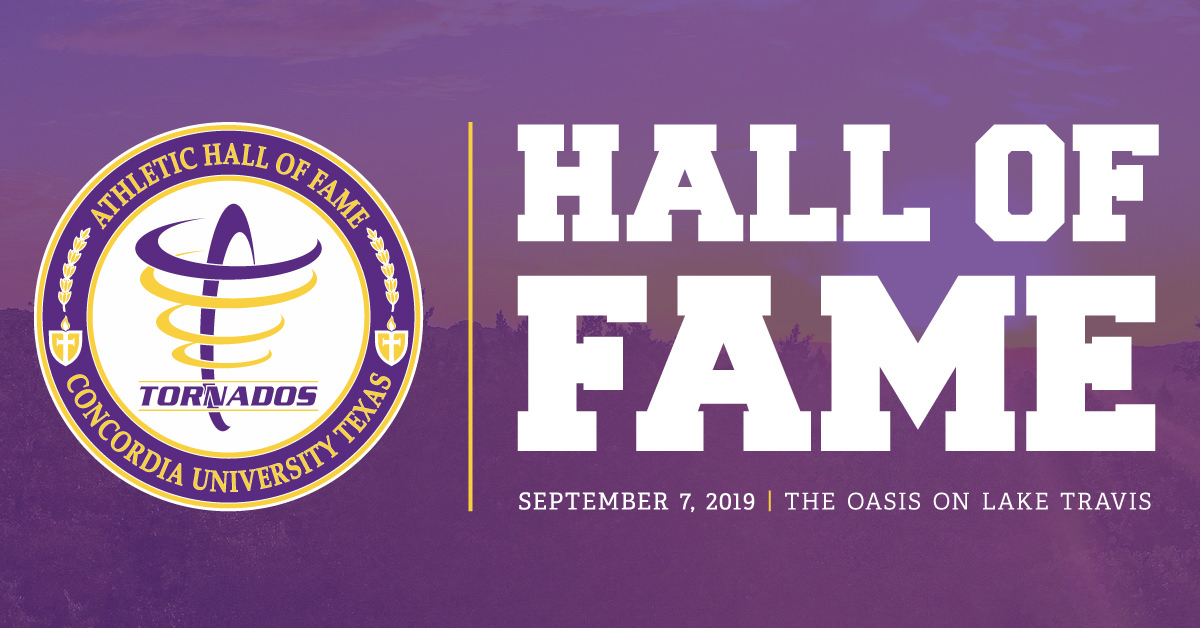 Written by: Joe Fisher, Sport Information Director
Join us on September 7, 2019 at the Oasis on Lake Travis to celebrate the induction of five new members into the Concordia University Texas Athletics Hall of Fame. From student-athletes to an entire team, it's a celebration you don't want to miss.
Mike Tate
Mike Tate was a four-year letterman for the baseball team, pitching for the Concordia Stags from 1983 to 1986. During his collegiate career, Tate tallied a record of 15-20, posting a 4.42 ERA and totaling 249 strikeouts, which ranks second in program history.
CTX Career Highlights:
56 appearances, 35 starts
Tossed 23 complete games (ranks second in program history)
Senior year: 93.1 innings with 7-6 record and 2.80 ERA
Single-season record for most complete games (10) and strikeouts (110) during senior year
Rusty Segler
Rusty Segler coached the men's basketball team from 1988 to 1996. During the 1991-92 season, Segler coached the Concordia Stags to a 21-win year, the third-most wins in a single season in program history.
CTX Career Highlights:
Coached men's basketball team for 8 seasons
Record of 91-152
Third most coaching wins in program history
During his coaching tenure, Segler oversaw the development of some of Concordia's best players, including 2009 Hall of Fame inductee Wendell Homes and three other thousand-point scorers Kevin Dydalewicz, Clay Cole and Todd Redmond. Segler will become the sixth coach inducted into the Hall of Fame, joining Mike Gardner, James Keller, JAck Faszholz, Linda Lowery and Tom Orton.
Scott Berkman
Scott Berkman was a four-year letterman for the baseball team, playing from 2000 to 2003. He was part of the 2002 team that made a run to the Division III College World Series. Berkman was superb for the Tornados on the mound and in the batter's box.
CTX Career Highlights:
59 appearances
Record of 25-13 over 320.2 innings
Holds program's career records in games started (51), innings pitched and strikeouts (291)
Ranks fourth for wins and complete games
Lifetime .330 hitter; scored 135 runs, 33 doubles and 63 RBIs
Ranks top 10 in program history for most runs scored and most doubles
Three-time All-America Southwest Conference (ASC) selection
Earned dual All-ASC honors during senior year (infield and pitcher)
Named to America Baseball Coaches Association/Rawlings All-West Region Second Team during final season
2012 Women's Basketball Team
The 2012 women's basketball team won a program-best 23 games on their way to claiming the program's first-ever ASC Tournament Championship. They defeated Louisiana College 73-64 in the title game and reached the NCAA Tournament for the first time in CTX history.
CTX Career Highlights:
Led by Head Coach Rust Rainbolt and six All-ASC selections (a program record)
23-5 on the season, including school record of 18 wins in conference play
Clinched program's first ASC West Division title
Rainbolt named ASC West Coach of the Year
Shamika Singleton selected to ASC All-Conference team
They will be the fourth team to be inducted, joining the 2002 baseball team, the 1982-83 men's basketball team and the 1999 volleyball team. Additionally, the team will be the first representative of the women's basketball program to be inducted.
Megan Wagenaar
Wagenaar finished her collegiate career as one of the most decorated runners in both cross country as well as the track and field. Competing for the Tornados from 2010 to 2014, Wagenaar racked up multiple individual accolades in both sports.
CTX Cross Country Career Highlights:
Part of 2011 team that captured program's first-ever ASC Championship
Four-time All-ASC selection; named first team selection in 2011 and 2013
NCAA All-South/Southeast Region selection senior year
First tornado to compete at NCAA Cross Country Championships
Holds program record in 5K run with time of 18:38.8
CTX Track & Field Career Highlights:
School record holder in 800m and 1500m events
Still holds best time in 800m event at ASC Championships she set in 2012
Claimed six ASC individual titles in the 800m and 1500m events
Part of the 4x400 relay team that won the ASC title in 2014
Three-time ASC All-Conference selection
Named the 2012 ASC Female Track Athlete of the Year
First cross country and track and field student-athlete to be inducted