7 Lessons for Everyone from Chief Andy Harvey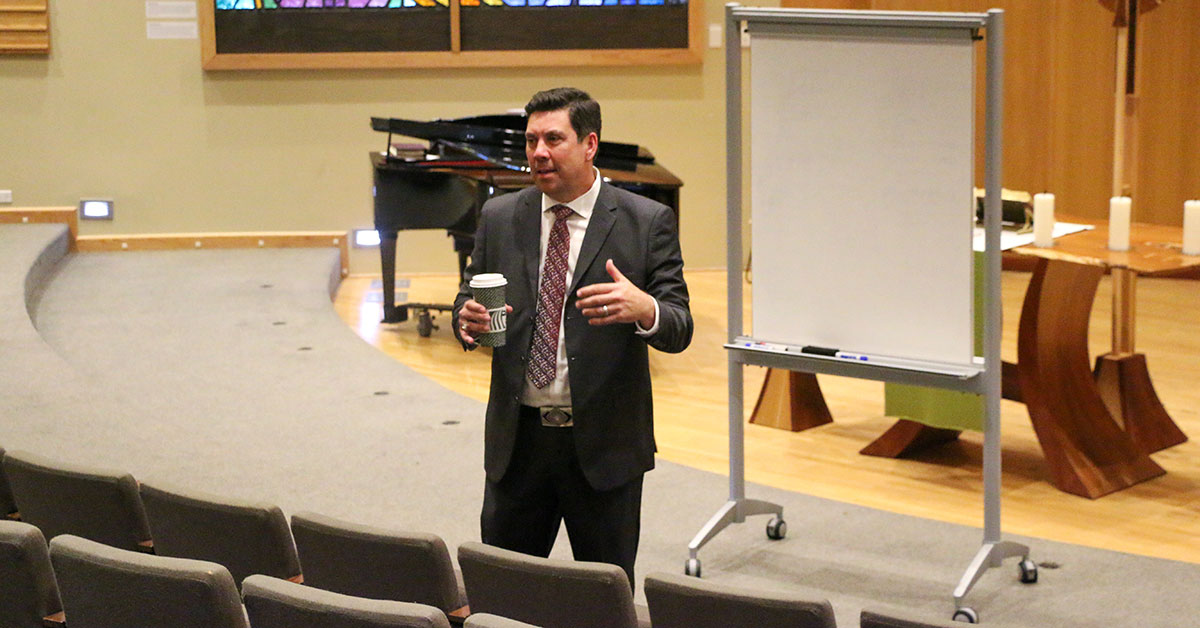 Chief Andy Harvey visited Concordia University Texas to share insights from his new book with Criminal Justice & Criminology students and police officers. While the discussion was centered around policing, Harvey provided lessons that can benefit everyone, regardless of your vocation.
"These principles can be used by anyone who interacts with human beings," Harvey said, which is all of us.
Lesson One: Every Encounter Matters
"Every encounter matters," Chief Harvey stated. This was the concept around which his presentation centered. He encouraged police officers to look at every interaction with a citizen as an opportunity to build trust.
This concept applies to us all, regardless of vocation. A Christian points others to Christ by building relationships with others that are built on trust. A student builds trust with their team by completing their part of the project on time. An accountant builds trust with their coworkers by explaining why a budget request is denied. A friend builds trust by showing up when least expected. Every encounter matters.
Lesson Two: Treat Others with Dignity & Respect
In his research for graduate school, Harvey found that people are more interested in how they are treated by law enforcement officers instead of the outcome. He believes that a majority of police officers treat citizens with dignity and respect, and he encouraged them to continue to do so, even when they don't receive the same treatment. "You can't control what others do, only what you do," he said.
The Bible teaches us that every person has inherent value because they are created by God. Chief Harvey's emphasis on treating others with dignity and respect aligns with the second greatest commandment.
Matthew 22:37–39 (NIV).
Jesus replied: "'Love the Lord your God with all your heart and with all your soul and with
all your mind.' This is the first and greatest commandment. And the second is like it:
'Love your neighbor as yourself.'"
How do you love your neighbor? You show them dignity and respect with your words and your actions, you provide for their needs and, most importantly, you share with them the truth of God's word.
Discover more about Concordia's Student Ministry & Missions.
Lesson Three: Strive for Excellence by Focusing on Quality
Instead of focusing solely on results, Harvey encouraged attendees to focus on quality interactions with others. When you focus on quality, he explained, great results will follow.
The professors at Concordia provide wonderful examples of this approach. They go beyond simply teaching you the material to get you to graduation. They participate in campus events, get to know their students, and strive to help each student fully understand how the course material can apply to their vocations.
Lesson Four: Value Others Above Yourself
For a community to thrive, its members must act in the best interests of the community. Police officers are a wonderful example of the importance of valuing others above self. They put the safety of community members' lives above their own lives every day.
Harvey offered two questions you can ask yourself to determine if you're working for the best interests of others.
Am I taking this action for the right reasons?
Am I adding value to what the organization is trying to accomplish?
Paul tells us in Philippians 2:3–4, "Do nothing out of selfish ambition or vain conceit. Rather, in humility value others above yourselves, not looking to your own interests but each of you to the interests of the others."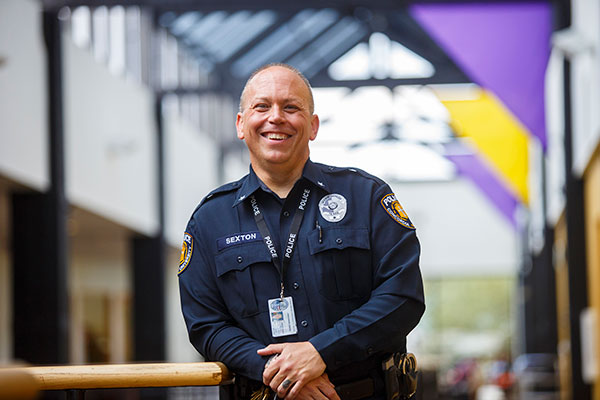 Meet Concordia Campus Police Chief Shane Sexton.
Lesson Five: Mutual Understanding Is Important
Issues arise when there is a lack of mutual understanding. That's why Chief Harvey emphasized the importance of clear communication between police officers and citizens.
A lack of mutual understanding occurs in every vocation. Harvey suggested that there must be honesty, transparency and a willingness to listen to establish mutual understanding.
James 1:19 (NIV) tells us, "My dear brothers and sisters, take note of this: Everyone should be quick to listen, slow to speak and slow to become angry."
Lesson Six: Be the Adult in the Room
When misunderstanding occurs, it's important for you to "be the adult in the room," Harvey said. This means that you take responsibility for clarifying the misunderstanding.
Continuing to treat others with dignity and respect, identify the point of miscommunication, and work with those involved to clear up the misunderstanding.
Lesson Seven: Leadership Is Influence
Power is using force to obtain your goal. Authority requires leadership, which is the ability to influence followers' actions. People are more likely to respect the authority of a leader that's built on trust rather than a person in a leadership position who uses power to achieve results.
"An officer's authority is a gift from those they serve," Harvey stated. "The community has placed its trust in the officers. The gift back to them is how the officer uses it."
The same applies to any position of authority, whether it's as a business executive, store manager, team leader or pastor.
About Chief Harvey
After retiring from a successful 21-year career in the military, Chief Andy Harvey served the Dallas Police Department for 21 years in various roles. He now serves as the chief of police for the city of Palestine, Texas.
He recently released Excellence in Policing: Simple Ways to Exceed Citizen Expectations in Every Encounter, a book in which Harvey leverages his extensive experience of community engagement to provide ways to infuse excellence into every encounter you have with others.