Concordia Fall 2019 Commencement Recap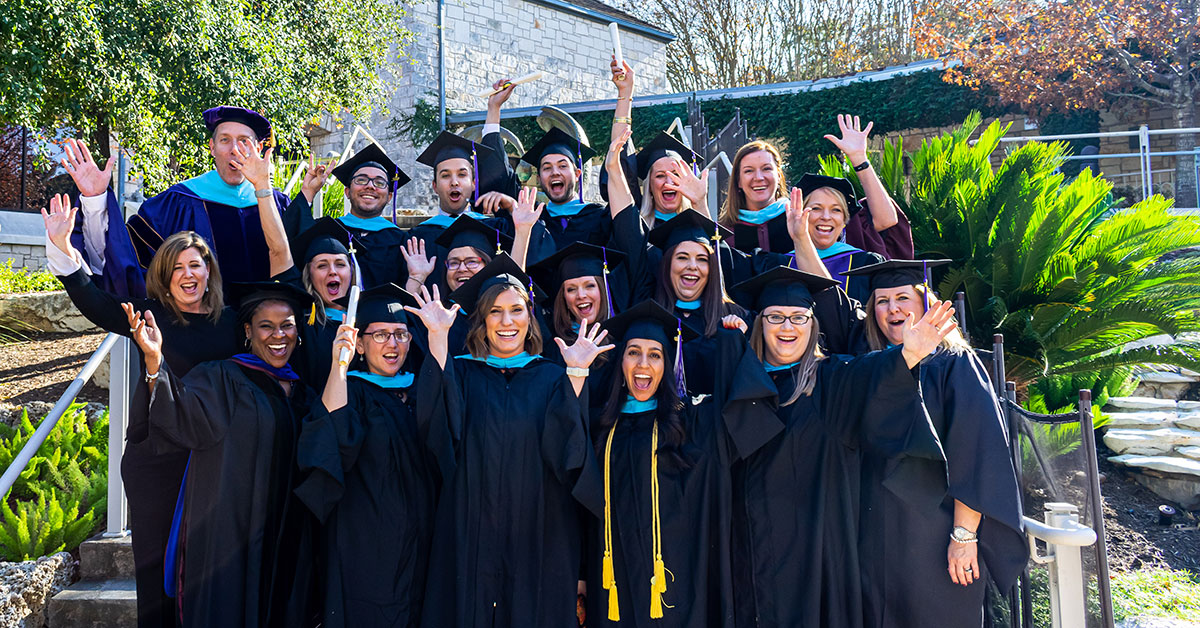 On December 7, 2019, Concordia University Texas graduated a new class of students at the Fall 2019 Commencement. Held at the Riverbend Centre in Austin, family, friends, faculty and staff joined together to celebrate the students' accomplishments.
Concordia also celebrated many firsts, including the largest graduating class of nursing students, totaling 76 graduates. Additionally, 13 students composing the first graduating class of the Concordia Doctor of Education program crossed the stage.
Reading of the Word
After Dr. Kristi Kirk, provost and executive vice president of Concordia, welcomed everyone to commencement, Rev. Steven Fick, Concordia's campus pastor, began the ceremony with the invocation and opening prayer.
Board of Regents member Carol Mueller encouraged graduates and attendees with Deuteronomy 6:4–9, which says,
Hear, O Israel: The LORD our God, the LORD is one. Love the LORD your God with all your heart and with all your soul and with all your strength. These commandments that I give you today are to be on your hearts. Impress them on your children. Talk about them when you sit at home and when you walk along the road, when you lie down and when you get up. Tie them as symbols on your hands and bind them on your foreheads. Write them on the doorframes of your houses and on your gates.
Dr. Joanne Antrim, assistant professor in the College of Education, then read the account of the road to Emmaus in Luke 24, the Scripture upon which this year's theme is based.
Learn more about the 2019–20 theme, Where Are You Going… With Whom.
Pursue Meaningful Work
Dr. Edna Aguirre Rehbein delivered an inspiring commencement address. She was a first-generation college student and the first in her family to leave home, attending a university in Virginia. She returned to Texas to earn her doctoral degree from the University of Texas at Austin.
Beginning her career at Concordia as an instructor, Rehbein served in multiple roles throughout her 13 years at the University, including dean (first woman in the role), assistant vice president (first woman in executive position at CTX), vice president and executive vice president. "The Lord put me at Concordia, where I was supported, and I matured professionally, personally and spiritually," she explained.
After serving as provost at Texas Lutheran University, she joined Texas State University as the director of the Multi-Institution Teaching Center in Round Rock, Texas. Promoted to assistant vice president for academic affairs at the Round Rock campus, she grew the program from five classes in portable buildings to a campus of more than 2,000 students on 101 acres.
Dr. Rehbein encouraged graduates to focus on where they are going and, instead of with whom, to consider why they're on this journey. "I strongly believe that education is a gift that should not be taken lightly," she said, "and that it comes with a responsibility for those of us who have been blessed with an education to make a difference in the world."
For her undergraduate degree, Rehbein was motivated to earn her degree so that she could return to help her parents. But her purpose in her graduate program wasn't as clear. Her mentor encouraged her to focus on earning her doctoral degree, because with it, she could do so much.
She first joined Concordia in 1984 as the first Latina faculty member. It was here where she found her purpose - to teach Mexican American studies and educate students about the Latino culture. "I learned that I could use my voice to make a difference for others," she said, "and I have tried to address injustices and implement change ever since."
Using the example of her journey, Rehbein encouraged graduates to use their degrees to pursue meaningful work that helps others. She concluded her address with Psalm 46:10, in which the Lord states, "Be still, and know that I am God."
"Know that He is God," she said, "and that He will guide you in the direction in which you should go."
Watch the Ceremony Online
Weren't able to make it to commencement? Don't worry! Watch the undergraduate commencement ceremony or the graduate commencement ceremony on our YouTube channel.
We congratulate all of the Fall 2019 CTX graduates and their families on their wonderful accomplishments. Woosh!