Concordia Tornados Spirit Guide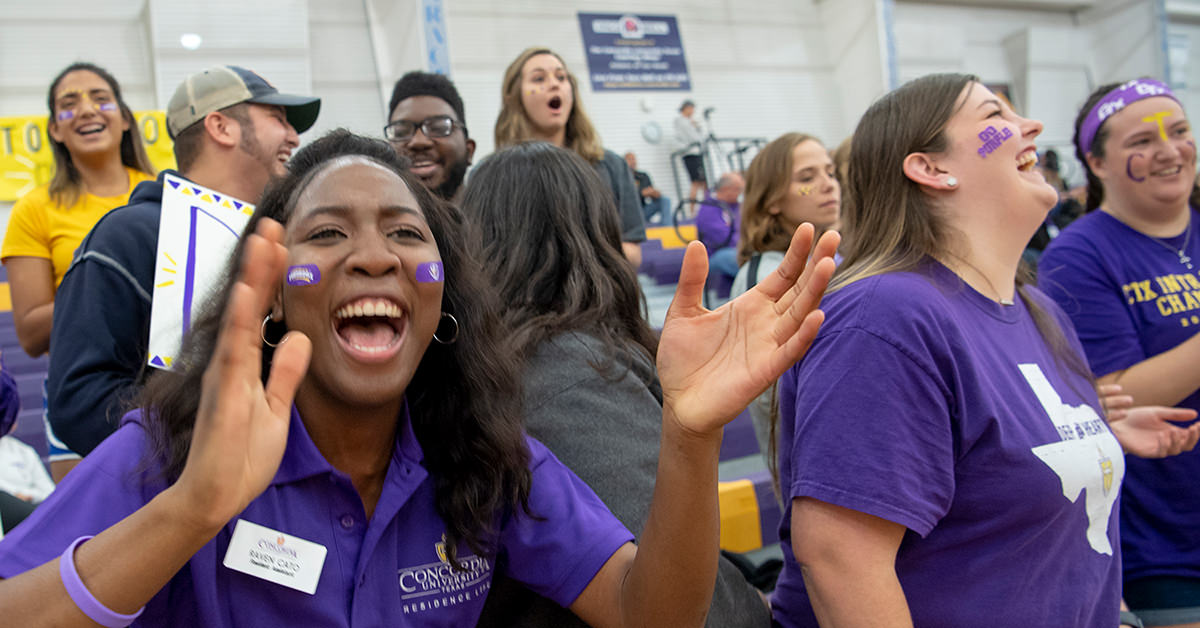 Concordia University Texas has a lot of things to celebrate throughout the year, and we need your help celebrating them. From attending athletic games to posting awesome experiences, you are the spirit of Concordia.
Tornado Nation
Tornado Nation is a student-led spirit group that was created to support CTX athletic teams and events. From students to faculty, anyone can join.
One of Tornado Nation's most exciting events is Purple Out, which is co-hosted by CTX Athletics and Student Activities. Purple Out days are celebrated when a Concordia Tornados team has a home game.
It's easy to join in. Simply wear purple on Purple Out days to show your school spirit. Don't have any purple clothing? Swing by the Bookstore where you will find all of the purple you need!
Attend Home Games
A wonderful way to show your support is to cheer on our athletes at home games. With 15 NCAA Division III teams at Concordia, you have plenty of opportunities!
CTX Athletics has all of the upcoming games for the season listed on the CTX Athletics site. Choose the sport and click "Schedule/Roster" to find an upcoming home game.
Get Social!
We love hearing about and sharing your Concordia experiences on social media to keep students, faculty, staff, alumni and the greater community updated about what's happening on campus.
Connecting with CTX has never been easier! Share your experiences using #CTXsocial, or tag us @concordiatx.
We're on all of the major platforms, including:
Perfect Your Woosh
The official celebration phrase that CTX Tornados use is "Woosh." It's also accompanied by our hand gesture, which is easy to learn. With your index finger pointed up, swirl your hand around like a tornado.