CTX 101: Cedel Hall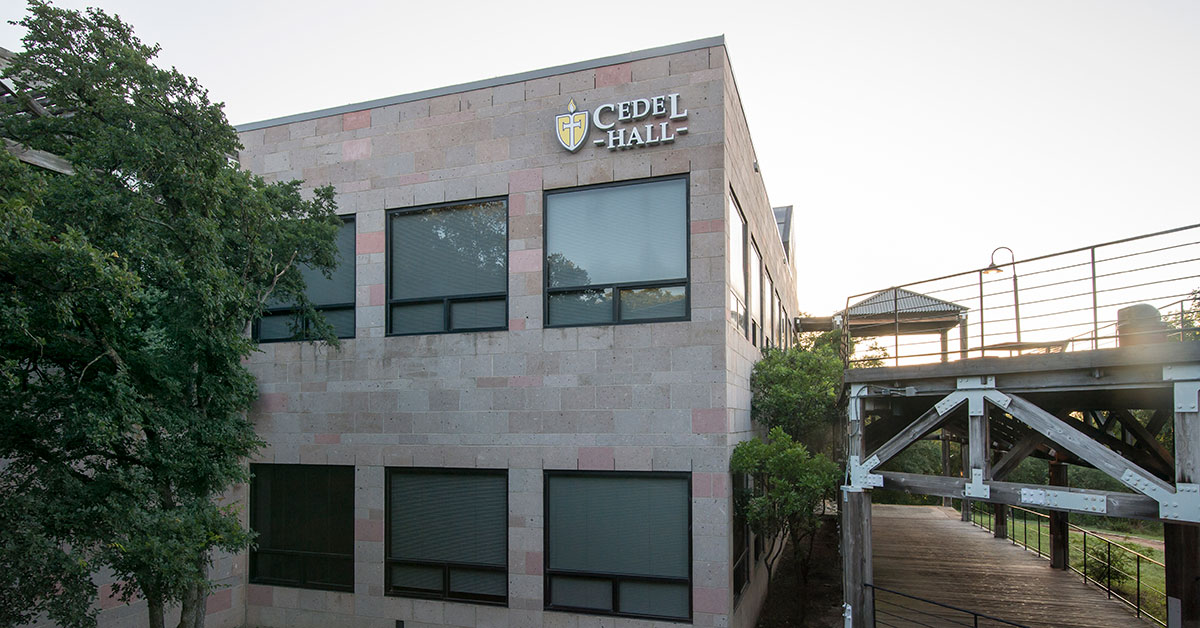 Did you know that Cedel Hall (formerly Building C) is named after a former Concordia University Texas president? Dr. Tom Cedel is the namesake for the building. Here are five interesting facts about our former president.
Pittsburgh Native
Cedel and his wife, Penny, are both Pittsburgh natives. They have two surviving children and two grandchildren, and they have been married for 47 years.
First-Generation College Graduates
Both Mr. and Mrs. Cedel are first-generation college graduates. They both attended universities around Pittsburgh. Mr. Cedel studied biology and chemistry, and Mrs. Cedel studied nursing.
Education
Mr. Cedel holds a bachelor's degree in biology and chemistry, completed a postdoctoral fellowship in biochemistry at Carnegie Mellon University, and earned his PhD in biology and biological sciences from the University of Pittsburgh.
Fighter Pilot
Before entering the vocation of higher education, Cedel served as a fighter pilot in the U.S. Air Force. The Cedels moved 17 times during Mr. Cedel's air force career, living in Pakistan, Japan, Korea, Europe, the Middle East and the United States.
Cedel commanded a fighter squadron and was vice commander of a fighter wing. He was eventually promoted to colonel.
Concordia University Ann Arbor
Before joining CTX, Cedel joined Concordia University Ann Arbor and served as a faculty member, dean and academic vice president during his four years there.
Third-Longest Tenure
Cedel served as Concordia's president from 2002 to 2014. His tenure of 12 years is the third-longest tenure of a Concordia president, and it's nearly double the average tenure of university presidents.
Moving CTX
Cedel was president when CTX moved its campus from the original downtown location on I-35 to the current campus in Northwest Austin. In 2008, CTX successfully moved to the former Schlumberger campus and was ready for the start of the Fall 2008 semester.
During Cedel's tenure as president, Concordia's enrollment more than doubled. The Cedels devotedly served Concordia throughout their time here. We are so grateful for them and their contribution to Concordia University Texas.