Concordia University Texas is a place where Christ is honored and where all are welcome. One place this is regularly displayed is at Daily Chapel. Every weekday, the Concordia community gathers to worship God, hear from His Word and join with one another in fellowship.
As an institution affiliated with the Lutheran Church-Missouri Synod (LCMS), our chapel services are rooted in Lutheran tradition. Whether you've been a Lutheran your whole life or this is your first interaction with the Christian faith, we welcome you to join us. The first service you attend can be overwhelming, so here's what you can expect at Daily Chapel.
When & Where
The Chapel is in Building A, where the Welcome Center and Admissions are located. During the fall and spring semesters, Daily Chapel is held at 10 a.m., Monday through Friday. Service typically lasts between 20 and 30 minutes.
Every Wednesday, we have Coffee & Community. A CTX department provides food and drinks (typically coffee and juice) immediately after the Taizé chapel service (just music, no message) in the Welcome Center. This is the perfect opportunity to enjoy a musical worship service, chat with friends, talk with your professors, enjoy delicious snacks and fuel up with a free cup of coffee!
Grab Your Service Book
When you come to the entrance of the chapel, one of our kind greeters will hand you the Lutheran Service Book, which is the official LCMS hymnal. The hymns for the day should already be bookmarked for you.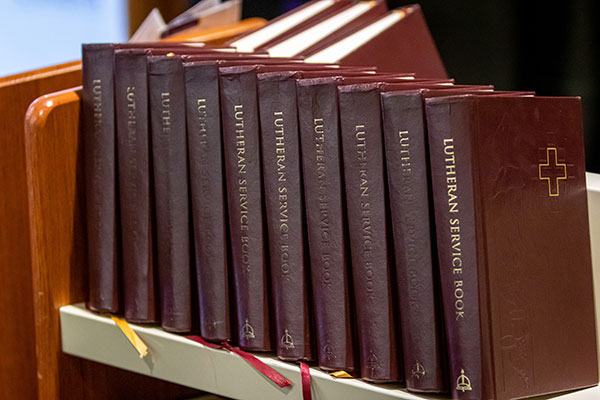 You will also receive a paper with the liturgy, or format of the service. It's important to hold onto this because it tells you at which times to respond throughout the service. Whatever is bolded and begins with "All" is what you recite.
Service Format
The typical liturgy includes music, Scripture, a message and prayer.
Call to Worship
Opening Song/Hymn
Collect (a prayer that "collects" the prayers of the people)
Readings of God's Word
Message
Hymn of Response
Apostles' Creed
Prayers of the Community
Benediction
Get Involved!
We are always looking for volunteers to read Scripture, play music and more. If you're interested in getting involved with Daily Chapel, please contact andrea.mcdonald@concordia.edu.
Recent Posts
An important benefit to consider when searching for a job is the opportunity to develop personally and professionally in your career. Here are 13 companies in Texas that offer excellent professional development and training benefits.
Learn more about the Brookdale Read-to-a-Resident program, which was recently launched by CTX English major Victoria Leffers.
Concordia University Texas has a select opportunity for Austin tech companies to partner with the Computer Science program and provide Computer Science students with real-world experience while gaining valuable solutions for their organizations.