First-Generation Immigrant Graduates from Concordia with Nursing Degree
In December 2019, Elaene Mae Abella graduated with her Bachelor of Science in Nursing (BSN) from Concordia University Texas. She is a first-generation immigrant, the first medical professional in her family, and the first one in her immediate family to graduate with honors.
Her path to becoming a nurse is both unique and inspiring.
Why Nursing?
Abella's interest in nursing was sparked when she was just five years old. She became critically ill with Dengue fever and was in the hospital for a month. However, the nurses would spend so much time playing with her that she didn't feel like she was sick.
This above-and-beyond care inspired her to become a nurse.
Immigrating from the Philippines
Abella immigrated to the United States of America in 2015, joining her family in Austin, Texas. Although she was a successful scholar in the Philippines, Abella took this chance to be with her mother, with whom she was able to spend little time during her childhood. Her mother sacrificed several opportunities to return to the Philippines to get her and her brother to the United States.
She was on the pre-med track in the Philippines, but she knew that the United States offered her more opportunities. Abella explained that healthcare is not a priority in the Philippines and that the field of nursing is not respected like it is in America.
The move was a complete transition for her. She had no friends that lived in America, English is not her first language, and she didn't know how to drive. But Abella persevered through the obstacles. After working in the family business for a time, she took a job with Texas Medicaid.
Community College to Concordia
Abella was working 80 hours per week for Texas Medicaid while attending Austin Community College as a full-time, pre-med student. As in the Philippines, she was an honor student and attended ACC for free through scholarships. She was committed to her education, even taking naps in her car in between work and evening classes. Her diligence paid off, and she earned an associate degree in General Science Studies.
Ready to earn her BSN, Abella was looking for a university program that allowed her to finish quickly. She found Concordia's Accelerated BSN (ABSN) program, which is a 16-month blend of rigorous online coursework and hands-on learning through simulation labs and in-hospital clinical rotations.
In addition to the short duration of the program, Abella chose Concordia because of its focus on Christian leadership. She spent years as a full-time mission volunteer for CFC Youth for Christ in the Philippines, so her faith was an important factor in this decision. "This was like my home away from home when it comes to my beliefs and values," she said.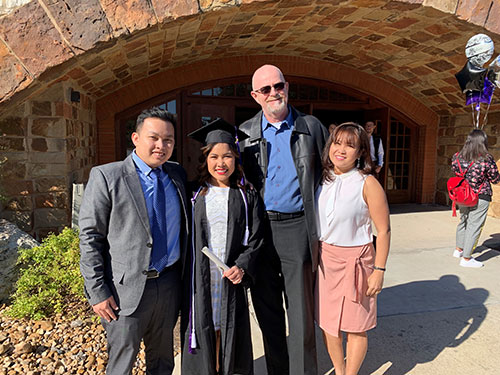 Earning Her BSN at Concordia
Because she had zero confidence in her English-speaking skills and didn't know how to approach people from different cultures, Abella found it difficult to express her thoughts during clinical rotations. On top of all of this, she was completely new to nursing and was learning lots of information. "Before the ABSN, all I knew was how to use Tylenol," she said.
The stress of the program led to a serious health problem, so Abella developed a routine that helped her alleviate stress and concentrate on her degree. "A lot of people frequently talked about how difficult it was balancing everything," she explained. "All you have to do is take it one day at a time." Each day she focused on what she needed to complete, whether it was a test, clinical rotation or something else.
Abella was part of the largest ABSN cohort at the time, totaling 54 students. Without the clinical rotations, she would not have been able to meet her entire cohort. Abella enjoyed the camaraderie with her fellow cohorts, some of whom were also international students.
Her favorite part of Concordia's ABSN program was the professors. While they were professional in the classroom, she knew that she could talk to them about anything. They took on the role of mentors, encouraging her and her fellow cohorts to complete the program. "We created good bonds with our professors," she said.
Many of her professors would eat lunch with her and her cohorts during their clinical rotations or simulations to check how they're doing in the program and life. They also encouraged her and her cohorts to get outside of their comfort zones, which helped Abella grow personally and professionally.
Everyone Loves the Purple People
Abella observed that all of the doctors and nurses in the hospitals gladly embrace the Concordia nursing students, who don lovely purple scrubs. She learned that they enjoy working with Concordia nursing students because of their strong work ethic and their willingness to complete any task asked of them, regardless of how redundant it is.
"They know that the purple people are dedicated," she said.
Advice for First-Generation Students
Abella offers valuable advice for first-generation students, international students and all other types of students. "No matter how many people tell you that you can't do it, take that challenge, and embrace it," Abella said. "Cultural barriers shouldn't be a hindrance to your ability to grow personally and professionally."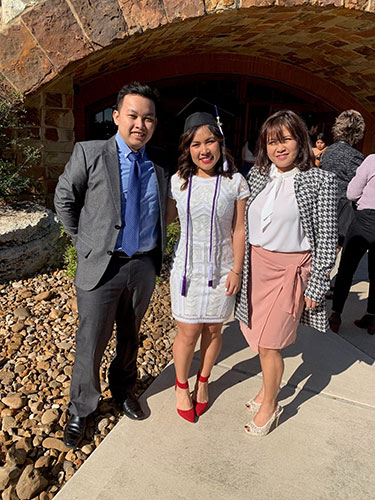 She specifically encourages international students to push past the doubts and intimidations in their minds and to face the challenge of attending university in a different country. "It's a process," she explained. "Take baby steps toward the outside world, or you'll never get there. We owe it to our families who have helped us get here to do our best," she said.
Additionally, Abella cautions students against becoming so focused on achievement that they miss opportunities to develop relationships with other people. "It's very important to meet people and create long-lasting relationships," she said, "because these are the people who will help you and lift you."
Moving Forward
"I was so blessed when applying for jobs," Abella said. She received seven job offers and accepted a position as a nurse in the trauma ICU at Kingwood Medical Center in Houston, Texas, which she will begin in January.
Whilst waiting to take the NCLEX-RN exam, Abella is working at the Heart Hospital of Austin. She hopes to take the exam as soon as it's made available so she can start her role at the northeast Houston hospital.
Her ultimate plan is to begin working on her Master of Science in Nursing so that she can become a critical care nurse practitioner. "I feel like hospital is my Disneyland," she said. "It makes me so happy. I look forward to going to work the next day and seeing my patients."
Continuing her strong work ethic, Abella wants to provide every one of her patients with the utmost care. The beauty of the nursing profession, Abella explained, is that she can serve as a nurse in different areas of focus. Concordia's ABSN graduates can apply their skills to various specializations across a variety of medical settings.