Written to Speak Performing at CTX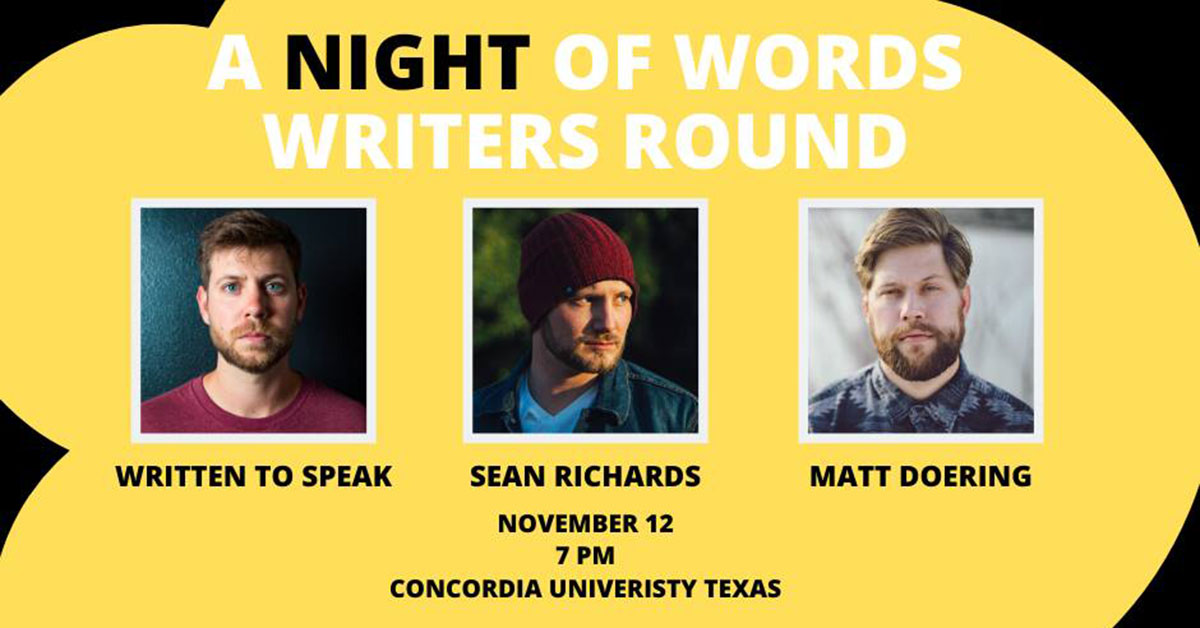 On November 12, Concordia University Texas will host A Night of Words: Writers Round, an exclusive event presented by the Written To(ur) Speak. You're invited to join us!
Meet the three performers who are using their God-given gifts and Concordia degrees to pursue vocations in the arts.
When & Where?
A Night of Words: Writers Round will take place on Tuesday, November 12, at 7 p.m. in the Chapel (Building A) on the Concordia University Texas campus.
Meet the Artists
Tanner Olson is the founder of Written to Speak, a spoken word and writing project that seeks to spread hope. He has combined the foundation of theology he developed at Concordia University Wisconsin ('12) with his gifts of writing and speaking to offer poems that are infused with the hope of Christ.
Olson recently released his first book, I'm All Over the Place: A Book of Poems + Prayers + Wonderings, which is a collection of poetry and prose about the daily learning of hope, grace and faith.
Matt Doering, a DCE graduate from Concordia University Texas ('13), is the worship and community director at Narrative Church (LCMS) in Round Rock, Texas.
Doering is also a talented musician. Rooted in his faith, Doering shares his music to spread hope.
Sean Richards, a double alumnus of CTX (BA '14, MBA '18), will also be performing his inspirational songs throughout the evening.
In addition to his musical talents, Richards also possesses communication skills, which he has combined with the business acumen he developed through the Concordia MBA to host The Buzzer podcast.
Helping Prepare You for Your Vocation
Doering and Richards are great examples of Concordia University Texas' commitment to being the premier university where the adventure of faith, learning and life-changing experiences leads to meaningful work. CTX prepares students for their vocations - from an accountant and musician to a stay-at-home mother and ministry worker.