Concordia University Texas Embark! 2020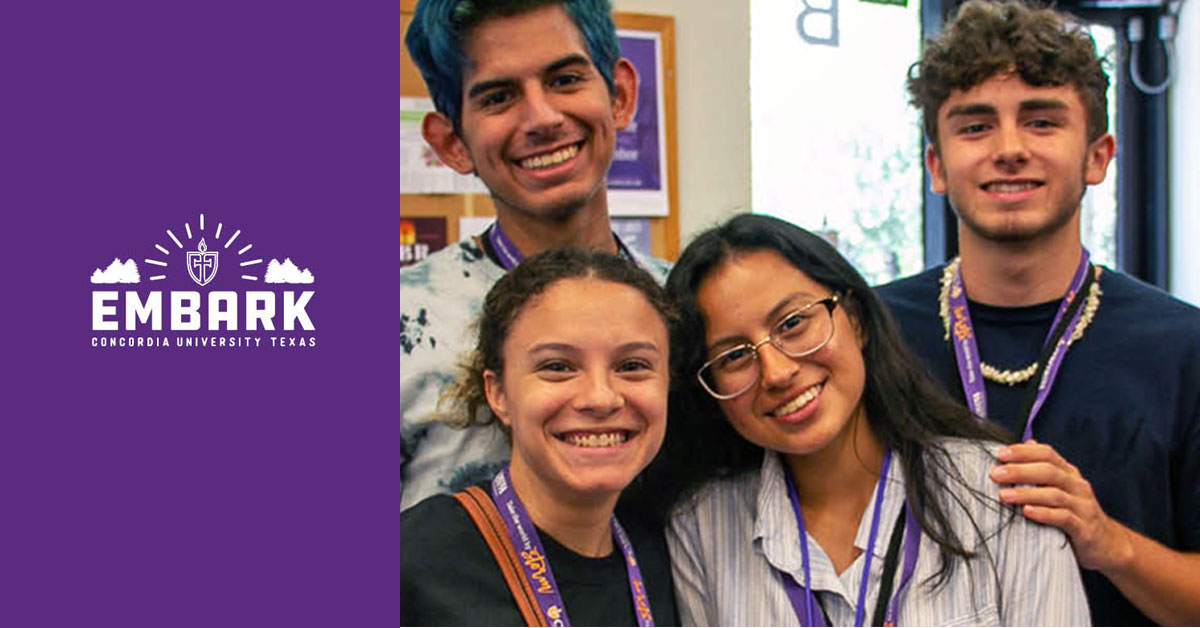 Embark! is the official orientation program for first-year students starting their life-changing adventure at Concordia University Texas. Because of COVID-19, CTX shifted Embark to a hybrid program, incorporating both virtual and in-person experiences for you and your family to help you transition to life as a CTX Tornado.
Here's everything you need to know about Embark! New Student Orientation.
Embark! Is Mandatory
All first-year students and their families are required to participate in Embark.
You will have the opportunity to meet classmates, learn more about CTX and get answers to all of your questions. Your family will also learn more about CTX, interact with other CTX parents and learn how to help you prepare for your first year of college.
Overview of Embark! New Student Orientation
The overall Embark experience blends meaningful virtual interaction with optional in-person activities. There are four main parts of Embark.
Part 1: Getting to Know Student Central (Required)
This part of Embark is already in progress. You will work directly with Student Central for academic advising, course registration and financial aid.
Student Central is here to help you. Call them at (512) 313-4700, or email them at studentcentral@concordia.edu.
Part 2: Virtual Embark! (Required)
CTX will host four different sessions of Virtual Embark. You and your family are required to attend one session:
Friday, August 7, 2 p.m. - 5 p.m.

Saturday, August 8, 9 a.m. - 12 p.m.

Monday, August 10, 4 p.m. - 7 p.m.

Thursday, August 20, 4 p.m. - 7 p.m.
Each Embark session is packed with fun activities and important information:
Welcome & Devotion

All Aboard

Keys to HyFlex Success

Academics 101

Student-to-Student Panel

Resources

Wrap Up
Part 3: Ongoing Virtual Engagement (Optional)
We highly encourage you to join us for ongoing virtual engagement sessions.
You have the opportunity to meet and interact with CTX faculty and staff as well as other students through conversations and activities. There are also sessions designed exclusively for your parents and other family members.
Part 4: Small Group Activities on Campus (Optional)
We invite you to join us on campus for two days of exciting in-person activities. Students will be in small groups, and social distancing will be practiced.
You can connect with students, learn how to navigate the beautiful campus and get your questions answered. We will also offer a virtual session for students who prefer to remain online.