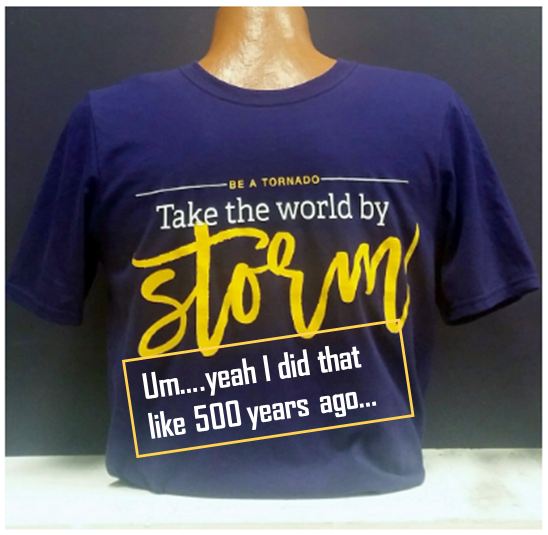 We talk a lot about what it means to "Take the World by Storm" around here at CTX. If Martin Luther were back on our campus today, he'd probably pick up a shirt at our Bookstore that looks something like this.
I mean, this guy took Germany by storm and the ripple-effect went international. And we're still thinking about it 500 years later. As a professor, I am personally inspired when I think about how Luther completely changed the game with teaching and learning. He cared so much for the people of his community that he had to break the conventions of his time.
Now, if you wanted to learn more about Lutherans, an afternoon scroll through Wikipedia will lead you to a bunch of people whose names I can't pronounce, a geography lesson on Germany, and some talk about a diet of worms (gross), a strong stance against sacerdotalism (I promise, that's really a word), and an emperor that was pretty annoyed.
That will be a fun afternoon for you one day. For now, I'm going to just jump right to three lessons I think we can all learn from Luther on teaching and learning.
Learn from all those hats you wear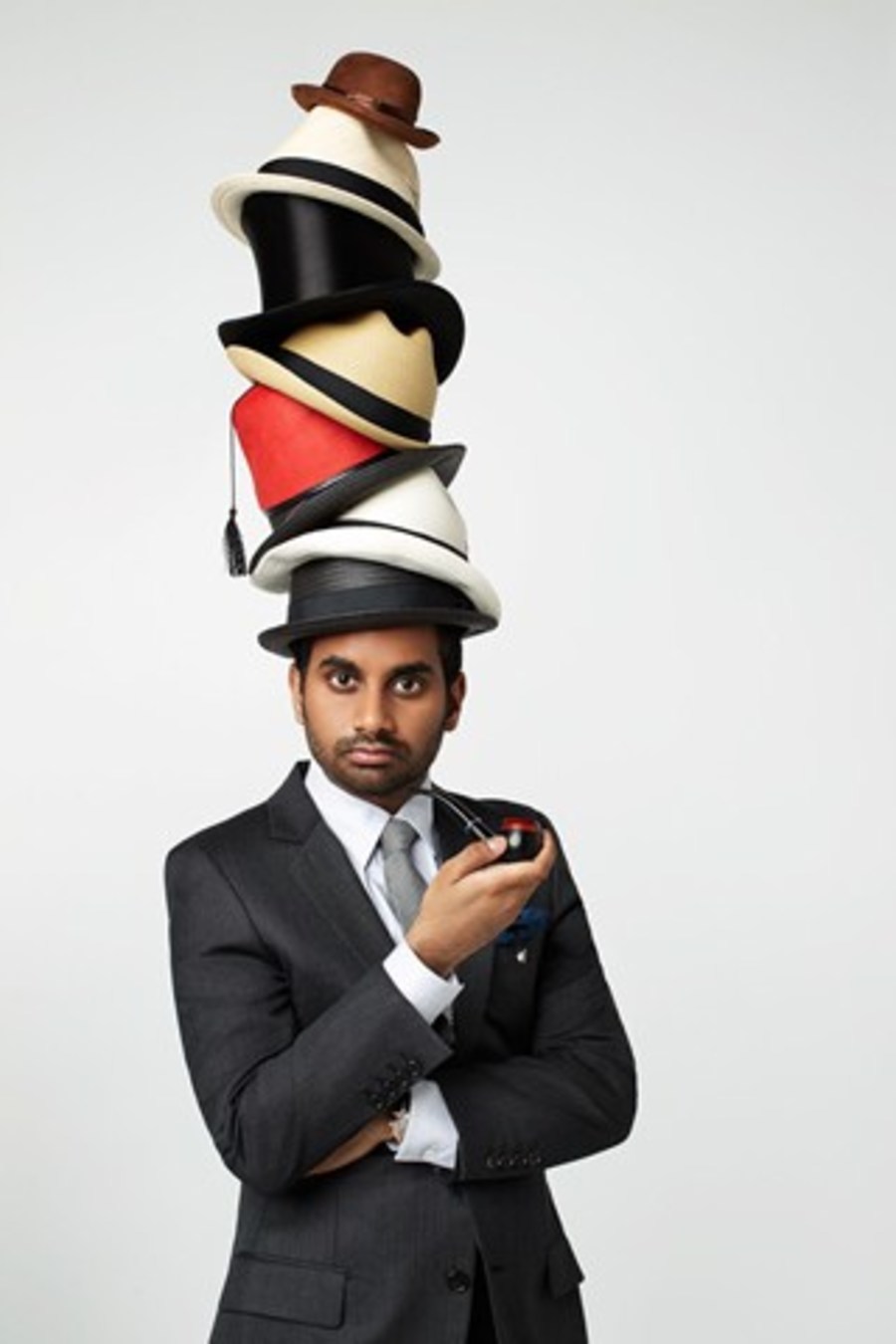 Teaching and learning requires multiple perspectives. We all have many daily responsibilities. Luther was no exception.
He was a theology professor, a priest, a composer, a monk, a husband, and father of so many children (I mean, my wife and I celebrate when we can get our two dogs fed and out the door before heading off for work).
His many hats – or vocations as he'd refer to them – are central to what we can learn from him about teaching and learning. Because of his intense studying to be a theology professor, he was referred to as a man "full of learning."
As he began to preach in his pastoral role though, he struggled to craft his teaching approach to engage his community in sermons on topics of concern to them (read, "he was always learning").
Additionally, as a father he saw how the ordinary act of washing and changing diapers could be done in faith and a reason for God to smile. Our various roles are not simply competing with each other – they are offering opportunities for teaching and learning.
Don't claim superiority over others
Teaching and learning requires deep humility. Aren't we seeing just way too many examples of disrespect for other humans and lack of civil dialogue popping up in the news?
The other day, once I worked through my sadness, anger, fix-it-all plan, discouragement (you know that stream of mixed emotions), the thought that came to my mind was "the one who has nothing to learn seeks no teacher." Um, please don't be this person. The fact is, we all have something to learn, and all need teachers in our lives.
When Luther believed the church was claiming spiritual superiority over others, it was his love for his community that compelled him to initiate a conversation in the public arena.
When it came to their spiritual health, he believed they were not being respected or cared for and so he raised concerns about some of the practices in the church and encouraged an environment of continued learning. His actions fundamentally brought the opportunity for learning to all people in his community.
By translating Scripture into German he supported his believe that all could read scripture and engage in teaching and learning together. Today, we too can insist that those in positions of authority continue to learn.
That means professors learn from their students, employers learn from their employees, presidents learn from her or his citizens, capitalists learn from the poor, and all leaders of all kind listen to those marginalized or abused (and those advocating for them).
Engage in the tough conversations
Teaching and learning requires civil dialogue. I'm reading a book called "Brand Luther" right now, and this thing is chock-full of insights on teaching and learning from Luther.
To get to the point, let's just say through his preaching and writing, Luther found his way into the homes of his fellow citizens, because he decided that teaching and learning was not just for the academy. So he wrote short works in German (Latin was the standard for academics by the way) to enlarge the conversation to the wider public.
This guy knew blogging was cool way before we did. His Sermon on Indulgence and Grace was barely 1500 words (total shift in how theological writing was done at the time). Oh, and he developed sermons that could be read aloud in ten minutes. Basically, Luther would have some awesome TED Talks viewed by millions today.
He took the risk to bring the conversation (now that it was in German) to the general public theater – no longer contained among elite theologians writing in Latin. Okay, so what does this mean for us today?
Well, I think teaching and learning requires "letting go" of exclusive claims to the conversational agenda to entrust others with the dialogue. Luther engaged in conversations he regarded as crucial concerns of the people in his community. Pastoral responsibility to the people of Wittenberg shaped his vocation from a scholar to a speaker that engaged with a diverse audience of members of his community.
The needs of his community prompted Luther to shift the theological debate of the academy to wider public interests. What are the needs of your fellow community members? How can we together contribute to the dialogue that meets the needs of our neighbors? How might we learn to have the courage to engage in those tough conversations – even when it is hard.
Get started
I read that "Luther and his friends used every instrument of communication known to medieval and Renaissance Europe: correspondence, song, word of mouth, painted and printed images."
It inspired me to think about all the ways we can all begin to apply lessons learned from Luther on learning and teaching.Here are a few that came to mind: Get involved with more conversations.
Speak up in the classroom, have conversations over beer, start the tough conversations with your kids. Learn through music. My wife and I love going to Symphony in the Park at the Long Center. Listen to a podcast and discuss it with a friend.
I'm learning so much from the "Pass the Mic" podcast. Start a Book Club. Each year Concordia picks a book for students to read together. This year we'll be engaging in teaching and learning about "The Circle." It's worth a read.
Watch TED Talks and discuss them with your co-workers (or your family…or anyone who will listen). Oh, and choose some that you wouldn't normally be drawn to just to expand your learning. Keep reading Concordia's Blog and share your thoughts with (read, "teach" here) the author (yeah, yeah, shameless plug). So, it's not helpful to compare our many hats to Luther's.
Instead, we're better off looking at what he learned from those many hats. Let's remember how he broke down claims of superiority to invite all people of his community into teaching and learning.
Let's be inspired by his courage to engage in the tough conversations. It was 500 years ago that Luther took the world by storm, and his work continues to shape how we engage in teaching and learning in different ways at Concordia.
How about you? How might you engage in new or different opportunities for teaching and learning in your daily life?
Recent Posts
Cover letters are a crucial part of the job application process. Here are five tips to help you write compelling cover letters.
Discover five careers where you can leverage a minor in Art.
Learn more about the exciting additions to the College of Business & Communication.