Written by Chanee Carlson, Director of Development
Concordia University Texas is able to impact the lives of students because of the generosity of individuals who give to the University. Every gift Concordia receives, regardless of the amount, helps us offer each student an adventure of faith, learning and life-changing experiences that leads to meaningful work.
Your Gift
Your gift to CTX is important to you, and it's important to the University. We believe that the greatest thanks we can show is through the responsible use of your gift. That's why being a good steward of your generosity is one of our highest priorities.
Our Donors
Our donors pave the way for the future of Concordia and create opportunities for students to pursue their education while being prayerfully led to serve Christ through their vocations.
Your Impact
Your impact is far-reaching, enabling us to provide support for our students in many ways:
Academic scholarships
Research opportunities for environmental science programs
High-level training and education for our nursing programs
Mission opportunities
Church work training
Support for athletics
Additionally, we are able to provide faculty and staff with valuable resources:
Training and enrichment activities
Recruitment
Opportunities to launch degree programs
Recognition in The Concordia Club
When you make a gift to Concordia University Texas, you are automatically enrolled in The Concordia Club at the level of support you choose. We recognize donors on an annual basis, and any gift you give, regardless of which area of the University it supports, makes you eligible for The Concordia Club.
What Are the Levels of The Concordia Club?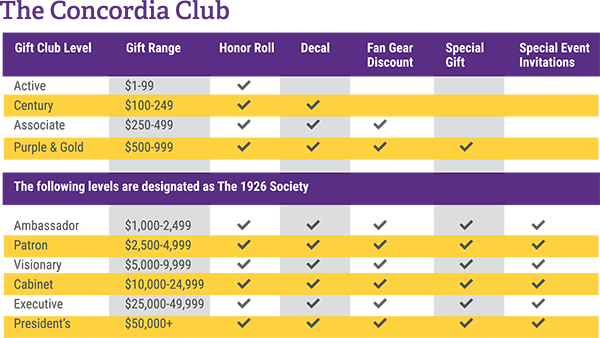 The levels of The Concordia Club are determined by the gift amount. Each consecutive gift level offers you an additional benefit as an expression of our gratitude.
Concordia University Texas is incredibly grateful to all of our donors, volunteers and supporters. And we thank you for considering giving to the University.
Are you ready to become a part of The Concordia Club? Make a gift today!
Recent Posts
Check out these interesting facts about the Lone Star State of Texas.
Catch up with some CTX alumni and read how they're making an impact on their communities.
Learn more about the Personal Support Center, a valuable resource available to CTX students 24/7.