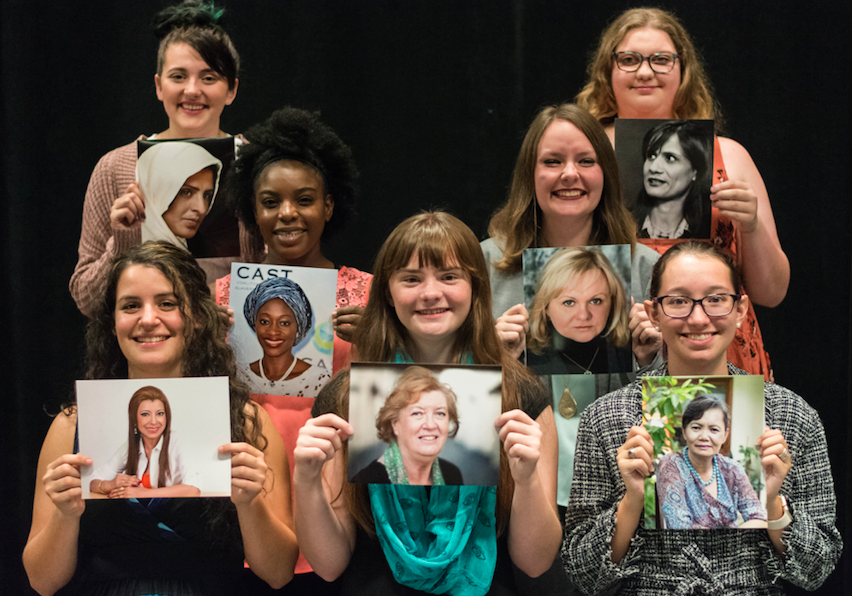 Are women the world's greatest untapped resource? Find out by attending the November production, "SEVEN," put on by Concordia University Theatre.
"SEVEN," conceived by Carol Mack and written by seven award-winning playwrights: Paula Cizmar, Catherine Filloux, Gail Kriegel, Carol K. Mack, Ruth Margraff, Anna Deavere Smith and Susan Yankowitz, tells the true stories of seven women who bravely fought for the well-being of women, families and children around the globe.
"In a time of so much uncertainty in our world, it can be hard to find the good," Tori Thibodeaux, who plays Marina Pisklakova-Parker said. "It's hard to find the courage to make a difference in the world. The women in 'SEVEN' fought against the odds and fought for change. They didn't know how they would accomplish it, or even if they could actually do it, but they tried anyways."
Watch one Russian women protect others from domestic violence, see the Cambodian human trafficking story, follow a Guatemalan who gave a voice to the poor, visit Afghanistan and the empowering rural women, hear about the fight for women's education in Nigeria and Pakistan and learn the story of the woman who helped promote peace and equality in Ireland.
"In the play we bring up and discuss tough issues such as rape, domestic violence and gender inequality; but the purpose of this play is not to have the audience go home and cry about the bad bad world, but to ignite passion within them to change it just like the seven, brave women did themselves," Sophomore cast member Keirra Collins (Hafsat Abiola), said.
"Every woman has faced some kind of challenge because of her gender," Thibodeaux added. "This show gives a voice to the ones who can't speak up."
The cast includes: Carmen Acosta (Anabella de Leon), Delani Chambers (Inez McCormack), Keirra Collins (Hafsat Abiola), Ember Marshall (Mu Sochua), Rebekah Mullins (Farida Azizi), Emily Sandler (Muhktar Mai), and Tori Thibodeaux (Marina Pisklakova-Parker). The play is directed by Dr. Kelly Carolyn Gordon, Director of Fine Arts, with lighting design by Yi-Tai Chung, and set design by Michael Krauss.
"SEVEN" will run from Nov. 9-12 at the Black Box Theatre. Performances will take place from Nov. 9-11 at 7:30 p.m., and Nov. 12 at 2 pm. For general admission, single play tickets are $10. All Concordia students, faculty and staff can purchase tickets for $5. Tickets can be purchased online or at the door. According to Gordon, this production is suitable for adult audiences.
Get more information on the play and how to purchase tickets here.