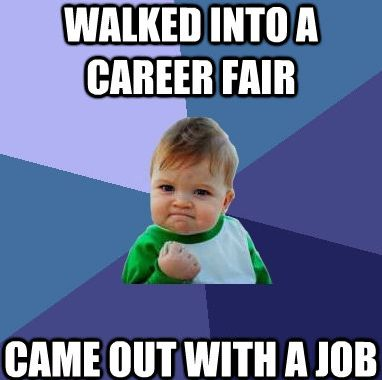 Our March 1 career fair will allow Concordia students and potential employers to connect, all while enhancing the visibility of businesses across the board. This one-stop environment allows easy access to candidates and companies alike. Taking place from 1 to 3:30 p.m. in the lower level of Cedel Hall, meaningful business connections are sure to form.
For our students
If you're in the market for a job post-graduation, attending a career fair is always a step in the right direction. Here is a list of what you should have prepared in order to represent our university and yourself in the best way possible!
Come ready. Before the fair, check out the online directory of employers and their job opportunities by logging into Handshake. Do your homework on the organizations so you can ask very focused questions. This impresses representatives because it shows a genuine interest in their business.
Bring your resume: Have 10-20 copies of your resume with you. Make sure it's the most current version. Have a friend, coworker, fellow Tornado or a professor take a look at it before you print your copies. For tips on how to make your resume stand out, check out this blog!
Dress for success: Make sure to dress business casual or business professional. First impressions matter.
Ready your career pitch: Prepare a brief introduction about yourself. Lead with shaking hands with the representatives at the booth, greeting them and stating your name. Welcome the representative to our university. Make sure your resume is easily accessible for you to give to the employer (and not wrinkled!) Be ready to talk about your career interests as well as academic and extracurricular experiences to showcase your skills and strengths.
Take notes: When you inquire about next steps and the possibility of talking with additional managers, be sure to show that you're serious about your interest by jotting down some notes. Ask for names, telephone numbers, etc. of other staff in the organization whom you can contact later. Record any answers to the questions you ask.
Follow up: Send thank you notes within two days of the career fair. A handwritten note will show the most initiative. Asking for the business card of the representative should supply you with enough information to create and send off your note.
For alumni or anyone else wanting to hire a Tornado
If you're a CTX graduate, you already know the great things our graduates are capable of, so why not add a Tornado to your company? If not, let us show you how great our students are by helping connect you with Tornados who will make a positive impact on your organization. Students close to graduation, along with students seeking part-time jobs and internships, will be available to speak with company representatives.
Here are some ways you can best prepare for the fair.
Register accurately
Take time to complete your registration form carefully. Make sure to avoid spelling errors, follow directions and confirm that profile information is relevant to the students at the fair.
Know your audience
Since this fair is held at an academic institution, the list of qualifications for the positions you want to fill should reflect that of a soon-to-be graduate. Promoting entry-level jobs and internships is the best way to go.
Be informed
Whoever is manning the booth needs to be fully informed on things such as which vacancies are available, organizational background information, company culture and your hiring procedure.
Be early
Maximize your time at the event so you can be ready promptly at 1 p.m. The most motivated of students often get there right as job fairs begin. Don't forget to bring plenty of business cards so job seekers can follow up with you. You will received a six-foot table, two chairs and Wifi access. Limited electrical is available in the space.
Attract delegates with style
Keep your professional-looking stand less stuffy with engaging staff, catchy flyers, branded giveaways and candy/free food. Give them something to remember you by!
First impressions can be last(ing) impressions
Even if the candidate is not suitable for positions you currently have open, they might be more than qualified for a vacancy that you don't even know is coming. As the face of your organization, how you engage with them will leave a lasting impression.
Follow up
Devise a strategy for following up with the job candidates you hope to hire. Start off with a brief email or phone call thanking them for their interest. Try and respond to their follow-ups quickly and personally to remind them why they should want to work for you.