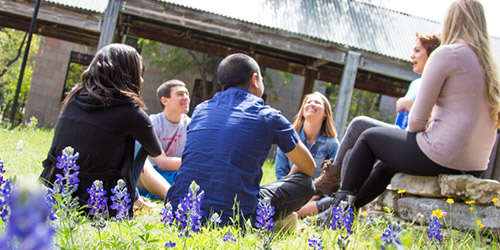 Congratulations on your decision to join the CTX family!
With this choice comes a special (and mandatory) opportunity for future Tornados. Embark! - our overnight orientation program, introduces you and your parents or guardians to your future home.
Incoming freshmen and transfer students will have the opportunity to meet fellow classmates through a series of fun activities. It's also your chance to receive your schedule for the fall semester.
Family members will be able to learn more about the campus, interact with other CTX parents and learn how to help prepare you for a successful school year.
There are three sessions for Embark! Session One takes place July 16-17, Session Two takes place July 19-20 and Sessions 3 (only open to out-of-state and international students) takes place August 22-23.
Again, attendance is required! In order for you to Embark! on your journey, you and your parents must attend one of these sessions.
Students, faculty and staff will all be here to show you the wonderful opportunities CTX has to offer. Future students are provided overnight housing as well as meals.
Before your freshman orientation, please complete the following:
Discuss your plan for payment with your assigned admissions counselor. Students will be required to pay in full or set up a monthly payment plan before leaving the orientation. Email or call your counselor to set up an in-person conversation or phone call.
Complete the Student Loan Entrance Counseling and MPN online if you are utilizing the student loan option by visiting this page. This is fairly easy, just time-consuming. It would be less stressful to complete at home.
Complete the Parent PLUS Loan Request and MPN online if your parents are utilizing the parent loan option by visiting this page.
Turn in all Financial Aid Verification documents if you were chosen for Verification on your financial aid package letter. Your financial aid package would have indicated that you were selected.
Submit your Final High School Transcripts/College Transcripts/AP Scores.
Turn in college transcripts if you have any dual-credit coursework completed.
Turn in your Meningitis Vaccination/Immunization documentation.
Here is what you need to bring:
Sleeping bag and pillows as we do not provide bedding
Toiletries
Pajamas
Comfortable clothing and tennis shoes
Towels
Alarm clock
Bug spray
Sunscreen
Willingness to have fun and meet new friends
Where can my parents stay?
While students will have the opportunity to experience residential life during Embark! by spending the night in one of our residence halls, parents will have to find their own lodging.
Here is a list of suggested hotels/motels in the area.
Holiday Inn Express & Suites
Across the street from CTX
Rates are $115/night when booked with CTX rate. To get this rate call (512)610-5700
8300 N Ranch to Market 620 Austin, TX 78726
512-610-5700
Hyatt House Austin/Arboretum
11.8 miles from CTX
Rates range $110-$130
10001 N. Capital of Texas Highway Austin, TX 78759
512-342-8080
866-974-9288
Hampton Inn
5.1 miles from CTX
Rates range $119-$130
10811 Pecan Park Blvd. Austin, TX 78750
512-249-0045
Holiday Inn Express
4.9 miles from CTX
Rates from $126
12703 FM 620 N. Austin, TX 78750
512-249-8166
Hilton Garden Inn
9.8 miles from CTX
Rates range $149-$170
11617 Research Blvd. Austin, TX 78759
512-241-1600
La Quinta Inn
14.5 Miles from CTX
Rates range $100-$129
11901 N Mopac Expy. Austin, TX 78759
512-832-2121
La Quinta Inn & Suites Cedar Park
6.2 miles from CTX
Special CTX rate of $99 for 2-person room (online reservations only)
10701 Lakeline Mall Drive Austin, TX 78717
512-568-3538
Home2Suites
5.5 miles from CTX
Rates range $90-$130
14022 US Hwy 183 Austin, Texas 78717
512-610-2107
Check out the student and parent Embark schedules here!