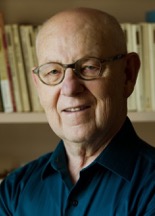 This Saturday, we welcome back Dr. Robert Louis Wilken, a 1955 graduate of Concordia University Texas, (then Concordia Lutheran College), as the honored speaker for the Fall Class of 2017 Commencement.
Wilken, Distinguished Fellow of the St. Paul Center for Biblical Theology, is William R. Kenan, Jr. Professor of the History of Christianity at the University of Virginia.
Regarded by many as the Dean of Patristics (the study of early church fathers) scholars in North America, he received his PhD from the University of Chicago and has taught at Gregorian University, Institutum Patristicum Augustinianum, Hebrew University of Jerusalem, the University of Notre Dame, Fordham University and Lutheran Theological Seminary.
He is the author of 10 books, including The Spirit of Early Christian Thought: Seeking the Face of God (Yale, 2003), Remembering the Christian Past (Eerdmans, 1995) and The Christians as the Romans Saw Them (Yale, 1984).
His most recent book is The First Thousand Years: A Global History of Christianity (Yale University Press), a text used in universities and seminaries across the globe. He is an elected fellow of the American Academy of Arts and Sciences, past president of the American Academy of Religion, the North American Patristics Society and the Academy of Catholic Theology. He is chairman of the board of the Institute on Religion and Public Life, publisher of the journal First Things.
Recent Posts
CTX is launching a new software engineering concentration for the computer science program this fall 2019. Learn more!
Studies have shown that an office with a window and view of the outdoors increases productivity. Learn more!
We address the top 5 myths associated with a liberal arts education and how Concordia defies them all.