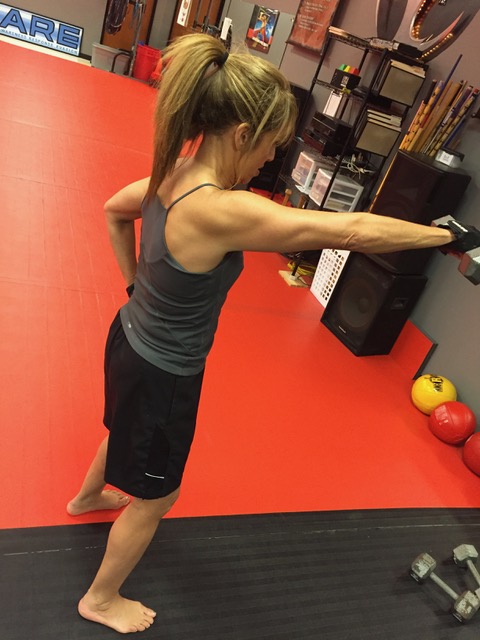 While some wear many hats, Cindy Villanueva wears many belts. Villanueva logs a 95-hour work week and still finds time to journal her Bible readings.
Let's start back 11 years ago, when she took on ownership of Ernie Reyes World Martial Arts, a martial arts studio in Austin. Villanueva and her family had previously lived in San Jose, California, but relocated when the opportunity to open the first Ernie Reyes World location in Texas came along.
"I got into martial arts because my kids were doing it," she said.
Apparently, it stuck. Her location continues to flourish, and so does Villanueva. She is working toward her seventh-degree black belt ranking and will test for it in 2020. Her business also offers self-defense seminars.
"Nowadays, especially, it's really important for women to feel that sense of power," Villanueva said. "Most physical crimes are crimes of opportunity."
She said being trained in martial arts eliminates some of that opportunity.
"It's becoming more and more okay for women to talk about the things the #metoo movement are about," she said. "Women need to learn how strong and capable they are. They need to not be afraid."
The seminars have served Girl Scouts, young women going off to college, school-aged children and businesses.
"We teach how to stand up for yourself in a mature, powerful way," she said.
Villanueva has served as an Adjunct Business Professor here at Concordia since 2014.
"I fell in love with Concordia while getting my MBA here," she said.
She has found a lot of satisfaction in teaching, and enjoys praying with her students on the first day of class, before finals and if there's something going on in the world that needs prayers.
"To teach ethics and build critical thinking skills in students who are just about to walk out the campus doors is fulfilling," Villanueva said. "To have a little piece in the development of their ethics and spirituality is incredibly rewarding for me."
In 2016, she was named the Director of Business Partnerships here, a position that serves to form partnerships to support local and regional businesses through Concordia's post-traditional degree programs and customized certification and industry-specific educational experiences. Around that same time, Villanueva also decided to start her own business.
"I am Founder and Principal at Knockout Marketing Strategies," she said.
Knockout Marketing Strategies, LLC specializes in brand strategy, employee engagement and company culture.
"I love doing personal brand development," she said. "I'm a storyteller by nature."
Along with brand consultation and speaker coaching, her business provides leadership and project management to ongoing culture teams, ensuring relevant, sustainable and productive programs are delivered across the organization.
"We are eternal beings," Villanueva said. "There's still so much more out there: as a woman, as a leader, as a child of God, I'm really just scratching the surface."