Campus-News
Concordia University Texas Athletics Announces 2023 Hall of Fame Inductees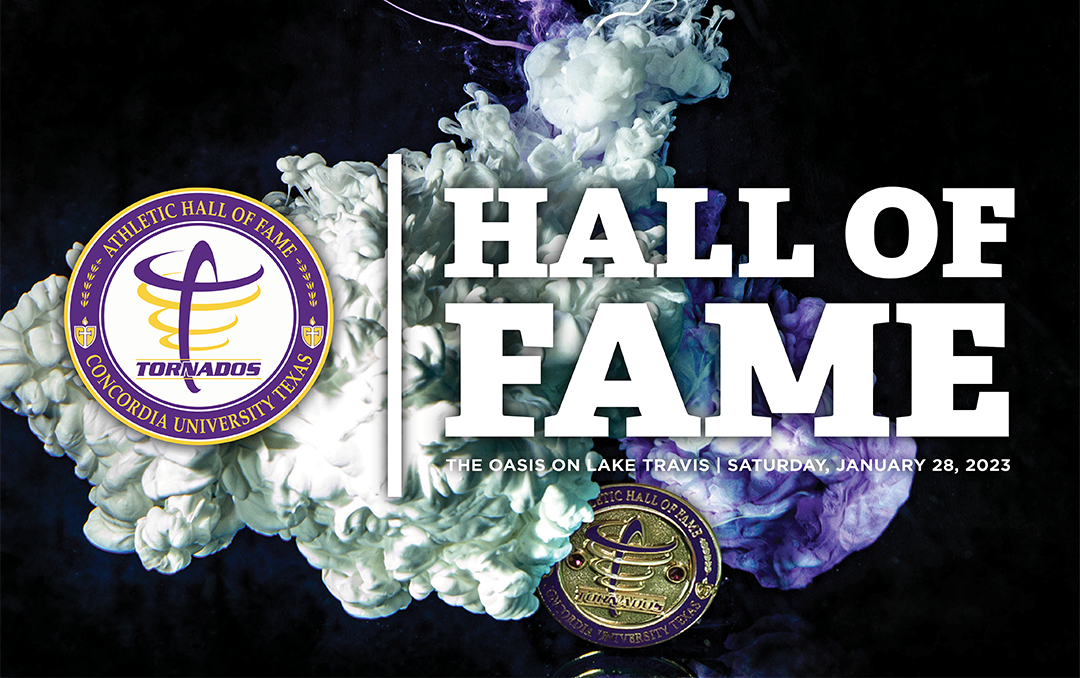 Concordia University Texas Athletics will induct five new members into its prestigious Hall of Fame of former student-athletes, coaches, and teams.
The 2013 men's basketball team, Collin Janssen (baseball), Jack Cersosimo (golf), and Kassandra Bills (women's basketball), will be the newest members of the Concordia Texas Athletics Hall of Fame.
Stacie Watkins McCollum will receive the first-ever Linda Lowery Lifetime Achievement Award. Stacie exemplifies everything that Linda achieved as a longtime leader in collegiate athletics and at Concordia University. The Lifetime Achievement Award recognizes a Concordia alum who has earned success and utilized leadership skills to excel in their chosen profession. The Linda Lowery Achievement Award recipient must exemplify, as Linda did, living out their vocation while embracing Concordia's values and mission.
Linda Lowery held various leadership positions at Concordia University for nearly 30 years. Upon her arrival in 1980, she served as the school's head volleyball coach (1980-1998), Athletic Director (1982-2008), and head men's and women's golf coach (1998-2008). In addition, she was an assistant and associate professor in the kinesiology department before being granted professor emeritus status in January 2008.
"I am proud and privileged to welcome our 2023 Hall of Fame inductees class. Each athlete contributed to the success of their Tornado team while collecting tremendous individual accolades. All inductees should be extremely proud of their achievements, and we are truly honored at Concordia to recognize our latest members in a celebration in January," said Ronda Seagraves, vice president of student experience and athletics.
The inductees will be honored at halftime of the Concordia women's basketball game at 1 p.m. on January 28 in the university's gym. A ceremony will be held the same day at the Oasis on Lake Travis. The event will begin at 6 p.m. Tickets are $50 per person, while children under the age of 10 will be $15 each. Seating is limited, and attendees can RSVP for the event here.
The Concordia Texas Athletics Hall of Fame, instituted in 2009, includes 21 individuals and five teams.
The Hall of Fame 2022 Class Inductees
Collin Janssen
Janssen, a transfer from Temple Junior College, was a two-year letterman for the baseball team in 2011 and 2012. The catcher was the program's first-ever D3Baseball.com Preseason All-American (second-team) in 2012. He was a two-time ASC West Player of the Year and earned DeBaseball.com accolades as a member of the 2012 All-West Region Team and 2012 All-American Second Team.
Janssen tallied 118 hits, 71 runs, and 65 RBIs and was second all-time in throwouts. He posted percentages of .354 batting average, .508 slugging, .447 on-base, and .986 fielding.
2013 Men's Basketball Team
Players
Jeromy Bynum, Terry Corprew, Brett DeMetrotion, Larry Durand, Jared Galvan, Jonathan Garza, Darien Harris, Nick Haynes, Vincent Henderson, Jared Jenkins, Albert Kusi, Clay Marley, Dwayne Patterson, Henry Riasco, Josh Sanchez, and Arty Vela.
Coaches
Stan Bonewitz and Josh Kreibich
The 2013 men's basketball team won a program-best 24 games on their way to claiming the program's first-ever ASC Tournament Championship, defeating Mary Hardin-Baylor 80-76. The Tornados then entered the NCAA Tournament and won the program's first-ever Division III NCAA Tournament game in an 87-83 victory over Trinity. Led by head coach Stan Bonewitz in his ninth season, CTX finished the historic season with a record of 24-6 (15-4, ASC). They will be the fifth team inducted into the Concordia Hall of Fame, joining the 2012 women's basketball team, the 2002 baseball team, the 1982-83 men's basketball team, and the 1999 volleyball team.
Jack Cersosimo
Cersosimo was a four-year letterman for the men's golf team, playing from 2011-2015. His six first-place finishes and nine ASC Golfer of the Week nominations are second all-time in school history. He earned four All-Conference selections (three First-Team and one Second-Team). He was a three-time Capital One Academic All-District VIII member and the first-ever Ping All-Region Team Member in program history. A true student-athlete, Cersosimo was a Cleveland Golf All-America Scholar and a Srixon All-America Scholar. He was Concordia's first-ever ASC individual champion, placing 19th in the NCAA Division III championships in 2015.
Kassandra Bills
Bills made an impact all four years of her Concordia Texas career. She ranks in the top 10 in WBB program history in minutes (1st), field goals made (2nd), offensive rebounds (2nd), points scored (3rd), steals (3rd), assists (5th), rebounds (6th) and blocks (10th). In the 2008-09 season, Bills led the ASC in scoring at 19.1 ppg and tied the program single-game record of 44 points against Texas Lutheran. She is one of nine members of the exclusive 1,000-point club. The 2008-09 ASC West Co-Player of the Year was a four-time ASC All-West selection (two-time first team, two-time second team). She was a three-time ASC Player of the Week and the 2006 ASC West Freshman of the Year. She was nominated to the 2006 D3Hoops.com All-South Region Second Team.
Stacie Watkins McCollum
Watkins McCollum served as a volleyball defensive specialist for Concordia Texas when they were still named the Stags from 1992-1995. She began her professional career as a programming coordinator for CBS. At CBS, Watkins McCollum supervised and supported athletics such as the U.S. Open, the Final Four, the 1998 Nagano Winter Olympics, the College World Series, and numerous bowl games. In April of 2000, she accepted the role of television and broadcast operations manager in the NHL. She then used her previous experiences to move to ESPN as a director of programming and acquisitions in 2005. Spending over a decade developing relationships at ESPN, Stacie played a vital part in launching the ACC Network. In 2015, she was elevated to the position of Senior Director and assumed oversight of the Longhorn Network business operations. She was then appointed head of the SEC Network in 2019, where she advanced the SEC Network's marketplace position. In January 2022, Stacie accepted the position as Vice President of Programming at DraftKings Inc. as she will now use her expertise to acquire content, develop original programming, and build talent partnerships across platforms.