Parents
,
Campus-Ministry
,
Faith
17 Comforting Bible Verses to Encourage Parents of College Students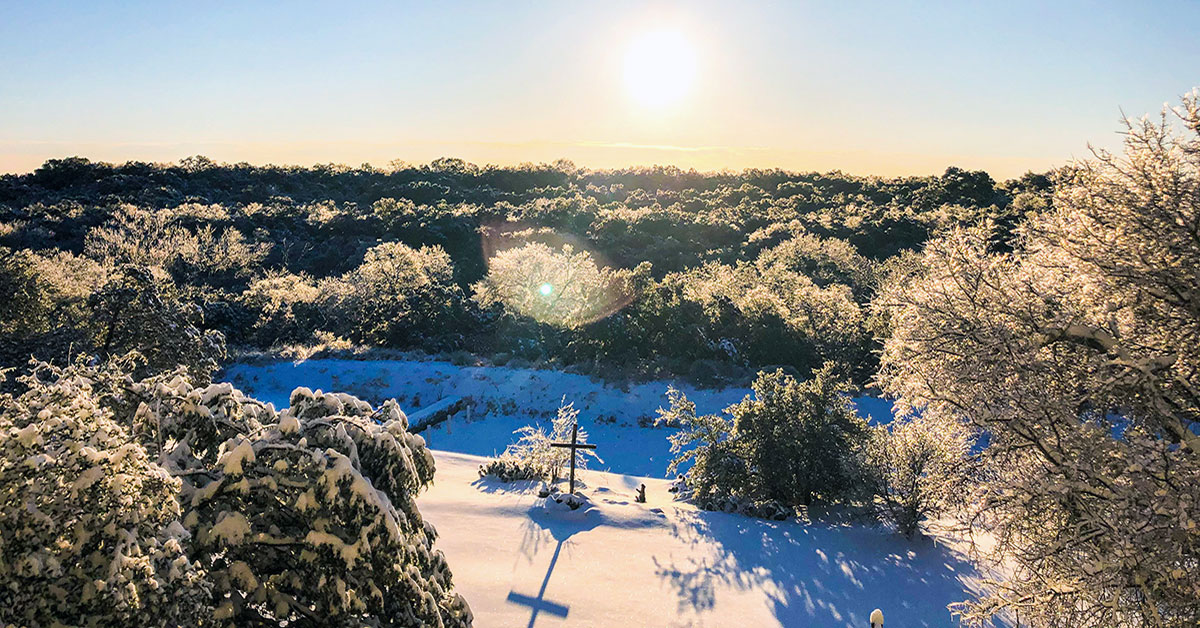 At Concordia University Texas, we know that starting college is a big change not only for the students but also for their parents. In addition to missing their children, many parents experience anxiety and worry. But there's a remedy to help: God's Word.
We've compiled a list of 17 Bible verses for parents, to encourage you and point you to the God of all comfort.
All Bible verses are drawn from the English Standard Version (ESV) unless otherwise noted.
1. Romans 15:13 (NIV)
May the God of hope fill you with all joy and peace as you trust in Him, so that you may overflow with hope by the power of the Holy Spirit.
2. Psalm 145:17-20 (NASB)
The LORD is righteous in all His ways, and kind in all His works. The LORD is near to all who call on Him, to all who call on Him in truth. He will fulfill the desire of those who fear Him; He will also hear their cry for help and save them. The LORD watches over all who love Him, but He will destroy all the wicked.
3. Philippians 4:7-8
Do not be anxious about anything, but in everything by prayer and supplication with thanksgiving let your requests be made known to God. And the peace of God, which surpasses all understanding, will guard your hearts and your minds in Christ Jesus.
4. Isaiah 41:10 (NASB)
"Do not fear, for I am with you; Do not be afraid, for I am your God. I will strengthen you, I will also help you, I will also uphold you with My righteous right hand."
5. Proverbs 3:5-6 (NIV)
Trust in the LORD with all your heart and lean not on your own understanding; in all your ways submit to Him, and He will make your paths straight.
6. Psalm 42:11
Why are you cast down, O my soul, and why are you in turmoil within me? Hope in God; for I shall again praise Him, my salvation and my God.
7. Philippians 4:19-20
And my God will supply every need of yours according to His riches in glory in Christ Jesus. To our God and Father be glory forever and ever. Amen.
8. Psalm 46:1
God is our refuge and strength, a very present help in trouble.
9. 2 Corinthians 1:3-4
Blessed be the God and Father of our Lord Jesus Christ, the Father of mercies and God of all comfort, who comforts us in all our affliction, so that we may be able to comfort those who are in any affliction, with the comfort with which we ourselves are comforted by God.
10. Psalm 119:75-77
I know, O LORD, that Your rules are righteous, and that in faithfulness You have afflicted me. Let your steadfast love comfort me according to Your promise to Your servant. Let Your mercy come to me, that I may live; for Your law is my delight.
11. Romans 8:26-27
Likewise the Spirit helps us in our weakness. For we do not know what to pray for as we ought, but the Spirit Himself intercedes for us with groanings too deep for words. And He who searches hearts knows what is the mind of the Spirit, because the Spirit intercedes for the saints according to the will of God.
12. Psalm 34:8
Oh, taste and see that the LORD is good! Blessed is the man who takes refuge in Him!
13. 1 Thessalonians 5:16-18 (NASB)
Rejoice always, pray without ceasing, in everything give thanks; for this is the will of God for you in Christ Jesus.
14. Psalm 16:7-8
I bless the LORD who gives me counsel; in the night also my heart instructs me. I have set the LORD always before me; because He is at my right hand, I shall not be shaken.
15. Romans 8:28 (NASB)
And we know that God causes all things to work together for good to those who love God, to those who are called according to His purpose.
16. Psalm 62:1-2
For God alone my soul waits in silence; from Him comes my salvation. He alone is my rock and my salvation, my fortress; I shall not be greatly shaken.
17. 2 Corinthians 4:17-18 (NIV)
For our light and momentary troubles are achieving for us an eternal glory that far outweighs them all. So we fix our eyes not on what is seen, but on what is unseen, since what is seen is temporary, but what is unseen is eternal.