Faculty-and-Staff-Stories
2019 RecognizeGood Ethics in Business Awards
RecognizeGood is a nonprofit organization that works to promote and recognize ethical business people and businesses within the Greater Austin community.
They recently hosted the 17th annual Ethics in Business Awards Luncheon at the AT&T Executive Education and Conference Center. CTX students, faculty and staff were among the 700 attendees for the luncheon.
CTX Partners with RecognizeGood
CTX is a partner of RecognizeGood for the Ethics in Business Awards. Our very own College of Business & Communication students are essential to the awards process.
After an initial review and assessment of the nominees, CTX students score each nominee and narrow the field to three finalists for each category. They conduct in-depth interviews and research into the finalists and then present their findings to an independent selection committee of Leadership Austin alumni.
This year, the following students served as examiners:
Jose Garrido Vivero
Mateo Gavilanes
Kylie Hill
Francisca Martinez Hernandez
Nicholas Moore
Perfecto Oliveros
Jonathan Rangel
Breanna Rodarte
Tiana Shobe
Jake Zamora
The students were recognized for their contributions and awarded with the Reina & Tom Wiatt Scholarship of $20,000 for the Thrivent Scholars Fund, which enables CTX business students to attend a leadership field trip.
And the Winners Are...
Candidates are nominated and awarded based on five criteria: be respectful, be fair, be honest, strive for justice and embrace sustainability.
The TyRex Group Individual Award: John Thornborrow, founder of Austin Impact Capital
The Per Stirling Capital Management Nonprofit Award: Boys & Girls Clubs of the Austin Area
The Five Stone Tax Advisers Small Business Award: BanQu, Inc
The Atchley & Associates Mid-Size Business Award: Embree Group
The ABC Home & Commercial Services Large Business Award: Kerby Lane Cafe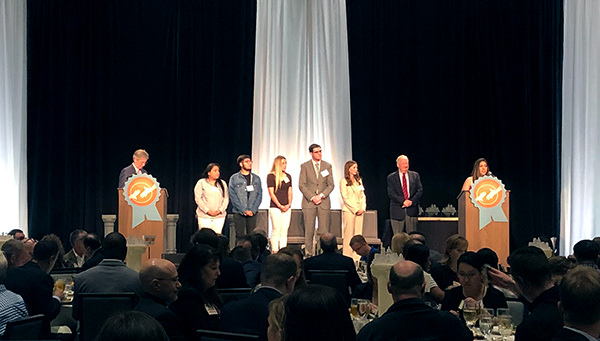 Patti Card Smith was awarded the Anita & Earl Maxwell Lifetime Achievement Award for her more than 40-year career in broadcasting. She was the president and general manager KVUE-TV for 17 years.
Throughout her career, Smith has received many notable awards, including the Texas Association of Broadcasting's "Broadcaster of the Year" award.
"I've been blessed my entire life," she said, thanking her parents and family. She encouraged fellow business people to continue to pursue the highest degree of ethical conduct by paraphrasing Luke 12:48. "To those whom much is given, much is required," she said.
We thank Reina and Tom Wiatt for their continued support of CTX, and we congratulate the CTX students who participated in the awards process.