CTX-101
,
Parents
5 Homecoming & Family Weekend Events You Don't Want to Miss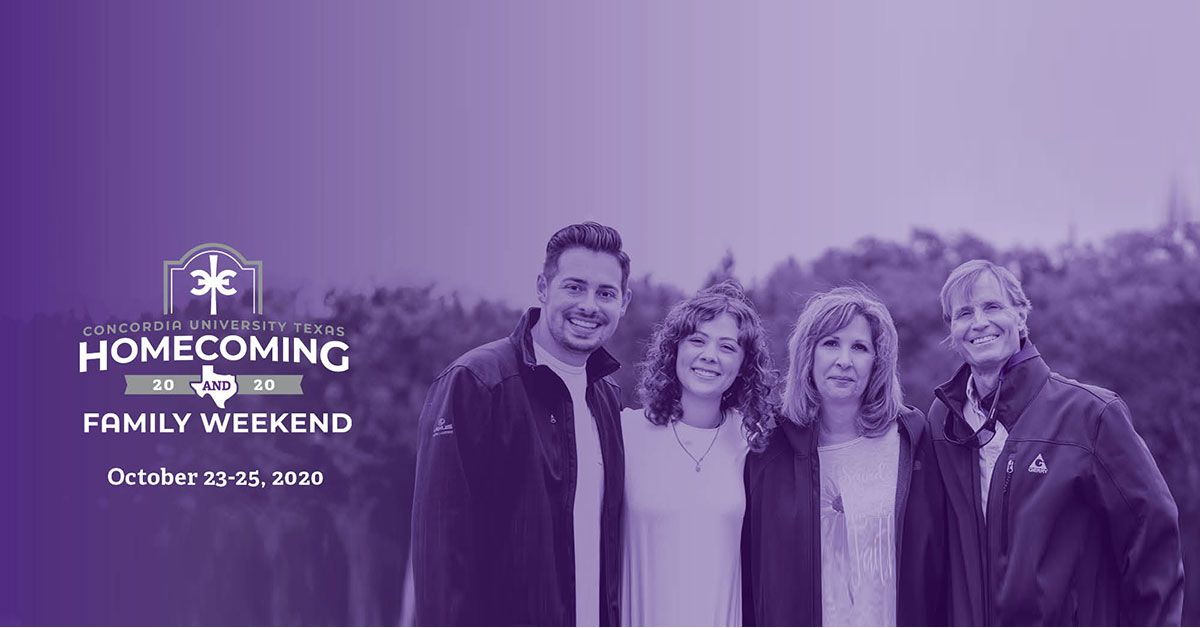 The Concordia University Texas Homecoming & Family Weekend is quickly approaching. Taking place on Friday, October 23, through Sunday, October 25, the weekend is packed full of fun events that you can join in person or virtually.
Here are five events you don't want to miss.
1. Campus Worship
On Friday, October 23, the weekend will launch with campus worship in the Chapel. You can attend in person or watch the online livestream. Join us as we gather together to praise God for the incredible blessings He has given this university.
The Christian faith is at the core of who we are as an institution. In 1926, Concordia University Texas was founded as a high school to prepare young high school men for ministry and church work in the Lutheran Church-Missouri Synod. Nearly 94 years later, Concordia is now a higher education institution that prepares men and women to glorify God through a variety of vocations.
2. Walk & Woosh
Make an impact by participating in Walk & Woosh. You can join us in person on Saturday at 8 a.m., or you can complete a 2.6-mile walk in your neighborhood and send us a picture of you doing your best Walk & Woosh.
Registration Fees
Walk & Woosh In Person

:

$26

Walk & Woosh Virtual

:

$26

Walk & Woosh In Person (Student)

:

$2.60

Walk & Woosh Virtual (Student)

:

$2.60
All funds raised by the registration fees for Walk & Woosh will support two causes: the CTX Emergency Fund, which supports our students in need due to COVID -19, and the Service-Learning partnership with Water to Thrive, to help us complete our fourteenth well.
President and Mrs. Don Christian have committed to match up to $650 of funds raised for the Water to Thrive initiative. If you're not interested in participating in the walk but want to support the cause, you can make a direct donation. The Christians will match 50% of the registration fees and any direct donations.
3. Trunk or Treat Photo Op
Do you or your family members have a Halloween costume they're excited to display? Concordia's Trunk or Treat Photo Op will occur on Saturday in the parking lot of the residential halls.
We welcome you to take pictures in front of themed booths. Plus, there will be prepackaged goodie bags for you to take home.
4. Drive-In Movie
On Saturday evening at 7:30, Concordia will host a drive-in movie in Parking Lot C. You can bring your car or a blanket to watch the movie. Don't forget to bring a mug for the hot chocolate and apple cider bar!
5. Concordia Sunday
Concordia Sunday will take place at 11 a.m. at Messiah Lutheran Church in Plano, Texas. The worship service will be streamed in the Chapel on campus, or you can watch the livestream from home.
Photo Scavenger Hunt
Whether you join us for Homecoming & Family Weekend in person or online, you can participate in the CTX Photo Scavenger Hunt throughout the weekend for a chance to win vintage Concordia swag.