9 Reasons to Attend Homecoming & Family Weekend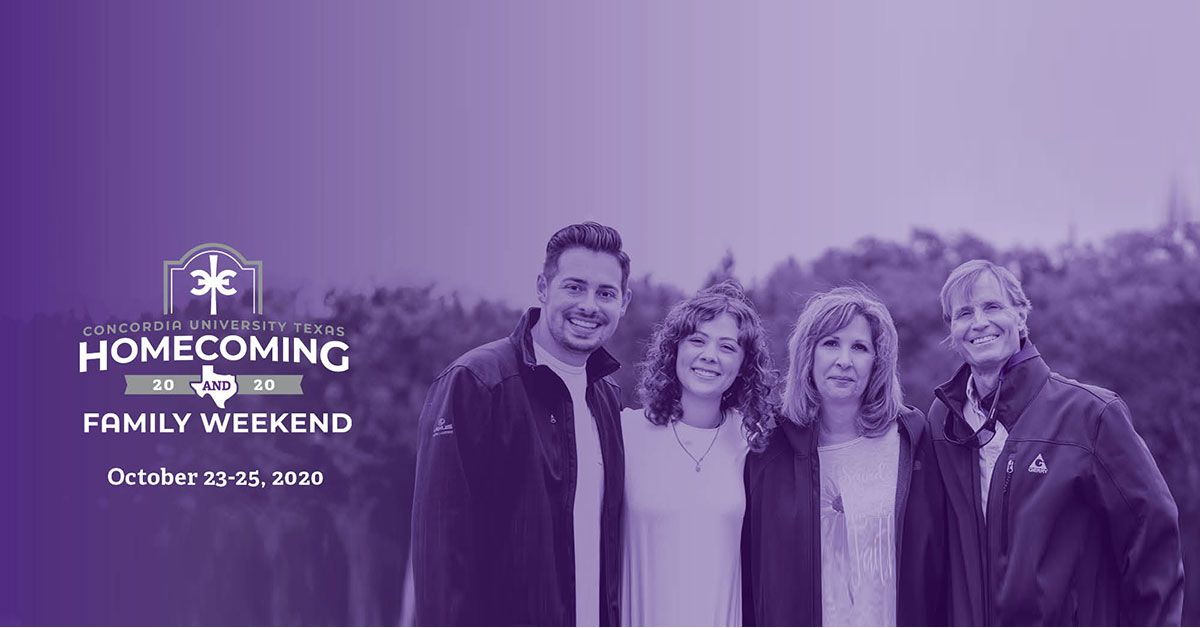 Homecoming & Family Weekend at Concordia University Texas begins on Friday, October 23, and runs through Sunday, October 25. The weekend includes lots of fun activities and plenty of opportunities to win prizes and enjoy the community.
Here are the top nine reasons you should attend Homecoming & Family Weekend.
1. HyFlex Events
Because of COVID-19, this year's events will be hybrid-flexible (HyFlex), combining in-person options with virtual components. Links for the virtual events will be posted on the web page the day each event occurs.
2. Connect with the CTX Community
The Concordia community is made up of students, parents, families, alumni, donors and others. Annual events like Homecoming & Family Weekend are a great way to connect with others.
If you're a current student, ask alumni for advice. If you're a parent or family member of a current student, get to know the school where they live, learn and grow. If you're part of the alumni network, share your memories of the University.
3. See What Life Is Like As a Tornado
If you're a prospective student, this is a great opportunity for you and your family to get a first-hand view of what life is like as a Concordia Tornado.
Take a tour of the campus and our 250-acre nature preserve, talk with faculty members and meet current students.
4. Support Two Causes
All of the registration fees for Walk & Woosh will support two causes: the CTX Emergency Fund, which supports students in need due to COVID-19, and the Service-Learning partnership with Water to Thrive.
The 2.6-mile walk is a great way to enjoy the outdoors with your family, friends and fellow Concordia Tornados. You can participate in person or virtually.
5. Costumes & Candy
Suit up in your favorite Halloween costume to take pictures in front of creative booths during the Trunk or Treat Photo Op. Once you're done taking pictures, we have a prepackaged bag of goodies for you to take home.
6. Hot Chocolate & Apple Cider Bar
During the drive-in move on Saturday evening, we will have a hot chocolate and apple cider bar for you to enjoy. Make sure to bring a mug you can use for your favorite hot drink.
You can watch the movie in your car or bring blankets and chairs to sit on the ground.
7. Test Your Trivia Skills
Do you know the year Concordia was founded? What's significant about the Purple Rock? Put your Concordia trivia skills to the test on Friday evening.
The community will gather at Tornado Field or online to compete in CTX trivia, led by a trivia host from Pluckers. If you come in person, you can enjoy a prepackaged box of Pluckers' chicken wings (while supplies last).
8. Win Prizes
Throughout the weekend, you can participate in the CTX Photo Scavenger Hunt for a chance to win vintage Concordia swag, completing various photo challenges. Some photos will incorporate places on campus while some can be taken at home or around Austin.
Whether you're joining us for in-person or virtual events, you can participate!
9. Free Fun Events
All events, except for Walk & Woosh, are completely free.
If you're a CTX student, the registration fee for Walk & Woosh (in person and virtual) is $2.60. If you're not a current student, the registration fee is $26 per person.