Service-Learning
,
Student-Life
Advocating For Hope and Change in Ukraine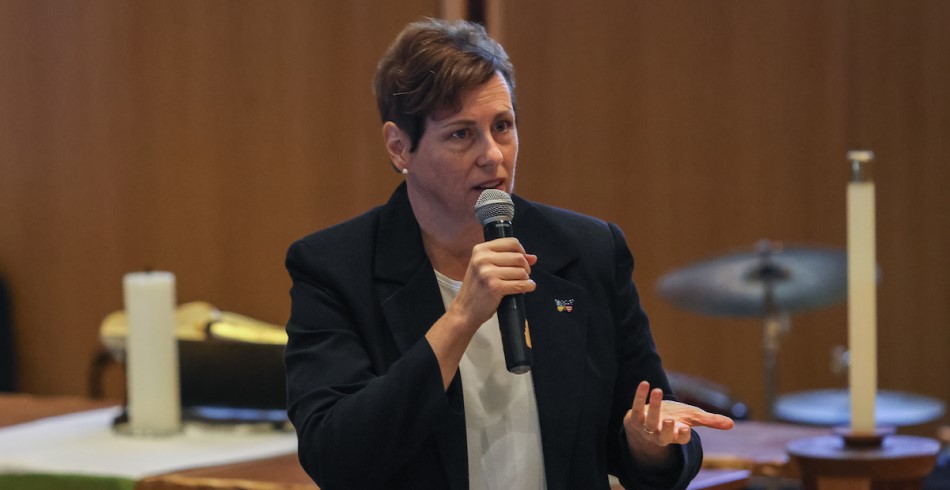 Every year Concordia University Texas' annual Service-Learning Week is a time when the Service-Learning Program highlights its mission and calls our CTX community to serve its neighbors.
As part of this year's Service-Learning Week, our students had the pleasure of hearing from Dr. Karen Chilstrom, a distinguished specialist in Russian & Ukrainian Area studies. Dr. Chilstrom shared her valuable experiences working with the New Horizons for Children, a faith-based international organization dedicated to sharing the message of Jesus and transforming the lives of orphans in Ukraine. Her passion for aiding children in Ukraine stems from her dedication to making a positive impact on those who are most in need.
Making an Impact on Communities
Dr. Chilstrom's journey into helping other people began when she joined the Peace Corps at the age of 24. As part of her journey, she was sent to Russia and faced many obstacles and difficult conditions from the moment she arrived, such as only having four hours of power and electricity every day. This time of her life shaped and influenced her passion and dedication to assisting communities living in those same living conditions permanently.
Dr. Chilstrom highlighted her time and experience in making a positive difference in Ukraine, where she led projects that improved the well-being of children in orphanages. She takes great pride in being able to provide clothing in a variety of colors and sizes, and offering them a sense of freedom as well as helping them feel seen and loved. Emphasizing the value of providing wellness checks and maintaining the children's physical health has always been a priority for Dr. Chilstrom.
Providing medical support was also critical. Dr. Chilstrom worked tirelessly to secure and donate medicine to those in need. She also helped organize food donations to ensure that children in orphanages had access to meals. She made it a point to provide orphans with cultural experiences that many people may take for granted in their own lives, such as taking them to the Lviv Opera so that the children could have a sense of normalcy and happiness.
Selfless Leadership
Dr. Chilstrom's journey of transformational leadership is marked by empathy and compassion.
Not only has she made an impact on the lives of children residing in orphanages through her contributions to the New Horizons for Children organization, but she also played a crucial role in instilling hope. Her dedication to sharing the message of Jesus and impacting lives serves as a powerful reminder of the positive influence each of us can have on the lives of others.
CTX Service-Learning
The Service-Learning program supports both academically based service-learning and co-curricular service-learning opportunities that promote the integration of service and learning in different ways.
Learn More