Alumni-Stories
,
Career-Advice
2021 CTX Alumni Career Panel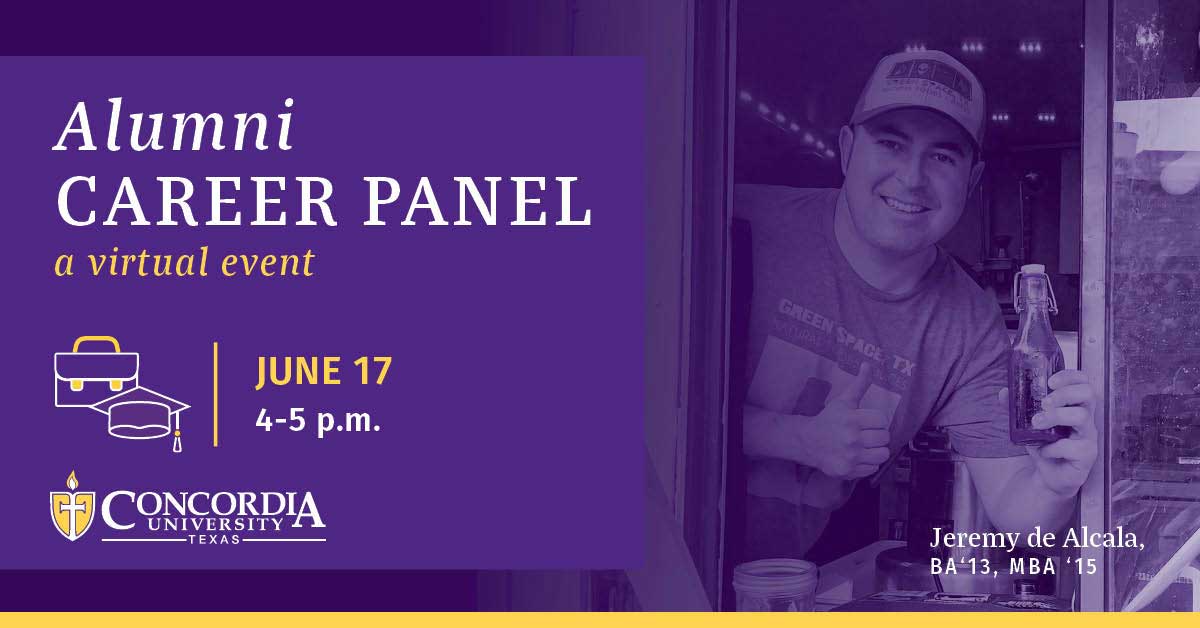 Join us virtually at 4 p.m. on June 17, 2021, for the 2021 CTX Alumni Career Panel. Hosted by Vocation & Professional Development (VPD), the Concordia University Texas' career center, six alumni will share all about their Concordia experience and the life-changing work they achieve through their careers.
Meet the CTX Alumni Panelists
The panelists graduated from various Concordia's programs, and they represent a variety of industries. You will gain valuable insight from each of them.
Jeremy de Alcala
Director of Financial Return at CKM Restaurant Group Inc.
Chairman of Buda Area Chamber of Commerce Board of Directors
Graduating from Concordia with his Bachelor of Arts (BA) in Business Administration and Management in 2013 and a Master of Business Administration (MBA) in 2015, Jeremy de Alcala leverages his degrees in multiple ways.
He serves as the director of financial return for the CKM Restaurant Group Inc., director of operations for the I-35/Ben White Blvd. Chick-fil-A, and chairman of the Board of Directors for the Buda Area Chamber of Commerce.
Additionally, de Alcala and his wife, Melissa, own and operate Green Space, TX, a food trailer that serves nutritious, plant-based foods and juices in Buda, Texas, and the surrounding communities.
Yisel Lopez
Legislative Assistant & Executive Secretary for Office of State Rep. Shawn Thierry
Yisel Lopez graduated from CTX with a BA in Global Public Health in 2019. She has served as a legislative intern for the Office of Congressman Paul Ruiz, a program assistant for the Texas Senate Hispanic Research Council, and the executive secretary for state Representative Shawn Thierry of the Texas State House of Representatives.
Abbie Snow
Director of Family Life Ministries at Bethany Lutheran Church
Earning her BA in Religious Education from Concordia in 2017, Abbie Snow serves as the associate director of Family Life Ministries at Bethany Lutheran Church in Austin, Texas.
She began at Bethany Lutheran Church as a Director of Christian Education intern and assumed her current role in 2019.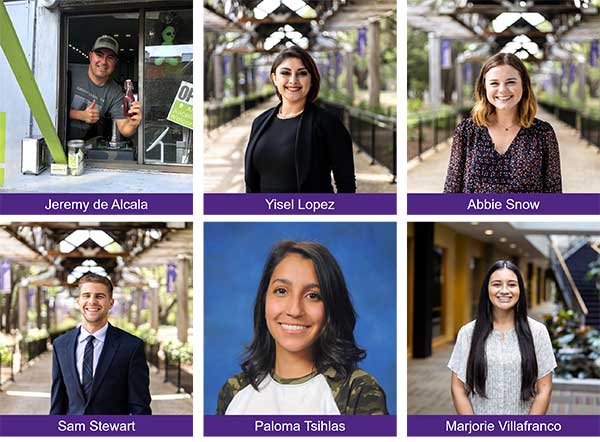 Sam Stewart
Financial Associate at Thrivent
Sam Stewart earned his Bachelor of Business Administration from CTX in 2020 and is working on completing the Concordia MBA.
He serves as a financial associate for Thrivent, a Fortune 500 not-for-profit financial services organization founded by Lutherans.
Paloma Tsihlas
Assistant Principal at Wiley Middle School
In 2019, Paloma Tsihlas completed the Aspiring Leaders program, a partnership between Concordia University Texas and Leander Independent School District (LISD). Through the program, she earned her Master of Education in Educational Administration with Principal Certification from Concordia.
Tsihlas advanced to become the assistant principal of both 6th grade and 7th grade at Wiley Middle School in LISD.
Marjorie Villafranco
Program Manager for Communities In Schools of Central Texas
Earning her Bachelor of Arts in Psychology from Concordia in 2018, Marjorie Villafranco works as the program manager for Communities In Schools of Central Texas, a nonprofit that provides students a community of support, empowering them to stay in school.